If you have made the investment to install an on-site temporary structure with HVAC units, then you understand the importance of keeping your crew comfortable and safe and protecting your materials.
The number one reason commercial HVAC systems fail is the lack of proper maintenance. Whether accidental oversight or budget limitations is the reason for an unmaintained unit, the risk of needing to replace the unit and/or production downtime caused by an HVAC outage can be drastic to the bottom line.
Mahaffey Houston's expert HVAC technicians can handle all of your HVAC maintenance to prevent problems before they occur. We provide:

Local, expert technicians
24/7 remote monitoring
Instant notifications of problems
Monthly wellness checks on HVAC units and structures
Filter changing as needed
Troubleshooting power or equipment failures
Monitoring for water seepage, floods and intrusion
Investigating readings outside of desirable parameters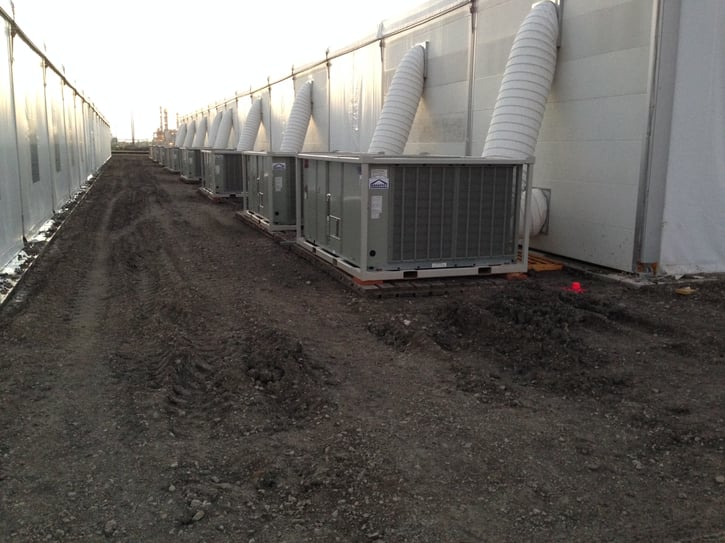 Mahaffey's team is highly experienced with job sites and facilities where climate-control is essential, including export terminal job sites, food processing facilities and pharmaceutical warehousing. We offer a massive inventory of customizable fabric structures and amenities to deliver a design-to-build solution with immediate dispatch.
Benefits of Regular HVAC Maintenance
Our Monitoring Systems Accurately Track:
Improved Energy Efficiencies
Decreased Production Downtime
Decreased of Costly Repairs
Prevention of Major Power or Equipment Failures
Avoided Cost of Additional Structure Damage
Extended Equipment Lifespan
Improved Quality of Air
Peace of Mind
A critical component to keeping climate-controlled facilities operational is remote-monitoring of HVAC systems, timely notifications and accelerated troubleshooting. Without this capability, employers could suffer damages and downtime from failed systems.
Don't let a surprise system-failure impact your bottom line — secure your facility with proactive HVAC monitoring and maintenance.
Mahaffey's maintenance agreement includes monthly filter replacements and so much more. These videos shows our clients how the replace filters on the 10-ton unit and on the 25-ton unit.