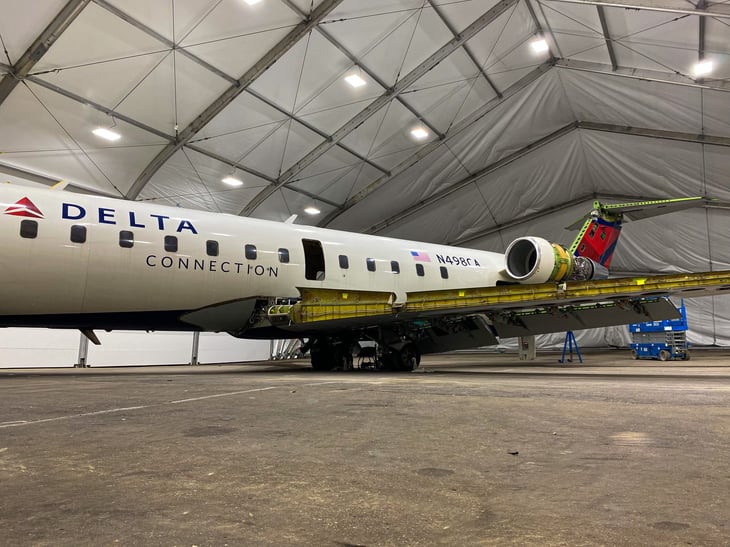 Mahaffey is always up for a challenge, from innovative, double-decker fabric structures to tricky, cramped installations. But perhaps where the Mahaffey team excels best is coming through for its valued partners in a pinch. Even when the magnitude of the project has never been done before!
An international aviation group providing comprehensive maintenance and refurbishment for regional aircraft called on Mahaffey as a trusted partner when it had an urgent need. After winning a set of major contracts, the aviation group faced space challenges to accommodate the sudden influx of aircraft. It had just weeks to add maintenance space for these aircraft. But not just any maintenance space — the largest temporary hangar structure in the books.

The Challenge
The aviation group needed two key things: size and speed. With its contracts initiating in just over two months, the client needed hangar space that could be installed quickly and maximize the number of aircraft it could accommodate — requiring space for 4 aircraft at one time.
The space required was significantly larger than its typical hangar, necessitating a door system sufficient for the massive hangar while remaining cost efficient. Additionally, the climate needed to be taken into consideration with potential for heavy wind and snow.


The client's structure needed:



Massive Performance Structure to Accommodate 4 Aircraft






Fast
Installation



Retractable
Hanger Door



Structure Profile Suited
for the Climate

The Solution
The Mahaffey Tension Series MTS™ industrial fabric structure fit the bill, capable of meeting the size demands for this fast-turnaround project. Rather than looking to a structurally-independent door system, Mahaffey design-integrated its Mahaffey Xtension™ Door — a clam-shell style door system that mechanically retracts. Because the door is not structurally independent, Mahaffey's solution could be installed faster and at a fraction of the cost: a dramatic 75% less than alternate door systems.
The MTS™ clear span hangar is design-engineered to accommodate just about any surface. It could be easily installed on the aviation group's existing tarmac without requiring construction or extensive slab preparation. With its peaked-arch profile, this structure has a high wind load, as well as the ability to shed snow.

Mahaffey's solution included the following features:
155' x 200' Clearspan Design
155' Mechanical-Retractable Hanger Door
Entry and Egress Doors
Heating System
High Wind-Load and Ability to Shed Snow

The Result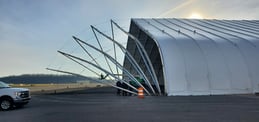 Mahaffey installed a massive 155-ft-wide, 200-ft-long clear span temporary hangar with 155-ft-wide mechanically-retractable hangar door. This impressive structure is the largest temporary hangar ever installed — with retractable hangar door extending 65-foot when laid flat. Mahaffey reinforced the span with custom trusses and arch spacing of 8'3". The hangar can house 4 aircraft and was installed in just 63 days, easily meeting the aviation group's space and timing need to deliver for its new maintenance contracts.
The Takeaways
Project

Manager Joe Berger reported that performance and turnaround timing were trophy points to this project — the clear span structure was designed, delivered, constructed and move-in ready within nine weeks from signed contract. As one of the only providers in the industry with full-time, expert field-installation crews, Mahaffey was able to deploy the resources needed to get the job done with speed and precision.
Whether you require a sprawling hangar or a fast turnaround lunch tent, you need a partner that invests in the superior manpower, inventory and responsive dispatch to support you. Whatever it takes to accomplish the job, Mahaffey is a partner committed to delivering legendary service. Call today to speak with an expert project manager.
---
Interested in learning more about Mahaffey's custom solutions? Simply click on the button below to speak with one of our experts.