Executive Summary
A company based out of Montreal, Quebec (Canada) contacted Sunbelt Rentals in September, 2007 needing a superior structure to house their upcoming outdoor tradeshow space. This project, which took place in March of 2008 in Las Vegas, Nevada, was all about brand awareness.
The customer wanted an innovative, climate-controlled structure which would stand out from their competitors. Their tradeshow objective was to entertain guests while showcasing their products and services.
Solution
So what did we do? We met their needs by providing them with a double-decker structure complete with glass walls, hard sides, customized double glass doors, HVAC units, a hand-crafted staircase, custom graphics on all sides, flooring, lighting, and an elegant, noteworthy presence. Being in the hot, desert environment of Las Vegas, climate control was of the utmost importance. Several air ventilation units were installed on both levels in order to provide adequate room temperature.
How Double-Decker Helped
The uniqueness of the project is attributed to the customization from day one. We collected a logo sample from the customer and painted it onto several 2' x 6' boards, which ran around the top of the entire structure. It was an impressive site to see and the customer's name was definitely the talk of the show. A few other graphics were printed on the doors and other pieces both inside and outside, which proved to be tremendous additions to the overall effect. A section of the structure had to be cut out to create the balcony on the second level.
Challenges
The staircase was in the center of the structure, and came up right in between the lounge and the exit to the balcony. It proved to be a problem at first because there wasn't enough room for a horizontal staircase. But we worked around the available space, did some maneuvering while still at the warehouse, and created a perfect fit.
Results and Awards
The MFS double-decker tradeshow exhibit was recognized for the following award: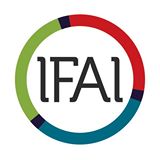 AWARD OF EXCELLENCE
Tent Manufacturing
Double-Decker Tradeshow Exhibit
Memphis, Tennessee United States
The customer was exceedingly pleased with the finished product – a 33'x66'x10' double-decker structure. It was the perfect combination of an upscale setting with a laid-back vibe. The end result was a spectacular exhibit space that entertained and amazed all those who experienced it.
At an event, it's all about your visitors having a one-of-a-kind experience. And that's exactly the ambience we created for our customer.
Need a flexible event solution for what will assumably be your next best entertainment event? If so, click below.