A homebase for your fire department, anywhere you need it
Sunbelt Rentals' fully engineered and portable structures are the perfect solution for fire departments under-going renovation or planning new construction projects.
Our temporary fabric structures bridge the gap ensuring service continuity during these transition periods. These industrial structures require no special foundation work and can be installed on any site and in just a few days.
Best of all, Sunbelt Rentals provides turnkey installs and flexible lease terms that match your project's timeline.
Additional Features Specific to Temporary Firehouses:
Roll up or personnel doors can be installed on any

Sunbelt Rentals

structure, while still providing plenty of space for the fire trucks to exit the building.
Ventilation fans are an important feature of these temporary structures, helping to maintain a healthy air quality within the building.
All of our temporary structures include at least two exits, our fabric is flame retardant and all buildings adhere to local fire codes.
Fire suppression systems are available, should project specifications require them.
And best of all, our turnkey installation services enable fixed-firm pricing on all firehouse structures.
When it comes to experience, our expert project managers have proven history providing several temporary fabric structures to fire departments and fire stations.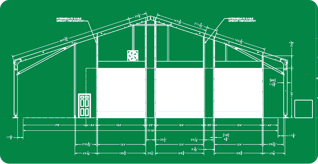 Before beginning construction, our partners were tasked with finding a fabric structure vendor who could provide a fully functioning temporary structure to the exacting specifications of a fire station. Find out why they chose us.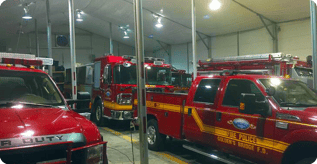 An accidental fire burnt down the station and needed a temporary structure to house its equipment and trucks. See what other challenges Mahaffey overcame besides time in this case study.
All of our structures provide: