Need secure, affordable, temporary warehouse storage?
Avoid the hidden costs and challenges that come with renting off-site warehouse storage space. Master your storage needs with a temporary warehouse from Sunbelt Rentals. Temporary warehouses and storage facilities are perfect when you need:
A construction site warehouse for supplies and equipment
A just-in-time warehouse solution for seasonal or overflow inventory
A temporary or semi-permanent industrial storage tent
Temporary storage during expansion of current facilities
---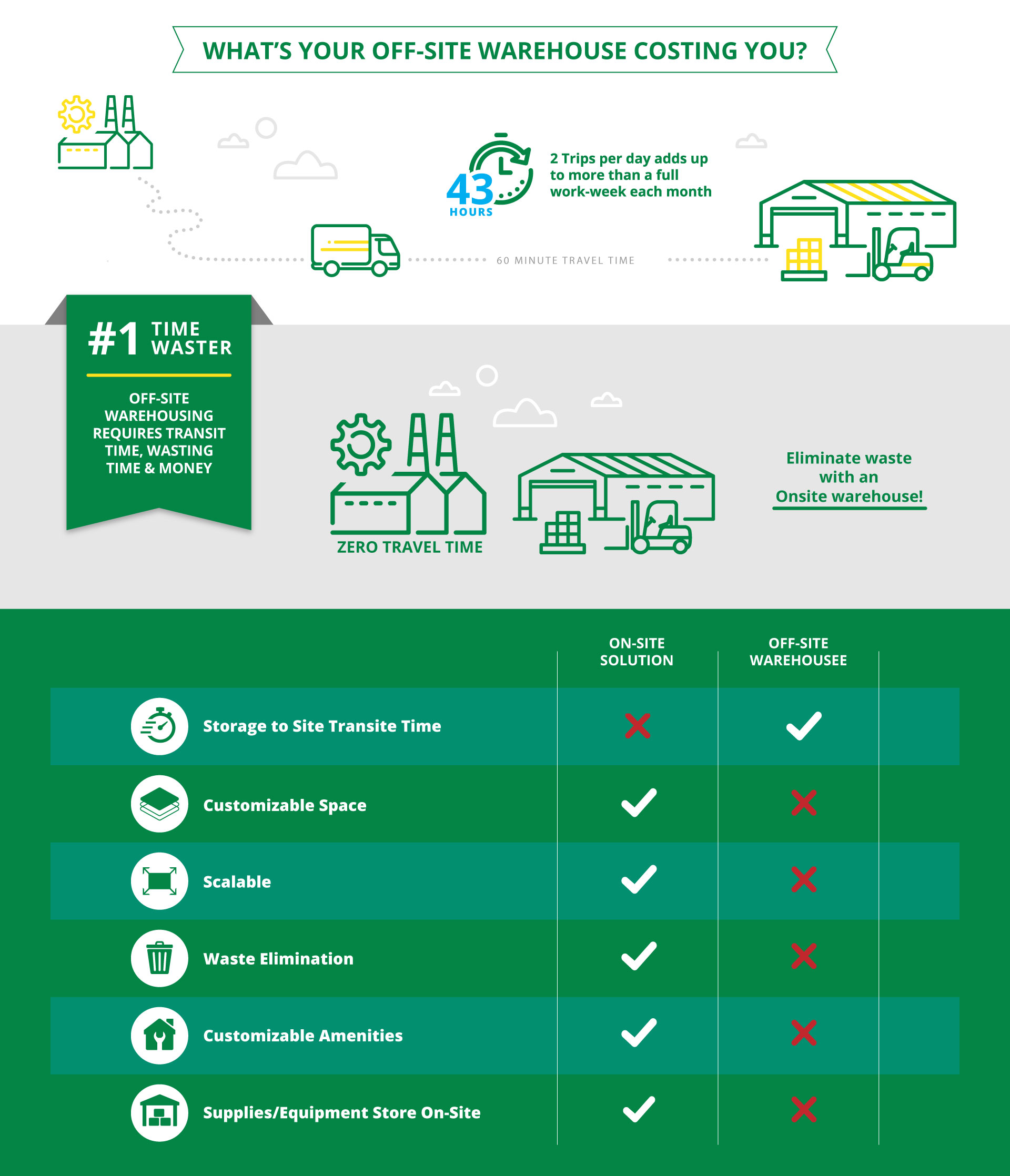 ---
Portable Warehouse buildings with rapid installation.
Sunbelt Rentals' temporary warehouse solutions save you time and money. Our temporary warehouse buildings are installed FAST on almost any surface – asphalt, concrete or soil – without the need of a permanent foundation. You can customize your industrial warehouse with a variety of different amenities and adjust the size and space based on your changing needs. Our all-inclusive turnkey solutions have you covered—from set-up to dismantle—so you can keep your project moving without missing a beat.

Customizable Fabric Structures to Meet Your Unique Needs
All projects are different. That's why Sunbelt Rentals' expert team of project managers and engineers create customized solutions that make sense for your project. Click on the links below to see how Sunbelt Rentals has helped others for temporary warehouse or semi-permanent storage needs.
Industrial Fabric Structure Provides Additional Capacity for Manufacturer:

Sunbelt Rentals' expert project managers, engineering team and professional installers, created a 17,224 sq. foot semi-permanent warehouse to help

a global luxury-car manufacturer overcome a massive backlog in production. Learn how fabric structures can help you speed up production.

Read more >

Two Temporary Tents Serve as Inspection-Station Warehouses: An energy giant needed a couple of colossal temporary structures to cover people, product, equipment and processes at their massive worksite. Learn how Sunbelt Rentals' fabric structure solutions fit into the grand scheme. Read more >
Temporary Warehouse Bridges the Gap During Construction: A manufacturing facility for a top supplier of turbine blades needed room to grow to keep up with demand during the construction of their expanded facility. Read more >



Protect Your Bottom Line with our industrial storage buildings.
This is more than an average clearspan tent. This is an engineered tension fabric structure custom-designed with an experienced and professional Sunbelt Rentals project manager to maximize your budget and support your long-term or short-term needs.
These Clearspan structures are free of any interior columns or supports, giving you maximum storage area and room for equipment. They are offered with translucent or blackout (opaque) fabric membrane roofs with standard off-the-shelf structures that withstand up to 130 MPH winds and snow loads of 30. Our semi-permanent warehouses and industrial storage tents are at home in harsh environments and are guaranteed to keep your inventory, staff and equipment secure.
Turnkey service that provides a single point of contact from set-up to dismanle
Massive inventory of multiple sizes of structures immediately available