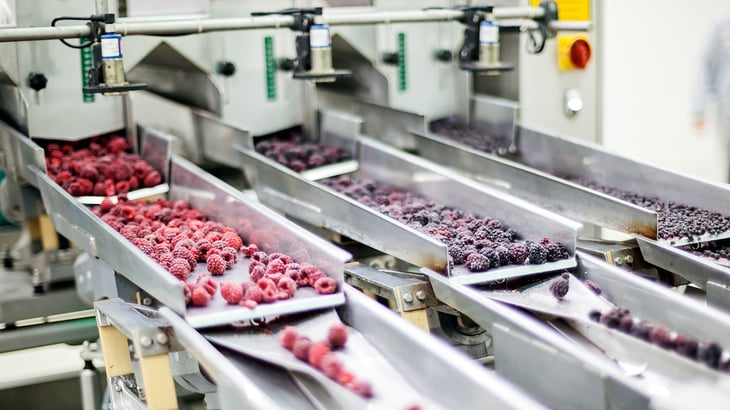 Unforeseen circumstances often mean production disruptions for factories and processing plants. When COVID-19 struck the nation, the circumstance at hand was lack of space for large industries needing to create physical distance between employees.

One of the world's largest food processing companies found themselves in need of a rapid space solution to get teams back to work safely and efficiently at thirteen processing plants across the country.

The Challenge
The client had an urgent need to ensure the safety and confidence of thousands of employees at 13 plants. In order to comply with social-distancing standards, each facility needed increased space. Temporary fabric structures emerged as the clear solution — able to be built in just days and at a fraction of the cost of permanent construction.
The primary intended use for the temporary structures was increased work area and break and lunch rooms for the up to 3,000 workers employed at each facility. The added space would allow for necessary 6-foot distancing while maintaining productivity and accommodating shift and break schedules. Fire exits, extinguishers, lighting and HVAC were required — tailored to the varied plant sizes and safety requirements of each facility.

The client's structure needed:



Social-distancing adherence



Lighting and HVAC




Fire & safety features




Rapid installation

The Solution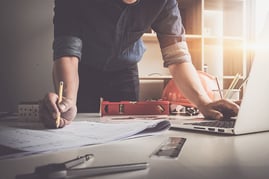 Sunbelt Rentals customized more than 14 clear span structures to accommodate the individual install locations, each designed in accordance with CDC social distancing guidelines. The team presented a thorough schedule for each plant location's delivery and turnkey installation as well as the deconstruction plan for the conclusion of the 6-month lease.
As crews were en route to install the fabric structures at the designated first location, a 9-1-1 emergency arose at a different facility nearly 500 miles away. The client needed the first clear span structures immediately rerouted. The other location was not scheduled for installation for over three weeks, however the client's circumstances changed and Sunbelt Rentals was equipped to respond.
Sunbelt Rentals pivoted the crew and materials north, moving up the install for the plant by more three weeks with only seven hours' notice. How? Sunbelt Rentals' nationwide footprint and full-time, expert field-install teams provide the agility and experience needed to roll with the punches. Sunbelt Rentals knows that remaining nimble and responsive is key to delivering legendary service and keeping any project on-schedule.
The team arrived with the structure materials at the newly appointed first-install site within 7 hours and began construction. Because Sunbelt Rentals' industrial clear span fabric structures are engineered for modular installation, the expert crew was able to customize on-the-spot.
In the client's procurement officer's words, "The initiative and efficiency that Sunbelt Rentals showed from the beginning stood out from [competitors]. Our choice was not only based on price, but also the service and professionalism that came with choosing Sunbelt Rentals over their competition."
The Result
Sunbelt Rentals' turnkey solution and thorough dispatch and installation planning created a seamless experience for the client. Having an assigned single point of contact meant that the client could quickly inform and pivot the team as needed, with just one phone call.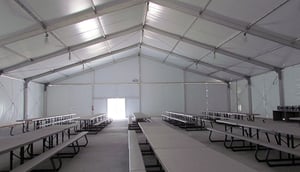 Sunbelt Rentals was able to install all 14 structures on or ahead of the client's schedule. As a global provider of processed foods, the client felt a duty to ensure the safety and confidence of its thousands of employees while maintaining plant operations to meet growing demand during the pandemic. The client was extremely satisfied with Sunbelt Rentals' professionalism, project management, swift timeline and quality of work.
The client's procurement officer stated, "With Sunbelt Rentals' ability to take the project and return a full solution, it allowed us to focus our time and energy on other items. In terms of saving money, it allowed a financially sound option that would provide a solution for the coming months. Being able to protect our employees and keep them safe, in my opinion, is worth every penny."
The Takeaways
Sunbelt Rentals' dedication to solving time-sensitive problems across a variety of industries requires full-time commitment. That's why Sunbelt Rentals employees 17 full-time, expert field-install crews — so your project is never at the mercy of subcontractors with varying degrees of experience.
When you need a space solution on time and on budget, you need a partner that invests in the superior manpower, inventory and responsive dispatch to support you. Whatever it takes to accomplish the job, Sunbelt Rentals delivers on our promise of "anywhere, anytime, anyplace."
Sunbelt Rentals is a partner committed to delivering legendary service. Call today to speak with an expert project manager.