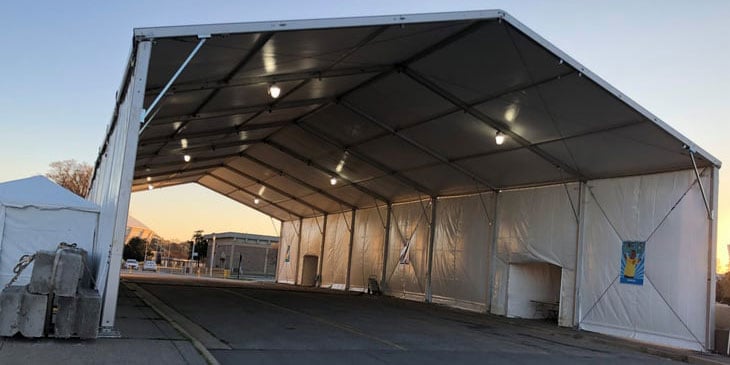 Since the COVID-19 epidemic first swept the nation, New Orleans saw some of the worst impact. With more than 24,000 infected and more than 1,000 fatalities as of March 2020, the city was deemed an epicenter for the disease and sought help to handle one of the most devastating disasters it has experienced in its 300-year history. More than 1,700 coronavirus-related hospitalizations created an sudden issue New Orleans was unprepared for — more people needing medical attention than hospitals had space to treat them. Health professionals and local government needed a new solution to tackle this space dilemma. Sunbelt Rentals stepped up.
The Challenge
In late March, the Ernest N. Morial Convention Center, whose 1.1 million-square-feet are normally used for conventions and events, was transformed into a makeshift hospital. Sunbelt Rentals, in partnership with EverBlock, was on the ground within hours of being called on and began building rows upon rows of temporary structures to house patients to be treated and nurses' stations for the brave men and women risking their lives every day to respond to the pandemic. This job required accuracy, safety and, above all, speed. Without this space New Orleans hospitals would not be equipped to treat patients as fast as they were becoming infected, creating a dangerous situation for thousands of people.

The client's structure needed:





Private hospital rooms for up to 2000 patients





Work space for nurses to triage





Utilities — water, electricity, and HVAC





Closable Doors

The Solution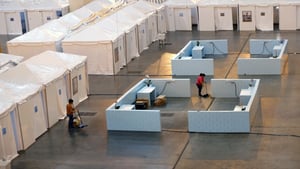 Sunbelt Rentals deployed more than 2,000 10 x 10 tents capable of being outfitted with amenities provided by Sunbelt Rentals partners on this project like beds, HVAC systems, sanitation stations, sinks, and other makeshift hospital necessities. Once constructed, the medical center was able to house as many as 2,000 patients recovering from coronavirus. The setup inside the convention center is divided into pods of roughly 14 to 15 beds per pod, and eight pods making up a "wing."

Sunbelt Rentals' solution included the following features:
Complete transformation of a convention center into a make-shift hospital
More than 2000 10 x 10 structures
Installations of 150 structures per day
Turnkey solution
Expert project managers, designers, and an expert installation team


While the most critically ill continued to be sent to major hospitals in the area, the added space to house recovering COVID-19 patients enabled healthcare workers to mitigate further infection and flatten the curve.


The Result
The Sunbelt Rentals team was tasked with maximizing the convention center's space and adhering to CDC guidelines while constructing the makeshift hospital. A fast turnaround was critical. Sunbelt Rentals' team constructed 150 10-foot by 10-foot structures every day and completed the entire project in just 13 days.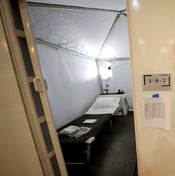 The installation team knew just how important their work was. "We feel like we are saving lives," said Sunbelt Rentals CEO and president, George Smith, who managed the project.

By providing safe spaces to treat infected patients, stations to screen employees before entry into their workplace, and temporary workspace for essential workers on the frontlines, Sunbelt Rentals' efforts have helped provide critical structures to prevent the further spread of COVID-19 all over the country.


The Takeaways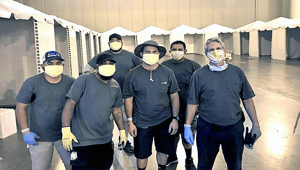 Sunbelt Rentals has a long history of designing and delivering turnkey medical or workspace solutions, but developing a project geared to directly impact patients and medical workers amidst this epidemic was an honor and privilege for the Sunbelt Rentals team. Sunbelt Rentals has years of experience in delivering turnkey solutions for government and healthcare clients, with 24/7 dispatch and full-service project managers. If your team has an urgent and timely structure need, depend on the leader in temporary clear span fabric structures with nearly 100 years or proven service. Choose Sunbelt Rentals.
---
Call one of our project managers today.