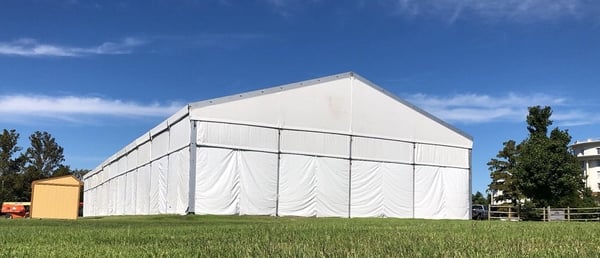 With an average temperature of 24 degrees, the northern most part of the United States is no stranger to harsh conditions. For a nuclear power plant, it was imperative to find an immediate way to protect its equipment from the harsh elements. Having worked with Sunbelt Rentals on a different project years prior, the client knew Sunbelt Rentals' reputation and their team's ability to solve any problem. While the project offered numerous challenges, Sunbelt Rentals was thrilled to partner with the power plant and design a successful solution.
The Challenge
A nuclear power plant, located in the northern part of the United States, faced equipment damage as a result of exposure to extremely powerful winds and freezing winter temperatures. The power plant needed to act swiftly to mitigate its risk. Sunbelt Rentals and the client both agreed that a temporary structure was the ideal solution, and it would be needed for eight months. Location was also a cause for concern as the equipment was located within a contained and restricted area of the power plant. This meant the installation team would need up to two hours each visit to arrive onsite. Because of the unique height and length, Sunbelt Rentals needed to custom design a structure to perfectly cover the specific equipment at risk.
The client's needs included:
Two customized structures to adequately protect all equipment that could remain on-site for eight months
Structures that could withstand frigid temperatures and high winds
Installation in a highly restricted area
Expert care in delivering the structure to a compact area
The Solution
Sunbelt Rentals was able to deliver a quick and efficient solution by customizing the MegaSeries™ and the SuperSeries™ temporary structures. It was a two-phased approach with the MegaSeries™ and SuperSeries™ comprising phase one and a second structure as the second phase. Sunbelt Rentals showed their flexibility and desire for exceptional customer service when the client changed the plan for the third phase after crew and materials had already arrived on location based on a work order change calling for more space. Sunbelt Rentals continued with the initial phase and successfully installed the two temporary structures to suit the client's needs.
Sunbelt Rentals' solution included the following:
MegaSeries™ and SuperSeries™ structures (10 meter x 20 meter; 6 meter x 20 meter) with:
HVAC
LED lighting
Personnel doors
Hard walls to maintain an average interior temperature of 50-55 degrees
Expert project managers, designers and installation team
The Result
Project manager, Joe Berger, described this project as extremely challenging and requiring a true level of expertise in project management, construction operations and client management. The Sunbelt Rentals team was able to navigate the difficult power-plant location and complete installation within 12 days. They were able to create two semi-customized temporary structures to include all amenities requested by the client, within a two-month window from initial contact with the power plant. Sunbelt Rentals was not only successful in navigating the difficult location but also in completing installation around equipment without disturbing operations or forcing the plant to go off line. When the client changed plans for the second phase of installation, after both the crew and materials had arrived on the scene, Sunbelt Rentals proved what a nimble customer-focused partner they are always committed to being.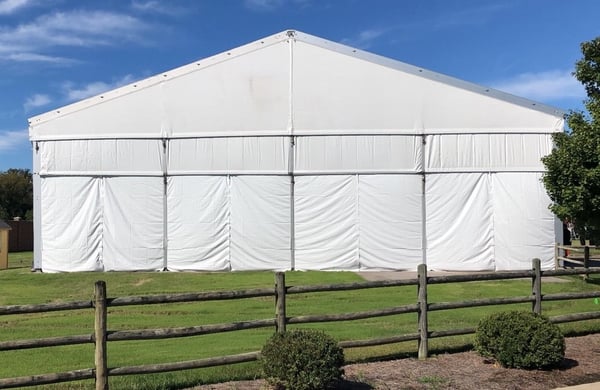 The Takeaways
Sunbelt Rentals prides itself on meeting and exceeding each client's expectations, which is evident when previous clients return for additional work. Sunbelt Rentals' expert team – comprised of project managers, designers and installers – worked flawlessly together to achieve the common goal which was keeping their client's business moving forward. The Sunbelt Rentals team cohesively directed the difficult onsite location, managed eleventh hour changes on the client's behalf, and successfully completed the installation keeping all equipment warm and performing well without so much as interrupting the power plant's operations.
Does your company offer similar challenges? Are you facing a difficult project and are overwhelmed in the planning process? Let Sunbelt Rentals help. As established leaders in the market, Sunbelt Rentals enjoys tackling customer problems with revolutionary ideas.
Call our expect project managers today, and let them walk you through a plan designed for success.