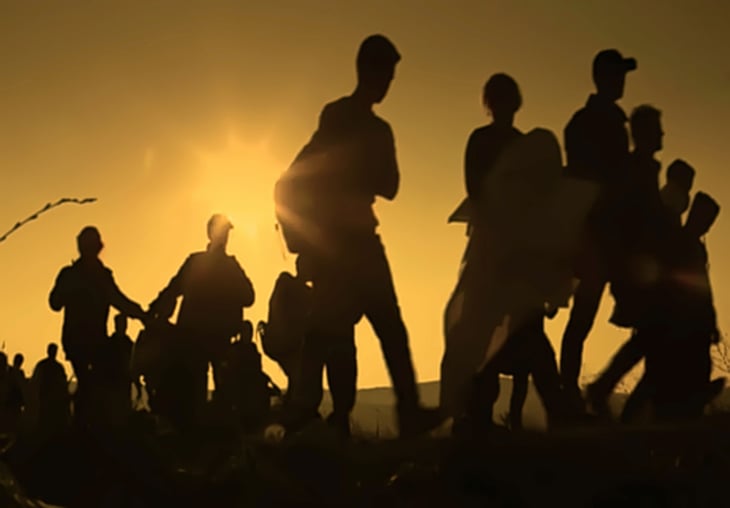 A large Engineering, Procurement and Construction (EPC) contractor needed half a million square feet of structures in only three weeks. They knew Sunbelt was the only provider in the area who could deliver the scope, quality and turnaround that the project required.
The Challenge
As part of the global response to the crisis in Afghanistan, the United States government hired several national contractors to establish temporary housing around the country to support incoming evacuees. Because of the urgency of the unfolding events, the government wanted secure, high-quality structures in each chosen location as soon as possible.
Following guidance set by the government, one of the hired contractors had previously partnered with Sunbelt to create temporary lodging facilities for military recruits under a tight timeline. Based upon Sunbelt's performance on that effort, the company called Sunbelt back a year later to collaborate on this new undertaking.
The government and client envisioned each location as being the site of a fully-functioning temporary village, complete with billeting spaces, offices, medical facilities, religious centers, classrooms, barbershops and more. In order to erect the structures, Sunbelt would also be responsible for coordinating between a crowd of other on-site vendors and visitors.
The Client's Structure Needed:
Half a Million Square Feet of Structures

Raised Floors

HVAC

Restrooms and
Showers



Fast Turnaround
The Solution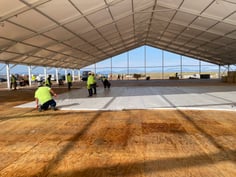 Sunbelt Rentals leveraged its expansive national footprint to immediately jump into action. Within three days of the contract award, Sunbelt Rentals had people and trucks on site. Within six days, Sunbelt Rentals had brought nearly 200 people to the project location to make the client's vision a reality. For three straight weeks, Sunbelt Rentals' teams worked from dawn to dusk, completing the installation in record time.
Following recommendations set by the Occupational Safety and Health Administration (OSHA), Sunbelt Rentals constructed 500,000 square feet of structures, including billeting space, amenities and community areas. The structures included heat, ventilation and air-conditioning capabilities, power generation, restrooms, showers and more to support the incoming evacuees. Sunbelt Rentals installed raised floors resembling hardwood inside the temporary structures to provide additional quality and comfort.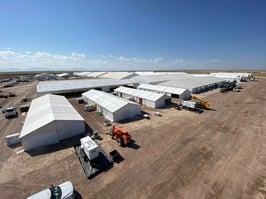 Because a project of this magnitude involves a lot of moving parts, Sunbelt Rentals coordinated with its network of strategic partners to ensure smooth installations for all the structures and amenities. Sunbelt Rentals' expert project managers orchestrated a schedule to maximize efficiency for the client and stakeholders. Additionally, Sunbelt Rentals was working on a high-traffic site, so the team preserved the safety and security of the construction process by acquiring fencing and guards for the area.
The Result
Sunbelt Rentals' expert team, expansive footprint and strategic planning allowed the project to go off without a hitch, despite the quick turnaround and unique site challenges. With Sunbelt Rentals' expansive solution, the client was able to urgently support the ongoing evacuation efforts.
The Takeaways
Sunbelt Rentals can deliver quality temporary solutions for your most pressing needs. Our national network of strategic partners across the U.S. can be mobilized in a matter of days. Our experts can provide custom fabric structures and extensive amenities to minimize downtime and make your project run smoothly. Speak with an expert project manager today to get started.
Interested in learning more about temporary, portable construction shelters and tents, or want more information about how you can get a custom fabric building for your business?