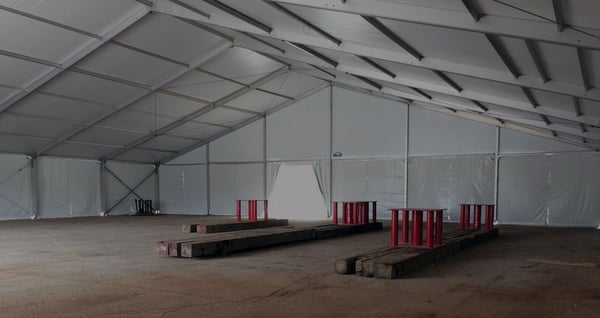 A premier luxury car manufacturer was looking forward to a busy season.
On the horizon, a new construction expansion would bring much needed additional and upgraded facility workspaces to the 20-year-old plant. In the meantime, production needed to continue as usual, and space was tight.
With a billion dollars of exported vehicles sold last year, the manufacturer couldn't afford to slow down distribution. Consumers' appetites for luxury cars with luxury features continue to grow, and the manufacturer needed to do some out-of-the-box thinking to meet their demands.
Management decided on the idea of a temporary detail shop while the expansion plan was underway. This would entail outfitting a structure with the same technology an actual shop would require for custom car enhancements. Additionally, the structure would have to be on par with amenities, features, and requirements the employees needed.
This client had partnered with Sunbelt Rentals before and trusted our ability to design and install a custom structure to fit their needs.
The Challenge
The major challenge was time. When growth is on the line, companies want to move quickly. In other words, they wanted the structure built yesterday. Manufacturers adhere to strict timelines and schedules in assembling vehicles, and they expected a quick turnaround from Sunbelt Rentals to ensure they could stay on schedule themselves.
Beyond the quick install, the manufacturer requested an insulated structure that included HVAC, interior lighting, personnel doors, and vehicle entry doors.
The client's needs included a structure that:
Could incorporate lighting and air conditioning
Had an estimated total of 8,000 sq. feet of space
Included personnel doors and bay doors for vehicles
Adhered to safety standards and requirements for the region
The Solution
The structure needed to remain for an extended time and required special features to accommodate the personnel working inside it. The solution was a custom- built clearspan structure made with a box beam aluminum frame. The structure could be installed with glass or hard sides, and it made an excellent choice for long-term placement because of its durability and sturdiness.
The final structure also included insulated Guardian steel side panels, single-sided steel personnel doors, HVAC, high-speed roll-up doors for vehicle entry and exit, and Sunbelt Rentals' expert installation team.
Sunbelt Rentals' Solution included the following features.
8, 712 sq. foot clearspan industrial engineered fabric structure
Insulated wall panels
2 high-speed roll-up doors
2 single-side steel personnel doors
Exit lights, LED Light Kits
2 ABC fire extinguishers
Expert project managers, designers, and an expert installation team
The Result
The Sunbelt Rentals team arrived on site and successfully completed a four-day installation.
The customer continues to have confidence in Sunbelt Rentals' ability to provide solutions that solve big problems. We look forward to our continuing partnership.
The Takeaways
The next time you have a big problem to solve, partner with a vendor whose reputation speaks for itself. Sunbelt Rentals has over 90 years of experience keeping your structure needs covered!
Sunbelt Rentals is more than a structure vendor—we are a true partner in your next project.
Ready to work with us?
Contact one of our project managers today.