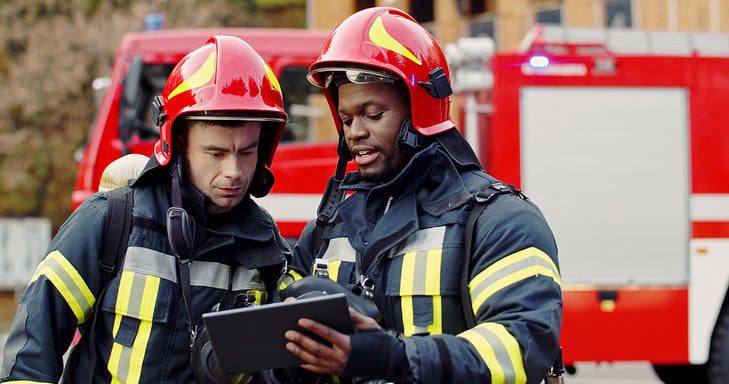 Disaster can strike at any time and, unfortunately, first responders are not immune to misfortune. In a regretful twist of fate, a New York fire station had a fire break out in their apparatus bay on Christmas day. This fire destroyed several trucks and damaged the firehouse severely. During the time that it would take the city to rebuild the firehouse, the firefighters needed an immediate, temporary solution to make serving their community possible. Initially, the team was moved to a warehouse some miles away to use as a temporary firehouse, but the increased distance had the potential to delay emergency response times — a sacrifice this fire department could not afford.
That's when Sunbelt Rentals stepped in.
Sunbelt Rentals USA has provided several temporary firehouses to districts all across the US. The firefighters at this New York station were familiar with other firehouses that Sunbelt Rentals had helped through repairs and construction — they reached out to the Sunbelt Rentals team to solve their temporary structure needs.

The Challenge
The New York station needed to construct a temporary firehouse just across the street from their destroyed former firehouse, in an effort to provide the same level of protective services to the community as they had before the fire.
Location and environment were some of the big challenges on this project. The station district is in an area of the country that is subject to both high winds and heavy snowfall. The design and structure had to include structural components that would combat these environmental hazards.
The parking lot where the structure was to be installed also had several sewer drains to work around as well as overhead power lines. The temporary firehouse area would need to provide parking for the firemen as they were arriving to respond to an emergency.

The client's structure needed:





Weatherized storage for fire department materials




Large overhead garage doors






Spacious covered parking for fire trucks





Dwelling space weatherized to combat northern winter temperatures

The Solution
Sunbelt Rentals was able to rapidly design, mobilize and install a temporary firehouse within weeks of their initial contact. This solution provided not only the size and functionality needed to support 3 apparatus and their crews of firemen, but also a solution that could easily be later dismantled and removed without demolition or damage to the parking lot in which it was installed.
The solution utilized an engineered heavy-gauge aluminum frame, internal uprights, and additional roof purlins that would stand up against these hazards. Sunbelt Rentals used steel insulated hard sidewalls to provide not only the insulation needed to combat the colder Long Island winter months but also provide additional security for the equipment and the firemen's personal items. Leasing of the structure also meant that they were not stuck with something they had to either dismantle and throw away or try to sell when the permanent firehouse was completed.
In the end, Sunbelt Rentals was able to design a structure large enough to house the fire apparatus yet small enough to fit in the area available and allow for some parking use. Sunbelt Rentals structures are engineered to be installed over multiple surface types so no foundation was needed — saving time and budget.

Sunbelt Rentals' solution included the following features:
Leased 4300 sq ft Sunbelt Rentals MegaStructure

Insulated steel hard sidewalls to help maintain a heated space for fire apparatus and increase energy efficiency.

3 motorized overhead doors with remote controls
The Result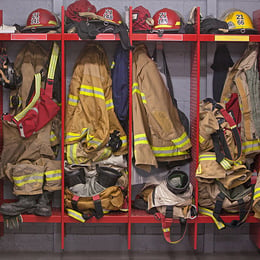 The entire project was constructed in just one week. Within two days preliminary designs, draft drawings, and proposals were sent out. After all necessary paperwork was done, Sunbelt Rentals was ready to mobilize, making the entire project timeline four weeks from concept to mobilization. From beginning to end, all discussions centered around how to best design a structure to accommodate their apparatus and the importance of rapid emergency response for their community. Sunbelt Rentals' expert project management and custom design resulted in a structure solution that the client stated "exceeded expectations."



The Takeaways
This New York firehouse was able to leverage Sunbelt Rentals' proven expertise in the design, mobilization and installation of temporary firehouses. This prevented what could have been extended time and costs for research, design development, planning, material and labor sourcing, transport and build time. Additionally, by choosing the all-inclusive lease of a Sunbelt Rentals' structure, this client eliminated the future costs of dismantling, storing, or trying to sell a structure that they would have had to purchase from some other suppliers.
---
The next time you have time-sensitive structure need, call one of our expert project managers.