Background Story
On a referral from a friend, our customer contacted us in early 2015 to transform his backyard and recreation area to a magical night under the stars for a wedding rehearsal dinner for his son. After months of site inspections and meetings, we installed two Clearspan tents, one 40' x 100' and one 50' x 82', with glass wall bays and clear tops. They included customized walls to connect the two structures and 6 ft scaffolding to level the structures from the pool house to the water. In the end, we installed two connecting tents, a clear dance floor above the scaffolding as well we 14 HVAC units to keep the guests cool in the hot summer months.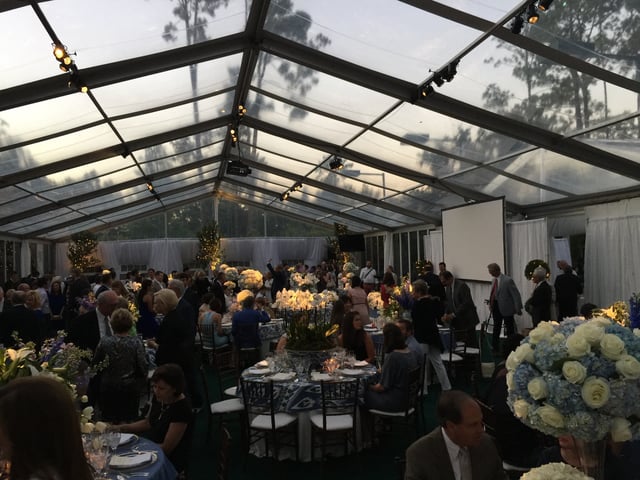 The Problem
The purpose of the project was to create a site for a sit down rehearsal dinner for over 350 guests along with a dance and reception area. We worked directly with the father of the groom, who was referred to us by a previous client. They requested two structures to become a dining hall and reception area complete with glass walls and doors as well as a clear top to see the stars. The customer also requested a clear dance floor that gave the illusion that it was covering water.
Challenges
The two structures were designed to move from the edge of pool house steps, past tennis courts to the edge of a lake. From the end of the steps to the edge of a lake there was a 6ft slope as well as barriers on the tennis courts such as beams. We had to engineer the structures to accommodate for the slope as well as connect the two structures around the beams. We were also unable to access the area with our trusses.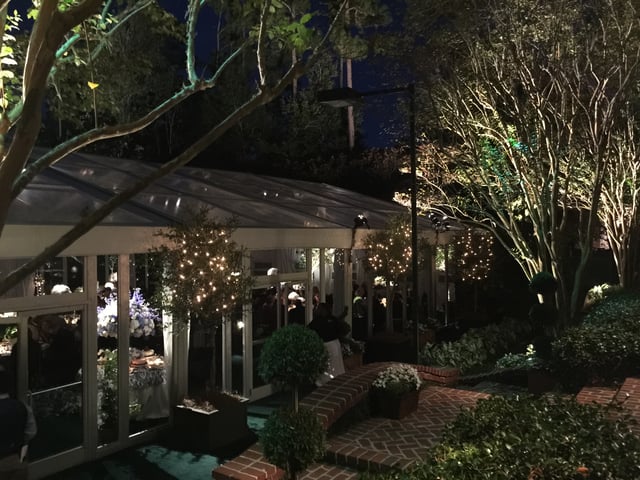 Results and Successes
The customer was extremely pleased with the finished product, a stunning 6,724 sq. ft. structure that was large and luxurious enough to hold all 725 guests, with ample room to celebrate. It was a picture-perfect setting, highlighting the historic grounds it was located on and creating a positively memorable event for the well-known family. Since that date, a local news publication has featured the wedding, adding that it was inn's largest event and was not only successful, but a major economic boost for the city.
Want more...
Interested in learning more about Sunbelt Rentals' solutions for event successes? Simply click on the button below to speak with one of our experts in tents for entertainment and wedding events.