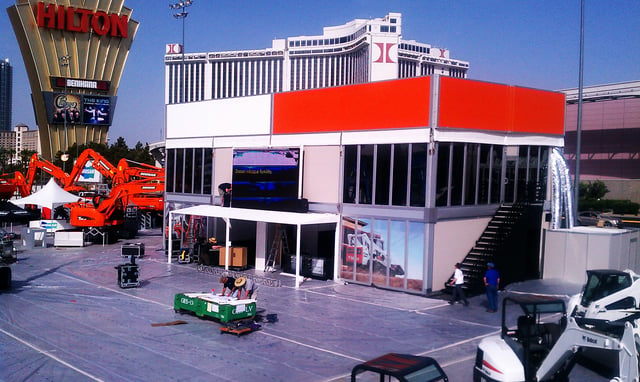 Overview
A company based in Las Vegas, Nevada contacted Sunbelt Fabric Structures needing an impressive, unique structure to house their upcoming outdoor tradeshow space. This project was all about showcasing their brand, or brand awareness. The customer wanted an innovative, climate-controlled structure, which would stand out from their competitors. Their tradeshow objective was to entertain guests, while displaying their products, in a unique invite-only space.
We were so impressed by the work Sunbelt Rentals did for us," said Bernard R., Project Manager. "We presented them with every possible problem, and they came right back with a solution for us. Our main objective was to see that the structure had no resemblance of a tent. And sure enough, it didn't."
Sunbelt Rentals met their needs by providing them with a new and completely customized double-decker structure complete with an internal wood staircase, an exterior staircase, two stories of glass walls, hard walls, double glass doors, HVAC, custom graphics, flooring, lighting, and an elegant, noteworthy presence.
Goals
The customer did not want the structure to look anything like a "tent." They wanted their space to stand apart from everyone else's. Anyone can have a canopy or pole tent, but when you're in an open, outdoor environment, the objective should be to make a powerful statement about your company. The customer was looking to provide a state-of-the-art space to entertain VIP guests while demonstrating their products and services. We were happy to oblige and made sure their requests were met.
Challenges
There was a significant degree of difficulty with this project, due to the complex nature of the structure. This project was envisioned, created, and put together at our headquarters in Memphis, Tennessee, with all parts brought in for a test set-up to work out all the kinks prior to being shipped. A major challenge was that there was only a certain amount of space but a wide range of products and services to display.
We originally had 16 days for the setup, for a project that would typically take 10 days to install. However, the space was being used for another tradeshow, so we weren't able to set up as promised. We were then given 5 days for the install. Luckily we had set the structure up with the complex additions at our headquarters, so there were no surprises. We finished in 4 ½ days, giving us half a day to walk around with our customer and make sure they were pleased with everything.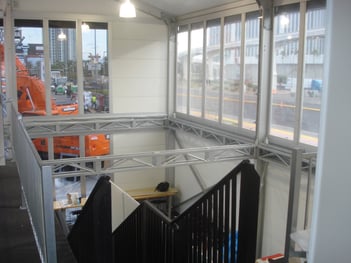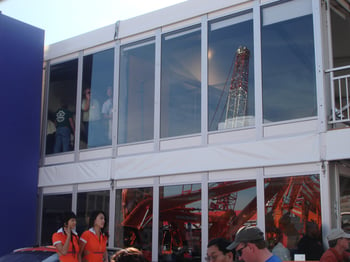 Solution
The customer wanted the interior have a loft feeling to it, so we built a portion to be completely open, with no flooring above and a cathedral-style ceiling. A large LED display was requested for the front of the structure, so we created a parapet to connect it to the structure. A façade, complete with custom graphics, was then built all the way around the top of the structure to mask the parapet connections. For the second level, a complete open-air terrace was added, as well as a 48' x 42" hard panel railing, giving the structure even more of a aesthetically-pleasing, prestigious feel. Insulated steel walls and tinted glass panels were also added to combat the harsh desert heat.
The structure had an amazing appeal to it, and our customer was extremely pleased with the job and service provided by Sunbelt Rentals," expressed Bernard. "We will definitely be using them again."
Our solution was to build a double-decker structure equipped with stairs, glass walls, hard sides, custom doors and a plethora of event accessories. The uniqueness of the project is attributed to the customization.
Approach
First was matching the exact Pantone colors of the customer's logo for the top facade.
Next came the internal staircase. Due to space requests by the customer, we had to create a longer staircase to keep it straight vs. turning it. A 4' x 4' landing was built, and even with the 7.75" rise in steps, we were able to work around space issues and create a perfect fit without cutting into the open terrace.
Another challenge was figuring out how the LED display would work. We built a 16' 8" wide and 10' tall false awning and parapet, which were needed to anchor the TV screens to the structure and provide back support.
Setup time was also seen as a complexity at first. However, we worked around that issue and finished with time to spare.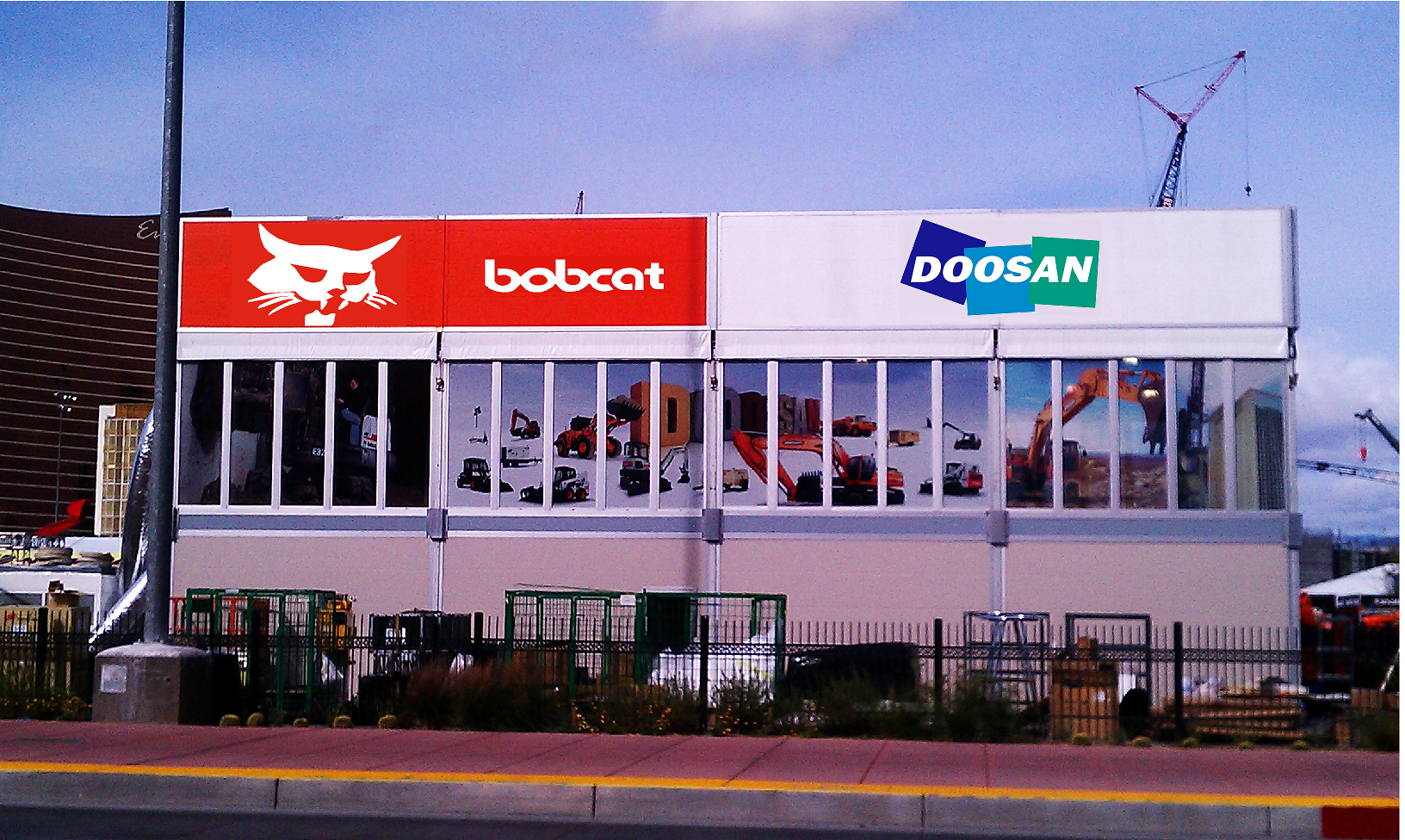 Results and Future Plans
The MFS double-decker tradeshow exhibit was recognized for the following award:


AWARD OF EXCELLENCE
Tent Manufacturing
Double-Decker Tradeshow Exhibit
Sunbelt Rentals Fafbric Structures
At an event, it's all about giving your guests an experience they won't soon forget. And that's exactly what we provided for our customer. The customer was thrilled with the finished product – a 33' x 66' x 10' double-decker structure. It was the perfect combination of an upscale setting with a relaxing vibe due to the open-air areas, and it was the standout booth of the show.
The end result was a spectacular exhibit space that entertained and amazed all those who experienced it. The customer has already referred a customer to us since the event, and we have since worked on ideas for improving the structure for next year's show.