Trade shows and expositions offer companies a vital opportunity: the chance to showcase their products and services to their target market AND interact with potential customers, all in one setting.
Just how important can trade show marketing be for a business?
According to a study conducted by the Center for Exhibition Industry Research (CEIR), 92 percent of trade show attendees say they are looking for new products (Source:  CEIR: The Role and Value of Face to Face). What's more is that 78 percent of trade show attendees travel more than 400 miles to attend an exhibition, which means you are getting a national audience at many trade shows (Source:  CEIR report ACRR 1153.12).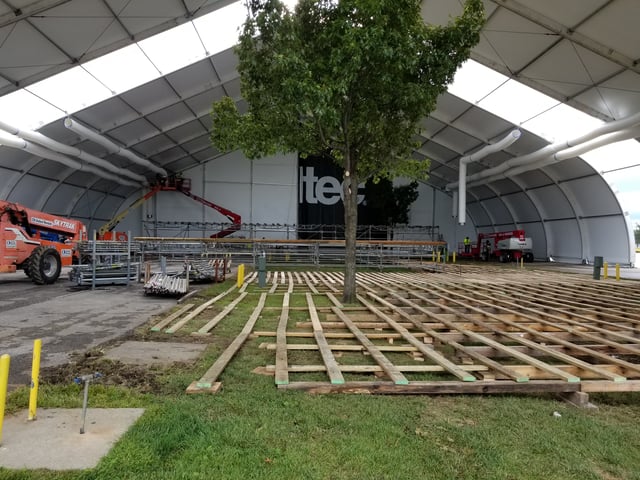 Sunbelt Rentals proved to be a valuable partner for designing and creating an impressive, show-stopping branded platform inside a stunning temporary structure display area for a large utility and construction equipment company at a prominent international exposition. This expo is a well-attended event and widely known as the place for construction and utility equipment providers to shine. At this event, companies vie as exhibitors to take their "best in show" products and services to market.
The Challenge
A leader in utility and construction equipment planned a major showcase of equipment, services and features in the upcoming international trade show. The company secured one of the largest lots at the expo for the stand-out display they had in mind. This unique project required a special partnership. Sunbelt Rentals was selected because of our more than 90 years of experience in building temporary structures for all types of events and our expert designers, project managers and installers.
The client envisioned one massive structure to house a jobsite theatre and a meeting hall. This giant hub would include a host area for their interactive displays and to serve as a meeting area for customers to discuss their equipment needs with account managers, engineers and executives.
The jobsite theatre would present features and machines with innovative new control system technology and interactive displays showcasing product support and service capabilities.
In addition to the large space required, the environment needed to be comfortable enough for meetings and browsing.
Although the lot was one of the largest available and would provide ample real estate once constructed, the key challenge was the terrain. The lot was situated over a ditch, and the display structure would have to stretch over it. There were also other issues to consider, such as trees that could not be moved.
The client's needs included a structure that:
Could be constructed safely over a ditch with tall trees

Incorporated custom graphics into the design

Included amenities for meeting space (carpet and HVAC)

Included personnel doors

Included loading and entry doors

Incorporated a multi-level presentation (jobsite) area
The Solution
Sunbelt Rentals constructed a unique and beautifully architectural Sunbelt Rentals Tension Series (MTS)™ structure to meet this client's needs.
The MTS™ structure is engineered with a peaked arch profile. The MTS™ structure also has proven its versatility. It is made of industrial fabric and is easily expandable, meaning it could easily meet the necessary dimensions for such a large space. The final structure was dubbed "the Dome" by clients and crews and featured an aluminum frame and center bay clear top that provided a stunning natural skylight in the space.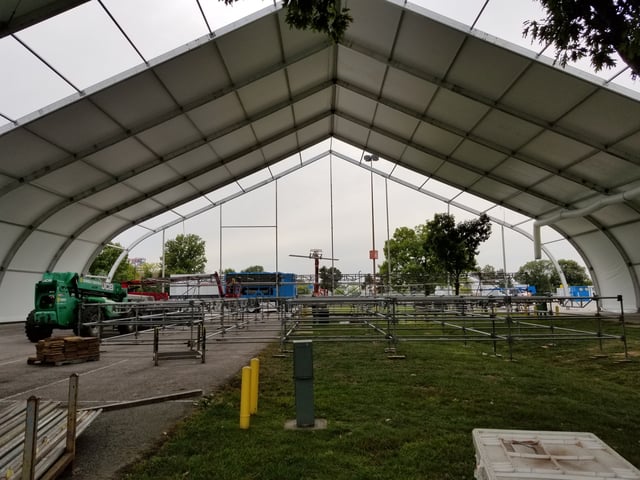 A graphic logo was developed offsite in panels and incorporated into the interior gable wall as a backdrop for presentations in the mezzanine area. Sunbelt Rentals added roll-up doors, personnel doors and included amenities such as climate control utilizing HVAC units with ductwork, and carpeting for the floors.
The team needed to build the structure over a ditch. This obstacle required and experienced team who could bring a creative solution to the table. In this case, the Sunbelt Rentals installation team hand-raised the floor. The team built a subfloor using 4' x 6' joists arranged in a horizontal/vertical grid pattern. Shims and concrete blocks were used to raise the floor and make it level.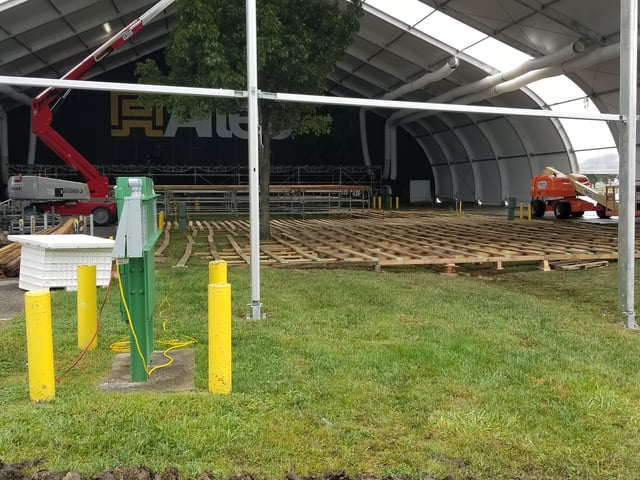 Sunbelt Rentals' signature expo deck flooring system was added to build the floor over the grid and fully carpeted the finished floor. Sunbelt Rentals' team installed a paved perimeter around the subfloor. The final result was an outstanding solution that provided world-class visual appeal. The finished floor and perimeter showed no signs that a rough terrain and ditch were ever obstacles. Since certain terrain features couldn't be changed, a couple of existing trees were included in the plan design.
Sunbelt Rentals' Solution included the following features:
Over 24,000 sq feet of stunning exhibit space utilizing theSunbelt Rentals Tension Series (MTS)™

3 elevated platform scaffolding systems w/brace bars, joists and plywood

4 sets of interior steps

2 personnel doors

Custom graphics highlight the client and creating powerful brand awareness

Center bay clear top

Expo deck flooring

Carpet

Expert project managers, designers and an expert installation team
The Result
The result of the project was an impressive and architecturally stunning temporary structure. The exposition proved a huge success for this client. They were able to display all of the interactive features they wanted and provide a comfortable meeting environment for guests, making this a must-see exhibit for attendees at the trade show. Plans are already in the works for another successful partnership with the same client at the same exposition in 2019.
The Takeaways
Trade shows are lucrative marketing opportunities for businesses in a variety of industries—but you have to stand out! Make the most of your exhibitor investment by partnering with a vendor with the experience to help bring your vision to life.
Want to learn more about how we help you with your next big event? Contact us today to get started.