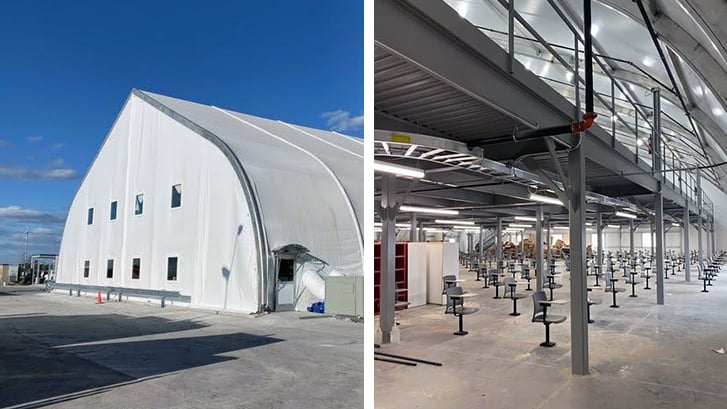 When COVID-19 struck, one of the world's largest meat producers was forced to address insufficient space for its large workforce. The food giant had no choice but to reduce its operations by 30 percent, restricting much-needed supply and resulting in a financial burden on the company and its workforce.
In order to ramp back up to full capacity, the manufacturer needed to increase production and break space, but had limited real estate on site. Sunbelt Rentals had the perfect solution: build up. Sunbelt Rentals' innovative team of expert project managers and engineers set out to double the usable square-footage without expanding ground space.

The Challenge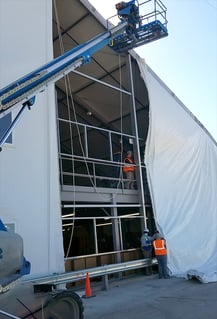 The facilities' limited ground space meant expansion had to go up — not out. It also meant that Sunbelt Rentals crews would have to get creative with installation methods. The tight outdoor area did not allow space for install crews to assemble and lift the temporary structures in a typical manner.
Another challenge Sunbelt Rentals faced was preparing the foundation of the sites. The concrete foundations already at some sites were not the correct size and required Sunbelt Rentals to work hand-in-hand with the client and a contracted professional team to remove old concrete, pour new and carefully install gas and electricity connections throughout.
Following a thorough timeline was the most important detail of this project. The client was dependent on the temporary manufacturing and break solutions to get its team back to full operating capacity.

The client's structure needed:



Minimum 36 sq. ft. per each employee to have during lunch and breaks



Multi-level structure to add additional space




Quick installation




The Solution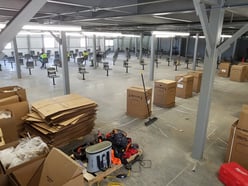 Sunbelt Rentals' team was able to build up instead of out, designing a two-floor mezzanine tent for employees to safely take breaks and eat lunch with sufficient space to maintain safe distancing. By connecting these clear span structures to the manufacturing plant buildings Sunbelt Rentals was able to keep outdoor foot traffic low.
Sunbelt Rentals teams solved for the locations' physical constraints by using cranes to drop the structures into place, instead of building flat on the ground and raising up. This allowed the Sunbelt Rentals teams to efficiently work within the limited space.
The Mahaffey Tension Series™ (MTS™) industrial clear span fabric structure met all the specifications of the client's facilities and climates. Engineered using a peaked-arch profile, the MTS structure is engineered to withstand winds up to 130 mph and snow loads up to 30 lbs. per sq. foot, providing a safe space for employees to relax and durability in extreme weather conditions.

Sunbelt Rentals' solution included the following features:
HVAC
Big Ass Fans®
Emergency lighting
Specialty lighting
Special connection canopies
Connection from the structures and the building
The Result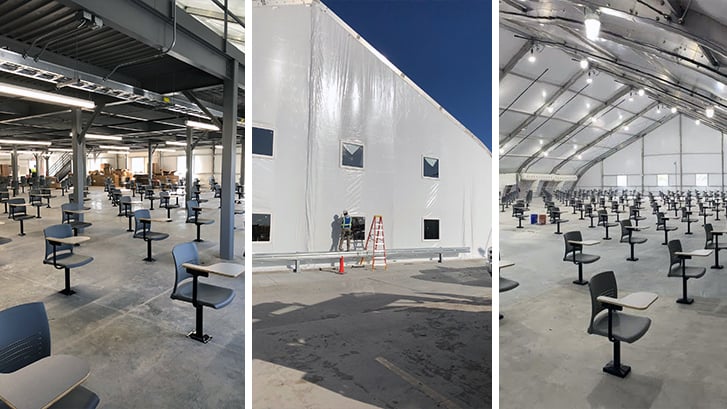 As a company used to staying on its toes when projects demands shift, Sunbelt Rentals was able to anticipate possible problems and provide solutions throughout the entire project to stay on track. This job not only required innovation and attention to detail, but an ability to go above and beyond while working in conjunction with other vendors. Throughout the entire installation and result the client expressed their satisfaction with Sunbelt Rentals' quick response, turnkey services and quality of work.
The Takeaways

Sunbelt Rentals Project Manager Chris Ladley expressed how important this project was to him and his team. By organizing the design and installation and staying in constant contact with the client, Chris and his team were able to Deliver a Legendary Experience — the Sunbelt Rentals way.
Sunbelt Rentals teams are currently preparing these clear span structures for a multitude of industries around the country. If your team needs new solutions to adapt to conditions in the era of COVID-19, Sunbelt Rentals is ready to help.
---
Interested in learning more about Sunbelt Rentals' custom solutions? Simply click on the button below to speak with one of our experts.