As temperatures soar in cities across the United States this summer, employers in industries such as, construction, oil and gas and manufacturing look for ways to keep employees cool and productive. Climate-control and employee satisfaction go hand in hand, especially when it's hot outside and crews are exposed to the elements.
NASA found and reported in a heat stress study called CR-1205 that exposure to higher temperatures directly affects an employee's work output. For example, if the temperature outside is 95 degrees Fahrenheit, the potential work output loss is 45 percent. The resulting error rate for the employee is 700 percent higher than the zero percent measured at a comfortable outdoor temperature of 75 degrees Fahrenheit. For employers, keeping employees safe and healthy is paramount to productivity and profitability. Keeping them cool is obviously an integral part of the equation.
Sunbelt Rentals' team has completed many successful projects where climate-control was essential to the overall turnkey fabric structure solution. Our inventory includes a massive collection of customizable products and amenity-rich accessories.
In two recent examples outlined below, we'll explain how Sunbelt Rentals temporary fabric solutions helped employers with mission-critical productivity projects keep employees cool and comfortable as the weather heated up.
Sunbelt Rentals Temporary Structures Provide Oil Refinery Workers Oasis from Heat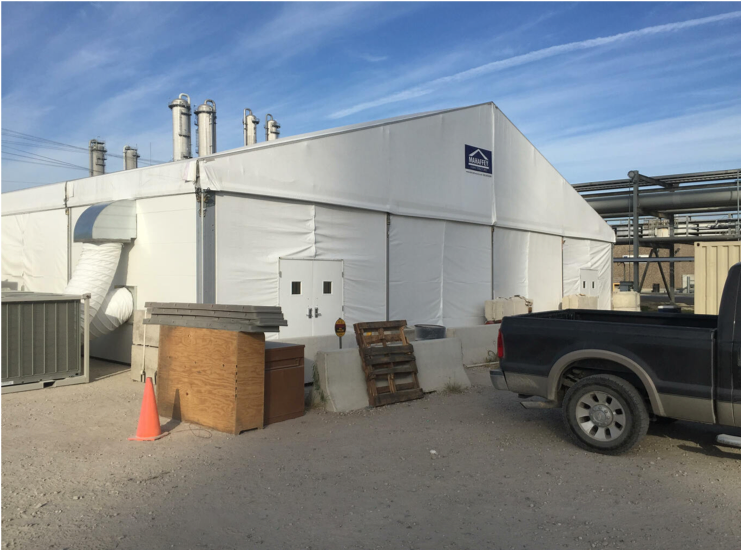 For a hardworking petrochemical crew, battling the Houston, TX heat was a deterrent to a happy, productive work environment. For the employer, providing a cool, comfortable place for rest and mealtime to the crew was essential – not just to productivity but the morale of their team. They asked Sunbelt Rentals for an expedited turnkey solution.
Sunbelt Rentals was tasked with replacing an older temporary tent with leaks and tears that was currently being used on the job site. The air-conditioning ducts were not sufficient and the tent was losing cool air. The situation was not only expensive for the employer – in terms of costly energy loss – but also uncomfortable for employees.
Our solution included the MegaStructure™ – Sunbelt Rentals' industrial fabric structure – best suited for semi-permanent applications of at least three months and ideal for industrial projects and those applications located in areas with harsh climate conditions. Additions that ensured comfort and climate-control included three HVAC units with our soft-duct air conditioning systems, ambient lighting and ExpoDeck flooring.
Climate Controlled Temporary Structure Enhances Recovery Efforts for Chemical Plant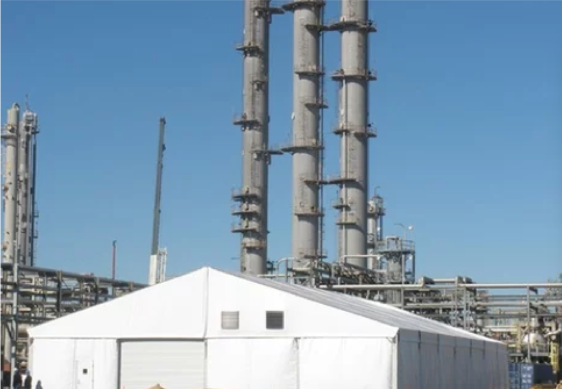 Sunbelt Rentals structures are built with durable, dependable fabric that can withstand harsh weather environments. That's important when Mother Nature disrupts business as usual with a natural disaster.
A chemical plant on the gulf coast had experienced a loss in productivity and production due to the flooding caused by Hurricane Harvey. They anticipated a need for a temporary structure to accommodate at least 1,000 contractors who were coming to help with the recovery effort. Their temporary structure needed energy-efficient air conditioning, flooring and other amenities to make the structure a comfortable break and lunch area for workers.
Sunbelt Rentals provided a customized temporary fabric structure durable enough to last throughout the summer with an HVAC system capable of easily accommodating large crews for six months or more.
Our quick response, climate-control capabilities and fast turnaround – just seven days – saved the chemical company countless man hours and enhanced productivity throughout the recovery process.
The Takeaways
Sunbelt Rentals understands how important the comfort of your employees is to running a smooth operation when the weather heats up. We know employers value employees and understand that maintaining a healthy workforce and a safe environment is essential to productivity. Our team is OSHA certified and ensures all safety regulations are noted and executed within the customized plan for your project.
Over time, our experts have developed an inventory of temporary structures that can be customized to create climate-controlled environments. We offer accessories for hot climates and humidity including on-site air distribution systems, HVAC systems with dehumidification capabilities, ventilation systems, ceiling fans and other proprietary energy efficient products such as doors, walls and floors to help beat the heat when a temporary structure is required.
Call one of our project managers the next time you need a qualified expert to help you keep employees cool this summer.