When a city needed to build a new permanent firehouse, Sunbelt Rentals bridged the gap with a customized temporary fabric structure.
As the fire department aged and expanded, they ran into significant space limitations with their existing building. While they began the complex process of constructing a larger firehouse that better fit their needs, they needed a temporary building that could house their trucks and equipment.
Sunbelt Rentals' experience designing and installing temporary firehouses for disaster relief and new construction made them the perfect partner for this project.
The Challenge
Built in the 1930s, this North Chicago firehouse was beautiful and historic — but entirely too small to properly service the community. The fire trucks of the early 20th Century were much shorter than today's, so this centuries-old firehouse couldn't accommodate the modern engines and ladders.
Instead of parking trucks in the firehouse, this department had to park them out front, leading to wasted time and energy. Only ambulances and other small vehicles could fit in the building.
The city needed to construct a new firehouse with more space, but in the meantime, the fire department's essential services had to continue. After finding Sunbelt Rentals online, the client discovered that Sunbelt Rentals' solution was far better than the competition because of the highly-customized fits, finishes and accessories.
The Client's Structure Needed:
| | | |
| --- | --- | --- |
| SuperSeries™ frame | Remote electric doors | Guardian Steel Walls™ |
| | |
| --- | --- |
| Durability against the elements | Quick installation |
The Solution
First, Sunbelt Rentals determined the minimum amount of space needed to fit the department's fire trucks, then analyzed how much additional square footage the crew would need to store and maintain their equipment. Plus, Mahaffey had Chicago's extreme weather to consider, so the solution had to be able to stand up to the Northern wind and snow.
Sunbelt Rentals' experts decided on a SuperSeries™ structure that measured 33-feet-wide, 50-feet-deep and 13-feet-tall. To meet the local fire codes, Sunbelt Rentals' solution also included flame-retardant fabric and two exits with clear signage.
Additionally, the solution required electric doors that firefighters could operate from the trucks. The Sunbelt Rentals team installed secure garage doors with photosensor technology, which a local service company then inspected and certified to ensure quality control.
Because firehouse construction is not always a quick process, the structure had to stay in peak condition for at least 15 months. Sunbelt Rentals added insulated steel walls to the already-strong solution to add extra durability, security and longevity.
The Result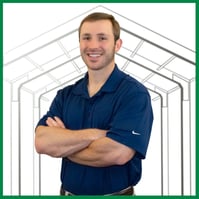 Sunbelt Rentals completed the installation for this structure in just three days, working closely with the department to ensure the final solution exceeded their expectations. The added Guardian Steel Walls™ enhanced the aesthetics of the temporary solution while keeping the space warmer during the cold Chicago winter.
Project Manager Ethan Pretsch said this project offered a unique opportunity to "help the people who help people" and ensure the department's heroic work could continue. Sunbelt Rentals is proud to support the fundamental missions of organizations through disaster-relief and business-continuity solutions.
The Takeaways
For fire departments and other emergency responders, downtime isn't an option. Sunbelt Rentals provides turnkey solutions and flexible lease terms to ensure no time is lost during times of transition. Temporary firehouses require a niche understanding of fire codes and complex coordination with city officials and third-party vendors — all of which Sunbelt Rentals has a proven history of managing.
Interested in learning more about temporary, portable construction shelters and tents, or want more information about how you can get a custom fabric building for your business?