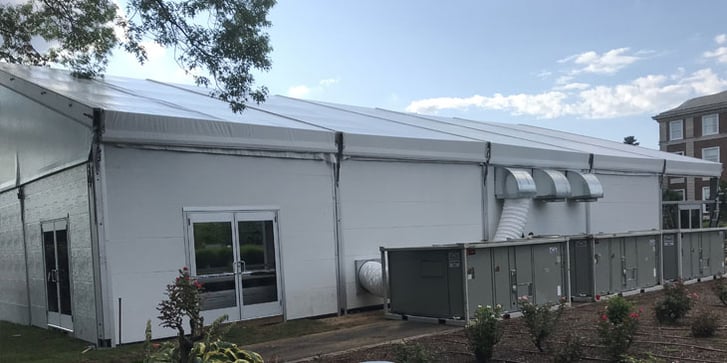 You don't need a general contractor and a year of lead time to build a structure that lasts.
Hard-sided solutions provide the durability of more permanent structures with the flexibility and efficiency of a temporary structure. At Sunbelt Rentals, our optional Guardian Steel Walls™ can add even more resilience to your temporary solutions. This add-on is particularly popular in the construction and manufacturing industries with longer-term projects. Companies choose hard-sided sidewalls for their temporary structures when they need solutions that are semi-permanent, rather than temporary.
Wondering if hard-sided solutions are the right fit for your business? Here are five benefits of these upgraded solutions.
1. Control for Extreme Climates
Weather concerns are among the most common reasons for choosing these kinds of structures. Hard-sided solutions shelter your crews or products from even the most extreme weather conditions. With extra layers of insulation, Sunbelt Rentals' hard-sided structures are the best solutions for areas prone to extremely heavy snow and high winds. They will stand up to elemental abuse while allowing you to keep the interiors at consistent temperatures. Whether you are dealing with the blistering Southern heat or the frigid Northern cold, hard-sided solutions allow your structures to have the advanced temperature and humidity controls of permanent buildings with fewer overhead costs.
2. Strong Security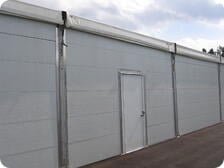 Hard-sided solutions also provide a solution for security concerns. By using steel side walls for your structure, you gain solid barriers that no one will be able to penetrate. This extra security can bring peace of mind to those working in customer-facing or busy locations. For example, Sunbelt Rentals installed its first temporary structure with insulated Guardian Steel Walls™ in 1999 on the set of the film "The Legend of Bagger Vance." As a high-traffic area with unique security needs, the movie set benefited from the 24/7 security that Sunbelt Rentals' hard-sided solution provided. Now, hard-sided solutions are used in an array of industries to add even more security to flexible sites.
3. Long Lifespan
Hard-sided structures provide a durable, semi-permanent solution with greater flexibility than all-metal buildings. Sunbelt Rentals' fabric is already guaranteed to last up to 12 years, but the Guardian Steel™ panels are built to have even longer lifespans. The reliability of hard-sided solutions allows the structures to stand tall on your sites for as long as you need them. Hard-sided structures are the perfect fit for temporary warehouses or break areas that you plan to have on-site for years. Your structure will not only endure extended weather cycles, but it will also delay the wear and tear associated with years of use.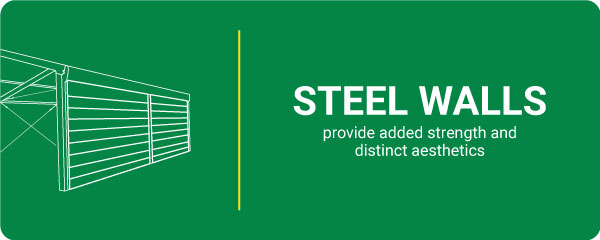 4. Distinct Aesthetics
In addition to the physical benefits of these solutions, some companies also prefer steel side walls for their aesthetics. The firm exterior surfaces look sleek and strong, helping the structures to appear more permanent than other temporary solutions. If you need eye-catching structures to impress clients or customers, hard-sided solutions may be right for you. They will tie together the aesthetics of your existing infrastructure as if they have always been on your site. These semi-permanent structures provide better light control and acoustics than plastic panels, making them ideal for break areas or base camps.
5. Enhanced Energy Efficiency
In terms of energy efficiency, steel sides typically outperform typical plastic covers. With an insulating R-value of 13.45, Sunbelt Rentals' Guardian Steel Walls™ take efficiency to the next level. Pair your insulated steel sidewalls with Sunbelt Rentals' Roof Insulation System to give your solution an even greater energy upgrade. Together, these amenities protect your crews from temperature fluctuations for lower costs than permanent solutions. The outstanding energy performance of hard-sided solutions keeps your operational costs low and minimizes your environmental impact.
Whether you have a temporary or semi-permanent need, Sunbelt Rentals has a custom solution for you. Sunbelt Rentals trademarked Guardian Steel Walls™ add years to the already impressive lifespans of our structures. Interested in learning more about our hard-sided solutions? Contact Sunbelt Rentals online or call our experts at 844-899-7744.