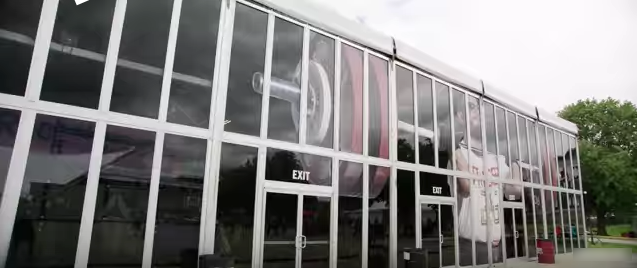 Sunbelt Rentals recently designed and installed a can't-miss trade show display structure for a major manufacturer and distributor of strength and conditioning equipment.
For this expo, the vendor booths must appeal to the fittest people on earth and stand out to a stand-out crowd. That's why our client chose Sunbelt Rentals. Our portfolio features an impressive track record of trade show and expo successes.
In addition, Sunbelt Rentals' team of expert designers, project managers and installers oversee every detail, from design and installation to structure removal. And we are laser-focused on ensuring your project accomplishes your goals and vision.
The Challenge
When the client originally called Sunbelt Rentals, about six months before the expo, they were uncertain about the design but knew they wanted to knock the socks off the competition. They looked to Sunbelt Rentals' team to help with creative ideas that would help them stand out. They are a well-known brand in the industry and envisioned a booth that would elevate the brand. They wanted panache. They aimed to show off their equipment, attire and accessories in a display people couldn't miss.
The structure grew as ideas progressed, and plans eventually included a striking retail space that provided plenty of room for browsing and testing equipment. Bottom line: they wanted a big, beautiful custom-made store with lots of windows.
The client's needs included a structure that:
Appeared sleek and athletically sophisticated

Incorporated custom graphics into the design

Included amenities and a retail feel

Included several entry doors

Included a large space with tall ceilings
The Solution
Rising above a sea of champions takes custom-made ingenuity. Sunbelt Rentals presented a plan to install a large, custom double stacked glass wall structure. It would include insulated wall panels for HVAC vents, providing a sleeker more polished retail look. The structure would allow graphics prepared offsite to be easily incorporated.
The best feature of this unique structure would be its transformation beyond the typical event booth to a breathtaking glass storefront due to Sunbelt Rentals' custom design.
Sunbelt Rentals' solution included the following features:
7,500 sq.-foot custom clearspan tent structure with 20' ceiling

Insulated hard wall panels with HVAC vents

Double glass doors

Custom black gables and walls

Aluminum tracks to join glass panels

Expert project managers, designers and an expert installation team
The fact that this remarkable structure was not an "off the shelf" installation was Project Manager Mark Huels's favorite part the project. The Sunbelt Rentals team joined 10' glass panels from Sunbelt Rentals' inventory to build the bays. The finished booth was a towering structure with 20' walls of glass.
Much of the custom work was done on site, including cutting and measuring to fit pieces perfectly together. The team then added a clearspan top with 20' legs that spanned the 150' length of the booth. Graphic logos were added to the top and front window panels adding to the attractiveness and storefront appeal of the booth. Additionally, athletic photo graphics were added to select interior window spaces, providing guests a view of athletes in motion.
The Result
The custom booth exceeded everyone's expectations. It was taller than average, had beautifully designed graphics and gave the client the "show stopping" appeal they desired to sell their products. People noticed and they shopped. The client was very happy.
Sunbelt Rentals even received calls from attendees interested in having a similar structure for their own upcoming events.
The Takeaways
Competition is fierce. Period. Work with a vendor you trust to bring creative ideas to the table and help you stand out at your next big event. Our highly professional team of dedicated, responsive, problem-solving pros are ready partner with you.
Planning for an upcoming trade show or expo? Contact Sunbelt Rentals today to get started on a show-stopping design for your exhibit.