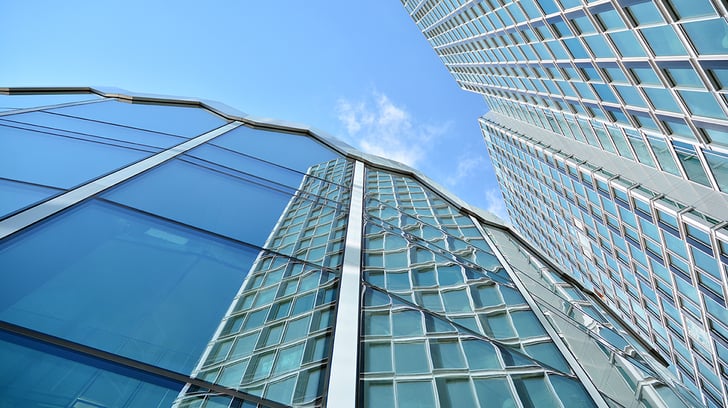 Sunbelt Rentals has made a name for itself by making seemingly impossible structures a reality to solve clients' needs. Especially within the construction field, temporary structure requirements can change as quickly as the project itself.In early January one of the nation's largest healthcare providers reached out to Sunbelt Rentals with a unique project request. This client was about to embark on a sky-high renovation and needed a solution to keep crews and employees within the building safe and keep the workspace climate-controlled throughout the renovations. After approaching another temporary structure company, they were directed to Sunbelt Rentals because of its reputation with customized temporary structure solutions.

The Challenge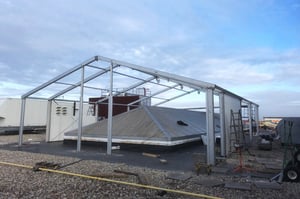 When this client approached Sunbelt Rentals with their idea to build a temporary structure over two skylights in their 12-story building, they thought it might be a crazy idea. The structure height, nature of the renovations and severe weather seemed to create to an impossible objective. Sunbelt Rentals quickly assured the client that none of these factors were too limiting for their heavy-duty structures and expert teams.
Sunbelt Rentals teams were tasked with first bundling the equipment for a crane lift, then transporting the necessary equipment up 12-stories, and finally staggering Sunbelt Rentals trucks on the street below in such a way that they wouldn't block downtown street operations.

The client's structure needed:



Coverage of (2) 20-foot x 100-foot skylight construction areas



Able to construct on top of a 12-story building




Protect crews within the structure from cold, rain and snow

Sunbelt Rentals project managers needed to carefully calculate the weight capacity of the roof these structures would be built on. Teams had to connect purlins carefully over a very weak structure and anchor them into the roof membrane, keeping the inside heating so the building would not get cold. The building did not have enough electrical power for electric heaters so Sunbelt Rentals teams needed to tap into the natural gas line that ran across the top of the building to keep workers warm.

The Solution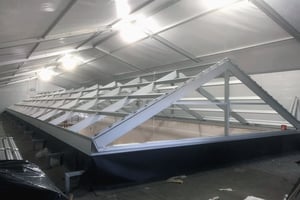 Sunbelt Rentals teams got to work with expert oversight and creative methods to get this sky-high renovation underway. By using a boom lift, teams were able to attach purlins over both skylights safely while navigating around rooftop HVAC systems. Once the purlins were secured, Sunbelt Rentals' team discovered that the rooftop structures would have to be anchored with less space than anticipated — but Sunbelt Rentals teams are well-acquainted with overcoming on-site curveballs.

Sunbelt Rentals' solution included the following features:
(2) 40' x 115' (12m x 35m) Clearspan Sunbelt Rentals Structures
17' Peak Height
Total structure coverage of 4,521 Sq. Ft.
(6) NG HeatersFans
Magnetic Cargo Doors
(4) Single Steel Doors
(4) Fire Extinguishers
(4) Exit Signs
(10) LED Lights
The Result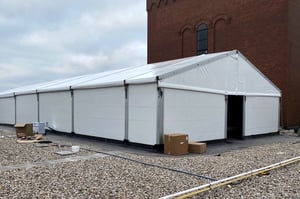 Sunbelt Rentals' solution allowed the skylight renovation team to work from January through March with no interruptions due to cold, rain or snow. With careful planning and clear communication with both the client and the renovation team —Sunbelt Rentals teams worked nights to help speed the process and complete the project successfully, ahead of schedule. The fast turnaround helped the client reduce the overall cost of the renovation. Despite facing location, space and weather challenges, the Sunbelt Rentals team installed the project in just two weeks.

Chris Ladley, the lead Sunbelt Rentals Project Manager said, "This was an incredible, farfetched idea that our teams brought to life. It was an amazing experience to work with the customer and collaborating project managers to get every team in sync and complete it in a way that left the customer surprised and satisfied."



The Takeaways
Sunbelt Rentals' extensive experience with the construction industry has honed the team's skills in problem-solving and delivering results, fast. Because of Sunbelt Rentals' turnkey project management, our clients can focus on their business operations and let Sunbelt Rentals deliver dependable, innovative solutions to keep their projects on time and on budget.
---
Interested in learning more about Sunbelt Rentals' custom solutions? Simply click on the button below to speak with one of our experts.