Our project managers at Sunbelt Rentals are experts. Each works hard to fulfill our customers' needs in a seamless, timely manner. Project managers are there every step of the way, beginning with the first consultation and ending with the customer's satisfaction. The team organizes, critically analyzes and monitors the progress of each project and the implementation of all of our fabric structures. This seems like a no-brainer, right? Not exactly. Our project managers can function as event planners, engineers and so much more. Read more below as we walk through some of their critical duties.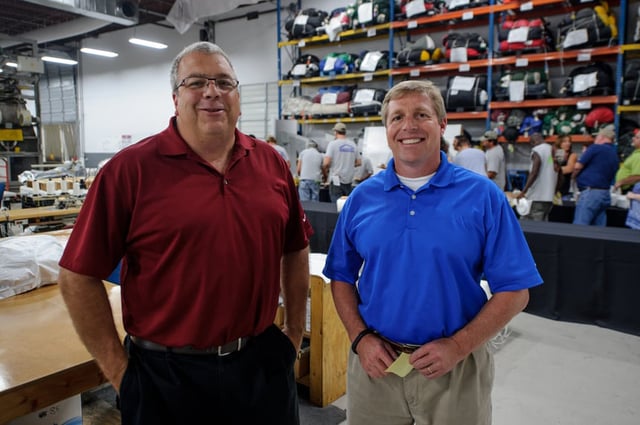 Consultation. Meeting with a project manager before your project is ready to take off can give direction and clarity. When a client has a specific need, our project managers can sort out what would be the best fit and fulfill those needs to your specifications. Every project or worksite is different, and our project managers take the time to delve into the best solution. This creates a clear path (both agreed on by the client and project manager) for the timeline of the project and the best long-term solution.
Product realization. After the initial consultation and a strategy has been created, project managers oversee the actual implementation. They align the details of the transaction to occur based on the approved timeline, ensuring resources, personnel and time are allotted appropriately and used in an efficient manner. Realizing the intricacies of each project, our team uses their vast knowledge to solve problems as quickly as they arise, and give educated and workable solutions that leave the customer with a complete end product.
Wrap-up and beyond. Even when a project has come to complete fruition, the roles of the project management team don't stop. Deciding what's next can be a daunting challenge for a client, especially when you are already dealing with the potential misplacement of employees or materials during the entire process. Our team works to relieve the stress of our customers by removing structures and any accessories provided when they're no longer needed. When our equipment has left the site, our project managers serve as the best points of contact in case the client has any last-minute questions, or needs assistance for another project. Creating that personal contact with someone familiar with the project and company's needs is beneficial to moving forward, as the person does not need extra time to familiarize themselves with the client or issue; that has already been established.
We attribute much of our success to our project management team. They're ready, willing and capable of assisting on a plethora of projects. While a client can tend to the necessary tasks at hand, project managers are able to focus on their specific aspect of the job, relieving the time and effort needed by the overall job supervisor.
Interested in speaking with a project manager today? Contact us.