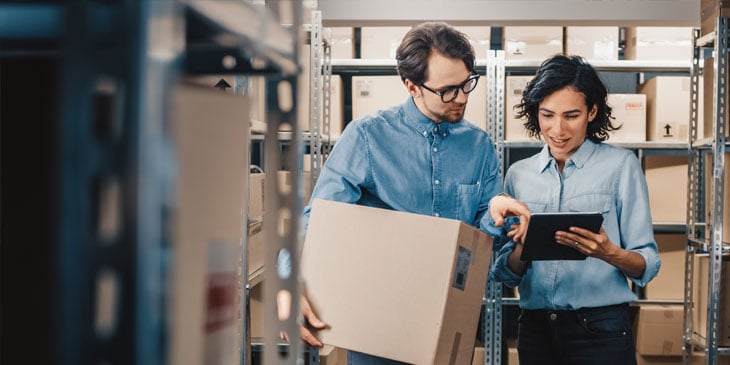 Having adequate space for your business operations, production, fulfillment, inventory and other functions is critical for organizational success. As companies move into a busy season, acquire new contracts or expand their product offerings, the need for temporary warehouse space can happen quickly, and the ability to have the space readily available can make or break these growth opportunities.
Traditionally speaking, many companies have considered leasing off-site space as the first option for temporary warehousing needs. However, you may not be able to find the perfect solution in terms of size, structure, location, or cost. Not to mention, sourcing a warehouse space takes time and energy that you otherwise could be spent on more important tasks within your organization.
A temporary warehouse on your business premises may be the ideal solution to your storage needs. From excess inventory to building materials, nearly anything can be protected by a temporary warehousing structure conveniently located on site.
1. Temporary warehousing on-site saves money.
By having temporary warehousing constructed on your property, you save on costs since you already own, lease or rent the premises. Off-site warehousing can be costly and inconvenient.
2. Time is money; therefore, time is valuable.
Temporary on-site warehousing allows your organization to have everything stored in one location, which saves transit time to and from the storage facility. You may find an ideal off-site warehouse, but it may be located miles from your business. Save drive and transit time by keeping everything in one place, right on your property.
3. Temporary warehousing serves more purposes than simply storage.
With a temporary building, your company will have additional space for fulfillment, distribution and even production, as opposed to a container pod that only serves as storage. Plus you can use the area for lunch and break areas, if needed — consider it a flexible, multi-purpose addition to your existing facility.
4. Temporary warehousing provides a quick solution to your storage needs.
Constructing a permanent structure takes months to build, and finding existing, off-site storage takes time to identify, negotiate and sign a contract. Temporary warehousing can be installed in a matter of days, and nothing will need to be transported via vehicle — you will simply be moving items from one area to another area on the same property.
5. Temporary warehousing on-site is custom built.
You choose the size, specs, etc. that is the perfect solution for your needs, and you can add additional space as you see fit. Why settle for a space that doesn't perfectly meet your needs when you can have a custom-built, on-site warehouse space installed right on your premises in a matter of days?
6. You can leave the planning to us.
Whether you're in a pinch for additional inventory or an unforeseen event happens, such as a fire, temporary warehousing can be installed with little planning. We will do the heavy-lifting so that you can focus on your company's objectives and goals.
7. Managing an off-site space requires more resources in order to ensure optimal inventory level controls.
With everything in one place, you can eliminate the need for third-party management of controlling stock, meaning you have more control with fewer resources needed. Plus, product availability and lead-times for customers are more efficient with on-site warehousing, leading to higher customer satisfaction and increased loyalty.
8. With off-site warehousing, you are at the mercy of the facility management.
Keeping everything on-site allows your company to control the security of your items. Don't leave your investments in a position to be compromised — with on-site warehousing, you know your materials will be safe with your own security, locks and gates.
9. There is no groundwork needed.
Temporary warehousing can be installed on virtually any surface. While the more level the surface the better, temporary warehousing can be installed on sloping or uneven surfaces.
10. Temporary on-site warehousing is made of durable materials to withstand the elements.
They are made with high-quality materials, giving you peace of mind that the structure will last over time, offering stability and safety. Our team will oversee the installation process and monitor the construction of these facilities to ensure everything is on-time and exceeds your expectations.
11. On-site warehousing eliminates waste.
When companies implement Six Sigma and Lean manufacturing processes they immediately see the advantages of keeping inventory and functions at one location. Your team will be more productive, and the increased efficiencies will drive revenue and EBITDA growth.
---
There are a variety of temporary on-site warehouse structures to meet nearly every need. No matter your preferences or how much space you desire, we can install on-site temporary warehousing quickly and efficiently.
If you're considering temporary on-site warehousing, contact us today to learn more.