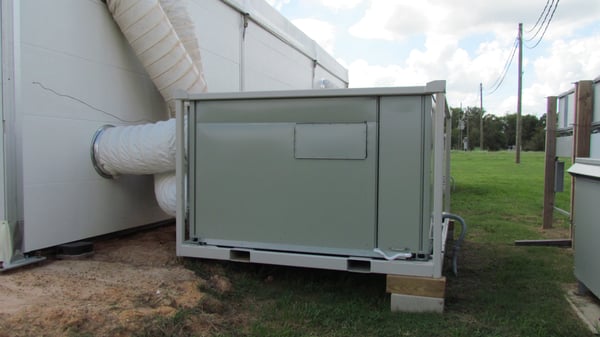 Heating, ventilation and air-conditioning (HVAC) units are among the most popular amenities that accompany Sunbelt Rentals temporary structures. A comfortable, climate-controlled environment keeps your crews productive, your operations efficient and your budget on-track.
HVAC systems need regular preventative maintenance, and if you're not taking care of the units installed with your temporary structures, it could have disastrous effects on your projects or events. Here are five consequences of neglecting the HVAC units on your fabric tents:
Lost Production Time
Every time you ignore the everyday wear-and-tear on your HVAC unit, you are moving it one step closer to a total system failure. Without consistent check-ups by either you or a professional, your unit could face a whole slew of problems, from dirty filters and leaking refrigerant, to burst coils and blown fuses. If you wait to look at your HVAC until after it's stopped working entirely, you'll then be dealing with larger, more intrusive issues that get in the way of your business. Time that you spend on a full HVAC repair or replacement may reduce production efficiency — or worse yet, a total system failure may halt your production entirely. A small but persistent issue with your unit could have you facing significant losses in production and efficiency.