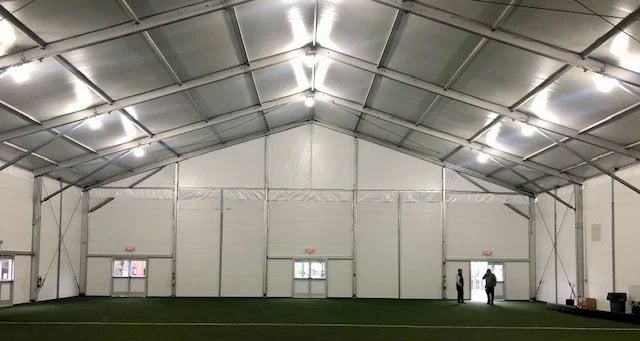 Space needs change quickly. If you find yourself needing more room for a short-term project, a clear span structure can provide that space quickly and efficiently.
The term "clear span" describes a structure with an unobstructed interior. Rather than relying on internal columns for structural support, a clear span structure is supported entirely by the external framework. This provides more usable space, making it the perfect solution for construction sites, break areas, warehouses and more.
You have two main options to add a clear span structure to your site: leasing or purchasing. Though each provides unique benefits, leasing may be your best option if your focus is on the bottom line. Here are five reasons why leasing a temporary or semi-permanent clear span structure is more cost-efficient than buying.
1. Leasing Reduces Your Upfront Costs
For temporary and semi-permanent uses, leasing your clear span structure is the most cost-efficient option. Compared to purchasing, leasing allows you to reduce your overhead expenses without compromising on comfort or quality. You receive a fixed cost for your structure, which already accounts for maintenance and any other likely expenses. Leasing also provides the opportunity for you to pay for your solution over a longer period of time by opting into flexible payment plans. Instead of needing to pay hefty fees upfront, you can choose the best payment option for you, your company and budget.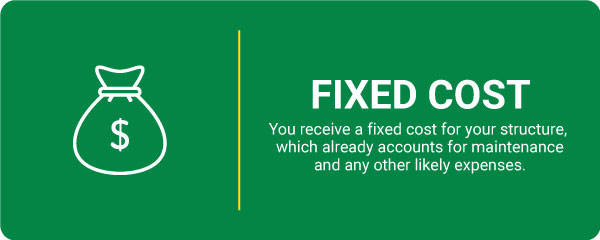 2. Leasing Helps You Avoid Costly Repairs
When you lease a clear span structure, you immediately gain access to the expertise of your lessor. Instead of purchasing a structure and being on your own for maintenance and repairs, your leasing partner is there to support you and ensure that the provided solution is meeting your needs. They can walk you through the regular maintenance that your structure requires, show you how to make the most of your structure and provide assistance if problems arise. Your leasing partner also typically covers the costs of maintenance, helping you keep your structure in top shape while cutting your costs in the process.
3. Leasing Saves on Taxes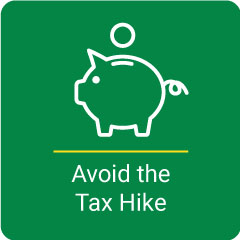 Property taxes skyrocketed in 2020, so purchasing a permanent building today might be too costly for your purposes. However, property taxes don't apply to rented structures, so you can avoid the tax hike entirely by leasing your temporary or semi-permanent solution. With that money you saved on taxes, you can pad other categories within your project budget. In addition to keeping property taxes off your expense sheet, leasing also provides long-term cost benefits by offering your company the opportunity to build credit. By following the terms of your lease agreement and always making payments on-time, your lease arrangement can help gradually improve your credit profile.
4. Leasing Increases Your Efficiency
If you are on a time crunch, leasing a clear span structure can positively impact your bottom line by giving you the space you need faster. Purchasing or building a structure for a temporary or semi-permanent use is time-consuming. On the other hand, a dedicated team can get you set up with a lease and have your clear span solution ready to use in mere weeks, keeping your crews productive and your project on track. Your leasing partner provides you with a single point of contact, increasing your efficiency by eliminating the need to coordinate with multiple parties.
5. Leasing Allows for Greater Flexibility
After purchasing or building a structure for your property, it can be difficult to expand or reduce it when your needs change. Leasing a clear span solution gives you the flexibility to adapt your structure over time. If you suddenly need more space, you don't need to dish out the money for a renovation crew. Your leasing partner can easily expand or even relocate your structure to meet your evolving needs. Leasing requires little long-term financial commitment, so you can experiment with different solutions until you find one that works for your business.
Sunbelt Rentals has more than 1 million square feet of structures in inventory and
can be ready to deploy in as little as 36 hours. Contact one of our expert
project managers today to discuss how leasing a clear span structure can
help you save money on your next project.