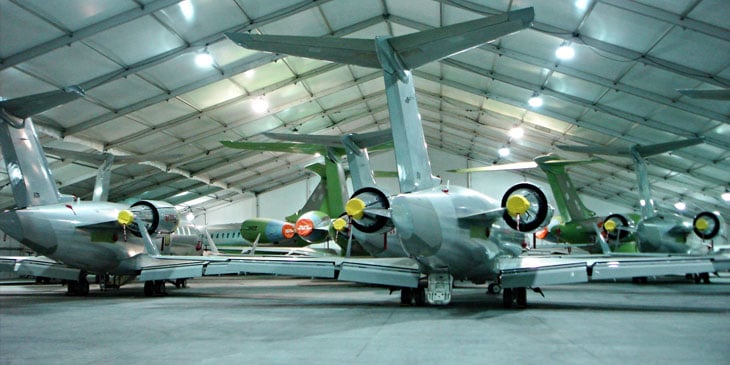 Temporary or semi-permanent fabric structures can be time- and money-saving solutions for any industry, from manufacturing and construction to education and military.
The demand for fabric structures continues to grow because of their impressive durability, flexible leasing, low overhead costs and quick turnarounds. Plus, these temporary solutions are completely customizable to meet the unique needs of each business.
If you're thinking about leasing a temporary or semi-permanent structure but aren't sure where to begin, Sunbelt Rentals is here to help. Here are some of the five most common sizes and uses for these fabric solutions.
Small Office Area: ~1,000 Square Feet
With measurements around 33-by-33, this space-efficient size is a popular choice for companies that are renovating, repairing or expanding their offices. Adding a temporary structure on-site ensures business continuity, allowing your company to respond to changes in demand or accommodate a growing workforce in any climate. While contractors get the permanent office ready for work again, business leaders are able to maintain or improve company momentum in their temporary space.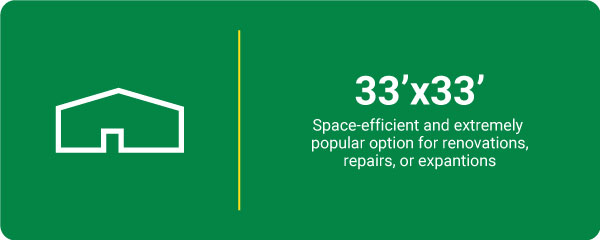 Amenities such as HVAC and insulated steel walls often accompany structures of this size to provide additional comfort and protection to company personnel and assets. Even in the aftermath of natural disasters like hurricanes, temporary structures can quickly deliver the necessary shelter for employees to work so you can maintain business operations.
Mid-sized Warehouse (our most popular size): ~5,000 Square Feet
Structures measuring 50-by-100 often serve as temporary or semi-permanent warehouses or storage solutions. When companies need to store overflow inventory or receive large shipments, they may find their existing infrastructure to be over-extended. Alternative storage like off-site, rented warehouse space costs commute time and resources that impact the bottom line. A turnkey, on-site temporary solution allows companies to keep their assets within reach, allowing them to scale more efficiently.
Semi-permanent warehousing solutions are portable and adjustable. If a company's needs change, the 5,000-square-foot structure can be expanded to accommodate additional growth. Additionally, temporary structures can be installed on any surface, including unprepped surfaces like soil, concrete or asphalt.
Large Lunchroom: ~7,500 Square Feet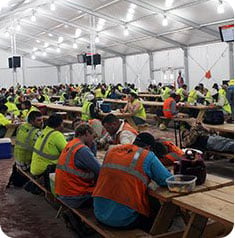 For many companies in need of lunch areas, 66-by-116 structures provide the desired space. Lunch and break areas are essential for any construction project, as they give workers the climate-controlled space to eat and recharge, right on-site. Refineries and construction sites depend on fabric structures to minimize downtime and create more efficiencies in the work day. Schools and universities often lease semi-permanent structures when renovating or expanding their dining halls.
Equipped with add-ons such as flooring, water service, lighting and generators, temporary fabric structures provide equivalent comfort to permanent buildings with the advantage of fast and flexible installation. Additional add-ons like refrigerated, freezer and cooking areas easily accommodate food-service staff.
Extra Large Production Facility: ~10,000 Square Feet
Expansive 100-by-100 structures serve a variety of purposes, including semi-permanent production facilities for manufacturing companies. In order to ramp up production, manufacturing companies need flexible solutions that can quickly accommodate large-scale operations. A temporary fabric structure can handle that growth in a way that uses space, time and money efficiently.
If product lines require specific amenities like temperature control, a fabric solution can be equipped with HVAC and reinforced walls. Fabric structures stand up to extreme heat, cold, wind, rain or snow, allowing production teams to work comfortably in any climate.
Massive Aviation Hanger: +46,000 Square Feet
As the largest of the common fabric structure sizes, 155-by-300 structures commonly offers hangar or shelter space for airports, railways, seaports and more. When a grounded jet needs repairs or an aviation company is renovating its hangar, a clearspan structure is a perfect solution. Even these massive buildings can be installed in as little as a week by our experienced crews.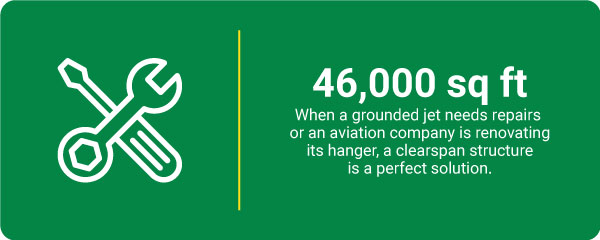 These temporary or semi-permanent structures can be customized with nearly any of the amenities of permanent hangars, such as sliding doors and fire suppression systems. If a structure needs to move to a different location after a jet is fixed, it can be broken down and relocated.
Sunbelt Rentals is the leading provider of temporary and semi-permanent solutions in the United States. With nearly a century of experience, Sunbelt Rentals' teams can deploy quickly, install efficiently and fit your structure with virtually any accessory system. Learn more aboutSunbelt Rentals'