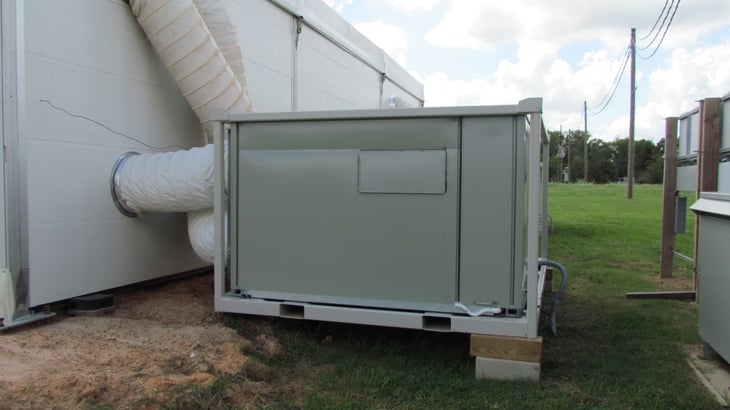 Heating, ventilation and air-conditioning (HVAC) units are among the most popular amenities that accompany Sunbelt Rentals temporary structures. A comfortable, climate-controlled environment keeps your crews productive, your operations efficient and your budget on-track.
HVAC systems need regular preventative maintenance, and if you're not taking care of the units installed with your temporary structures, it could have disastrous effects on your projects or events. Here are five consequences of neglecting the HVAC units on your fabric tents:
Lost Production Time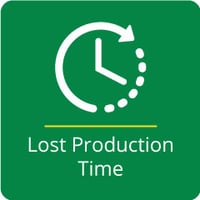 Every time you ignore the everyday wear-and-tear on your HVAC unit, you are moving it one step closer to a total system failure. Without consistent check-ups by either you or a professional, your unit could face a whole slew of problems, from dirty filters and leaking refrigerant, to burst coils and blown fuses. If you wait to look at your HVAC until after it's stopped working entirely, you'll then be dealing with larger, more intrusive issues that get in the way of your business. Time that you spend on a full HVAC repair or replacement may reduce production efficiency — or worse yet, a total system failure may halt your production entirely. A small but persistent issue with your unit could have you facing significant losses in production and efficiency.
Expensive Repairs
Replacing an HVAC unit isn't cheap. In addition to the costs of lost productivity, you will have to pay steep fees for complicated repairs to get everything up and running again. Replacing an HVAC system costs thousands of dollars, and prices increase based on the size, performance, brand and installation of your unit. When you factor in production time and any damage on your structure, the costs add up quickly. Instead, find the time to get to know your system and its needs so you can predict any significant issues and avoid any hefty price tags.
Poor Air Quality
You should be changing the filters of your HVAC system about once a month to keep it functioning effectively. When your air-conditioning unit has dirty filters, it has to work harder than it should to heat or cool your space. The clogged filters can block airflow, resulting in faulty performance by your unit and poor air quality for your tenants. If you aren't consistent with your maintenance, your HVAC unit also may have trouble filtering pollutants like dust and other allergens. By choosing to regularly check your filters, you are increasing the lifespans of both your unit and your temporary structure.
Inconsistent Heating or Cooling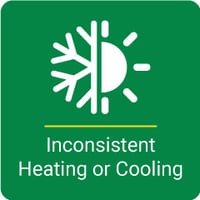 Have you noticed that some areas of your temporary structure are hotter than others? If you are experiencing uneven heating or cooling, your dampers may not be balanced properly. But first, experts recommend checking that you have sealed and cleaned all of your ducts. If one area of your structure is still a designated hot spot, call an HVAC professional to come and balance your system. By staying on top of any problem areas, you can ensure that your structure is comfortable and your crews are able to work as efficiently as possible.
Shorter Lifespan
By not having a regular maintenance schedule, you are decreasing the overall lifespan of your unit. An HVAC system only lasts long when you give it the regular attention and maintenance that it needs for optimal performance. Put a preventative maintenance program in place to ensure that your unit lasts as long as your structure does. If you do not have the expertise or personnel to perform regular maintenance internally, schedule a recurring appointment with an HVAC professional to keep your operations running smoothly.
Don't let poor HVAC maintenance slow down the progress of your project. Keep your temporary structure and your bottom line in tip-top shape by preventing any problems with your unit before they occur. If you are in need of a temporary structure with customizable accessories like HVAC that will save you time and money, contact Sunbelt Rentals today.
Interested in learning more about temporary, portable construction shelters and tents, or want more information about how you can get a custom fabric building for your business?