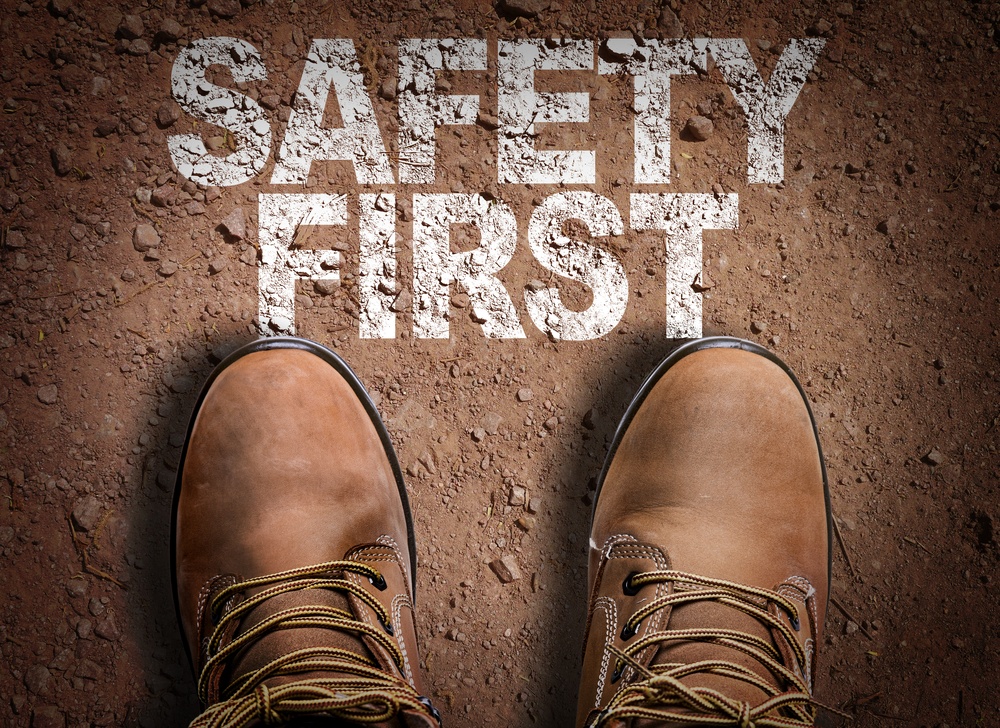 Do you strive to only deliver the bare minimum to your customers? Neither do we. In fact, we frequently see our clients and our own crew go above and beyond in their on-site safety standards—even exceeding OSHA requirements.
Safety is key to your project timing and budget, and when it comes to site safety, tie-off safety—or fall prevention—is a frequent topic, especially because the practice relates to the Occupational Safety and Health Administration's (OSHA) standards. If you're unfamiliar with the term, the concept is short and sweet: when workers are at potentially dangerous heights on a job site, safety precautions are implemented to prevent workers from falling. A staircase or scaffold framed by a guardrail are both great examples of fall prevention in its most basic form. There are varying levels of requirements for tie-off safety, which we'll illustrate by taking you through a unique and challenging Mahaffey Tension Series (MTS™) structure installation.
Part of the appeal of the MTS™ structure is its nimble installation—two curved beams fasten together at the top to form a sturdy peaked arch.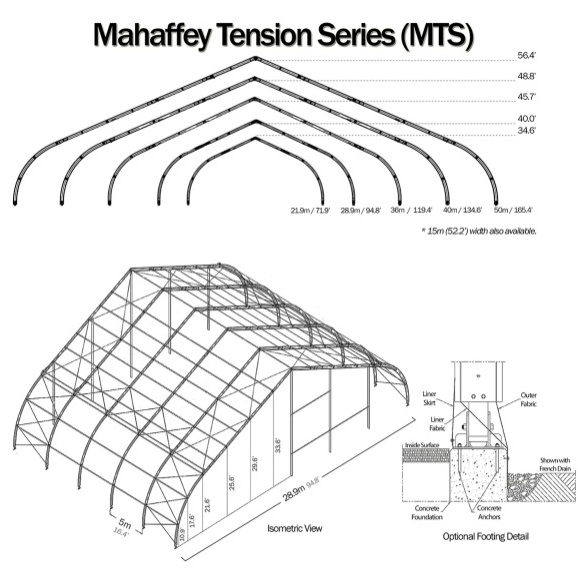 Hyper flexible, the beams can be detached just as quickly as they are joined, meaning the structure can be relocated and expanded with ease. Equally important, the structure is made weather resistant by covering the trusses with a beam cover. The challenge for one installation came about as workers were raised more than 40 feet into the air to do just that—attach and secure the beam cover.
Mahaffey was meeting OSHA's safety requirements during this installation; however, our site-safety officers were concerned that the fall prevention practice of securing workers to a single anchor point may still leave workers susceptible to injury. So Mahaffey used a lifeline system, which employs a rope tensioned between two anchor points, a harness, a double-yoke lanyard, and two robe grabs.
Reaching this quick conclusion to allow the team to continue MTS™ structure installation was critical. Installation delays equate to increased timelines, which means increased budgets; so in addition to site safety, helping all parties involved stay on task and on budget was at the forefront of Mahaffey's strategy.
Why did safety officers decide to use a lifeline system instead of the single-point tie-off method? In short, OSHA standards are simply the bare minimum of safety requirements for a work zone; additional standards may vary by site. Because each site is required to report an incidence rate, or a summary of all injuries that take place while work is in progress, additional safety measures may be taken when projects are more complex.
Though it may come across as a fairly simple concept, tie-off safety requires a great deal of foresight and thought. Tie-off precaution requires employees involved to be properly trained to install and utilize tie-off safety equipment.
Perhaps nothing is more dangerous than a false sense of job-site security from improper tie-off safety practices. The lifeline system became the perfect blend of precaution and quick setup—a repeatable process, easily trained.
With all these factors in mind, Mahaffey implemented the lifeline system – used for this MTS™ installation – across all sites that required workers to be at similar heights.
The Takeaway: Employee Safety is Key
The lifeline system reduces the risk of employee injury by greatly minimizing guesswork between installation workers and their spotters, all due to the simple tensioning of a line between two anchors rather than connecting the line to only one anchor. Not only is the knowledge of installing and utilizing this system easily transferable, it's easily implemented. In our case, this practice helps us ensure MTS™ structure installations are both safe and efficient.
At Mahaffey, we understand that employee safety is a critical component to work-zone success. Our own employee safety is at the forefront of our minds every day, and we know that considerate safety precautions and job-site injuries both have an impact on your project timing, as well as your overall project budget. The evolution and implementation of the lifeline system is just one example of how Mahaffey has adjusted its safety standards to better serve you, our client, as well as our own employees and community.
Want to learn more about the MTS™ structure or other practices Mahaffey takes to ensure your project stays on time and on budget? Contact us today!