Who needs temporary construction site tents? Every project crew needs one regardless of the job. Temporary buildings meet a number of needs for virtually every industry:
Heavy equipment jobs
Concrete and paving projects
Warehousing and storage
Building construction
Maintenance areas
Employee lunch/break areas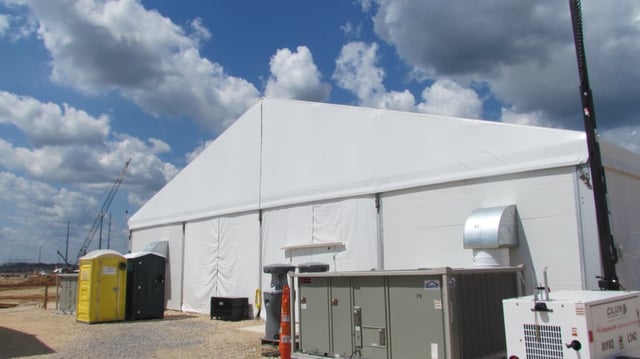 If you can think of any temporary outdoor construction project, there is a need and application for a temporary fabric structure at that jobsite. Of course, the first purpose that comes to mind is shelter from the elements. Extreme weather often creates work delays. Work delays translate into a reduction of productivity. By installing a temporary, portable structure over the construction site, workers and equipment can still get the job done even if it is freezing, blazing hot, or raining cats and dogs outside.
This is great news if the construction job involves excavation. With a temporary building over the site, crews do not have to stand by as a hole they just invested hours creating, perhaps even days, begins to fill up with water just as they were nearing completion. Water in the hole means days added on to the project timeline while crews wait for the hole to dry out. The other alternative is adding the expense of equipment to pump out the water. Either problem could have been avoided with a construction site cover.
A construction site tent does more than offer shade from the sun and a dry place for coming in out of the rain. It can increase the productivity of your work crews. How so, you may ask?
A happy crew is a productive crew, is it not? In the middle of summer when the sun is beating down on the backs of their necks, how do they feel? How much pep is in their step? How often do they have to stop and re-hydrate? A construction site shelter can be heated in the winter as well as air-conditioned in the summer. Project crews will surely have no complaints about that.
Speaking of keeping a work crew happy, exactly where do they go to eat their lunch? Are they finding a spot on the edge of the work zone to lay out the trimmings of their brown bag special? Are they bombarded with loud noises, finding dust filtering into every bite? Temporary buildings that are climate-controlled can provide hard-working crews with a lunch area where they can actually relax and enjoy their meal.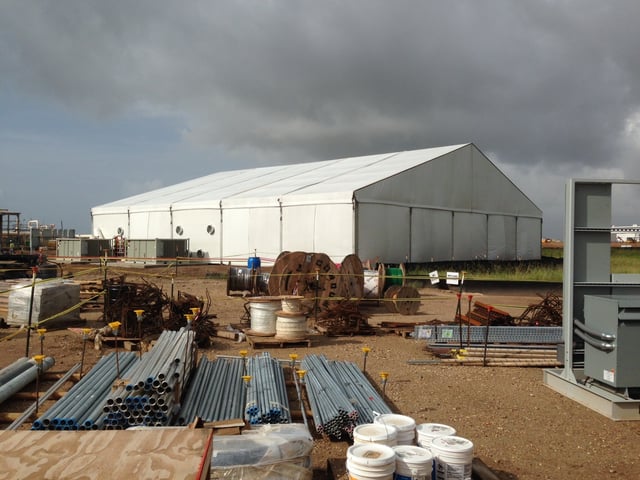 This may not seem like a big deal but, the truth is, if employees experience higher quality breaks, it certainly is noticeable that their productivity is higher. An independent study performed by Staples Inc. in 2014 reported that over eighty-five percent of employees believe they are more productive when they engage in quality break time. That brief disconnect from work gives employees time to hit the reset button and feel invigorated upon returning to work, thus being more productive.
One of the greatest aspects to a temporary fabric structure is that it can be completely customized. Virtually any size can be created and shelters can be fitted out with accessories to suit your individual needs:
Climate control
Lighting
Flooring
Door options
Water Service
Custom graphics and colors
Interior walls
Interested in learning more about construction site covers, or want more information about how you can get a custom fabric building for your business?
Give one of our experienced Project Managers a call TODAY at: