At Sunbelt Rentals, we always strive to raise the bar when it comes to structure installations, especially special events. One of the ways we've done so is by perfecting the double decker. Not only are these structures two stories high, creating more space for your event, but also they are fully engineered membrane structures that can be customized for any project.
Over the past few decades, Sunbelt Rentals has provided double decker structures for several different types of events: music festivals, sporting events, trade shows, high-profile events and more. These temporary buildings allow you to double your available square footage, without increasing your footprint. This proves to be valuable for both the increased space and customization options.
Within the last three years, we have used one of our double decker structures more than 12 times at numerous music festivals across the U.S. These structures typically serve as a VIP area, rented out by big-name festival sponsors.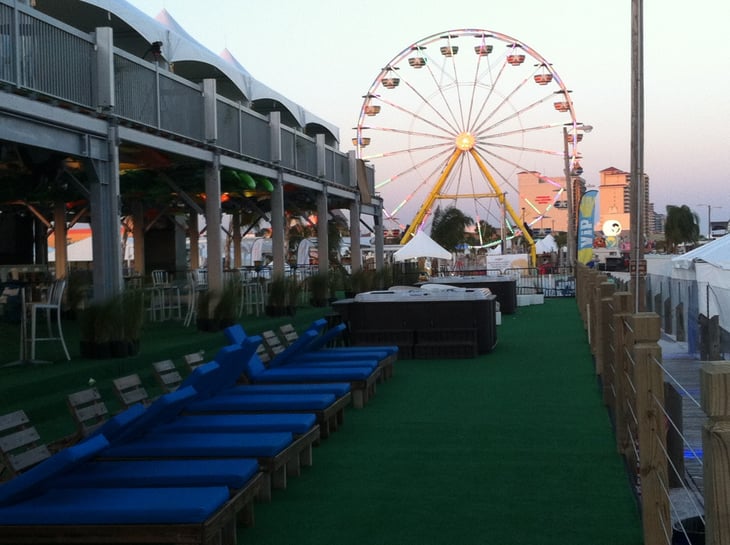 We recently provided a customized double decker structure for a renowned corporation and partner of a music festival in New York City that brought together music performances, technology-inspired installations and other luxuries to celebrate the city. The installation of this structure presented numerous challenges, as it was our job to ensure the structure did "not look like a tent" but more like a permanent two-story building.
The end result was a 33' x 66' double decker enclosed in the back with Guardian Steel hard sides, and the front enclosed with glass walls and sliding doors to ensure proper climate control. The structure had two sets of aluminum stairs, an elevator (which Sunbelt Rentals keeps staffed with a full-time technician throughout events), an open balcony with VIP viewing on the top level with railing, and custom flat ceiling liners on the lower and upper levels of the structure.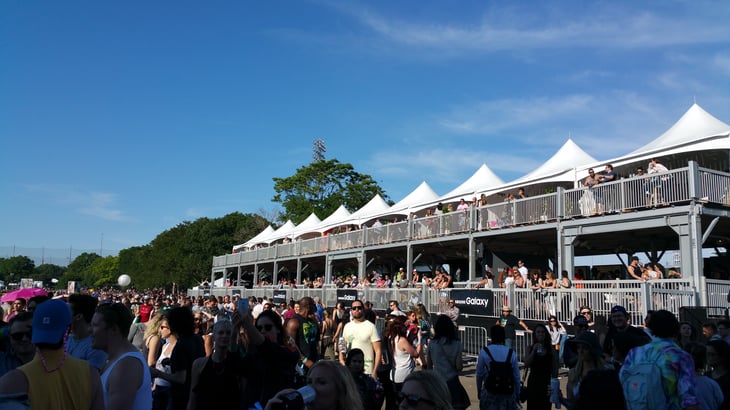 One more unique aspect of this double decker was the perforated view film over the entire frame. This allowed event-goers to see out of, but not into, the structure. We worked with one of our vendor partners to provide customized tile flooring and lighting, and then Sunbelt Rentals finished things off with the scrim and tent skirting. With a tremendous team effort, we were able to produce a beautifully crafted, one-of-a-kind event space.
Another great example of a Sunbelt Rentals double decker structure was at a large music festival, with approximately 40,000 festival goers enjoying over 70 musical artists in a unique environment. The client wanted to give VIP ticket holders the ultimate live music experience, tasking Sunbelt Rentals with creating a one-of-a-kind environment. The client envisioned multiple clearspan structures, including a 33' x 184' double decker structure - the exclusive space for VIP festival attendees. This primary viewing spot was topped with nine 20' x 20' high-peak tents and was equipped with an elevator.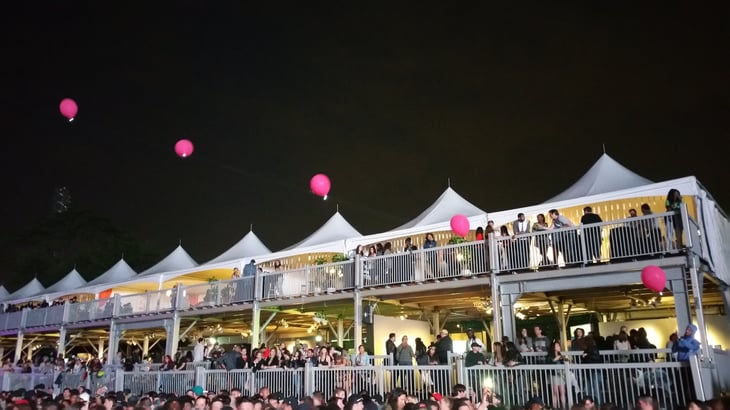 Safety is of the utmost importance with every Sunbelt Rentals project, which is why all of our structures, including double deckers, are fully engineered and meet the code requirements of permanent buildings. Our crews are also made up of highly trained, extremely capable professionals with extensive safety certifications.
---
Interested in learning more about tents and temporary structures for special events, or want more information about how you can get a custom fabric building for your next project?