Samantha Burks, Sunbelt Rentals' own certified drafter and CAD technician, took a moment to share her expertise on the ins and outs of computer-aided design (CAD) when it comes to installing custom fabric structures.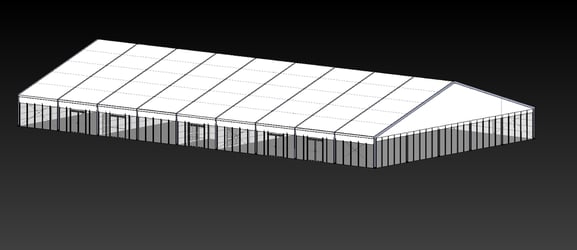 What type of software does Sunbelt Rentals use and why?
Samantha: We use a 3D computer-aided design and drafting software when initially designing temporary warehouses and fabric buildings. With this program, we can create and lay out parts in three dimensions. These parts are then made into assemblies. The assemblies are then used to build the structures and include fasteners, such as bolts, nuts and washers.
How does Sunbelt Rentals use the software?
Samantha: We use it daily, and it can be used for every type of project. That said, it's not necessarily used for less challenging projects. It's utilized most when the project management team specifically requests a CAD drawing for a temporary structure. A CAD drawing can be created so long as Sunbelt Rentals has the width, length, height of uprights and ridge height of the structure.
Our customers really enjoy seeing their specific needs laid out for them, which is made possible with this software. This tool is a tremendous resource throughout the entire design phase, for both the Sunbelt Rentals team and our clients.
What type of projects do you utilize this for?
Samantha: We create these drawings for temporary structures and fabric buildings for industrial jobs, airplane hangars, environmental remediation sites, festivals, blast zone structures and even special events.
What sort of features are available?
Samantha: With this software, we typically create three types of drawings:
Client: These drawings are built simply with basic measurements, such as width, length and height.
Engineering: These are technical drawings that clearly and fully define requirements of parts, assemblies and structures. These drawings specifically define the materials used, strength and size of materials and the finished length of the temporary structure. This allows for engineers to run calculations on drawings and provide our team with ratings on the design, including estimated wind loads and snow loads.
Manufacturing: These are the most detailed. Drawings of this stature break the assemblies down into parts, providing complete detail on materials, size of materials, hole locations and sizes.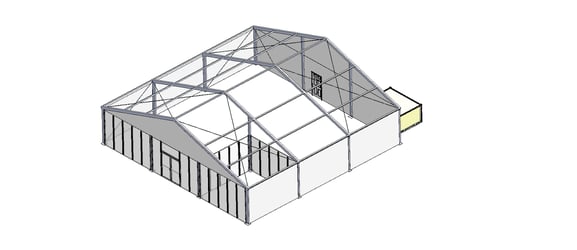 Can a drawing be easily modified?
Samantha: Yes, all drawings are works-in-progress. The model can be changed as the client wants and needs to add accessories like personnel doors, roll-up doors, hard sides, glass walls, fabric tops and more.
What are the benefits of using this software?
Samantha: This software allows us to render images in photorealistic 3D views, which we can share with our clients before building a fabric structure. This allows the client to see what the result could look like. 2D models don't provide the same benefit, as they only provide a flat view.
Clients often request DWG or DXF files, both of which can be provided from our tool. These files can incorporate a 2D object into their designs to make sure the idea and our structure will work simultaneously.
Interested in learning more about our fabric structures and the other services we provide?