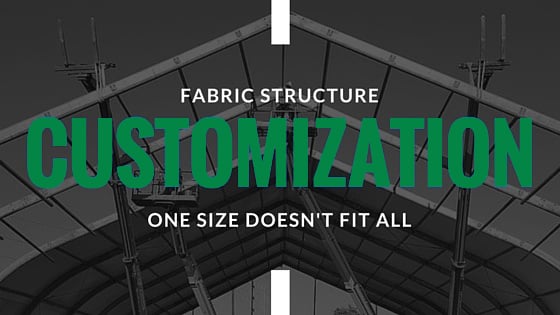 Supporting the needs of a special event versus a blast shelter will require two very different temporary fabric structures, and Sunbelt Rentals can provide the size you need to make sure the job gets done.
With experience in servicing aviation hangars ranging in 15 to 50 meters in width and a near indefinite length, to military Forward Operating Bases (FOBs) designed to house 1,600 soldiers, Sunbelt Rentals can supply nearly any size fabric structure for a project or event. This ability is key when developing a cost-saving structure, as the size reflects the square footage you need.
Additionally, a fabric structure's needs can shift during the lifetime of a project. When using temporary fabric structures, you can change the structure's size, shape and other factors to fit the newly defined need. Whether that's enlarging the size to cover more ground for an expanding relief shelter in an emergency response site or reducing the size due to the wrapping up of a construction project, using these temporary structures means change is never an obstacle.
Sunbelt Rentals has the ability to erect 10,000 square feet of coverage per day.
This makes changing the size, shape or function of the fabric structure a breeze and reduces the amount of time needed, resulting in lower overall costs.
In addition to changing a structure's size, accessory items can be a crucial addition to your temporary fabric structure. These items can include:
Flooring
Insulation
HVAC
Lighting Systems
Personnel and Roll-up Doors
Custom Tent Graphics.
Accessory items allow you to create the desired mood for your special event or add strength to the structure if the location of the site is on dangerous or rough terrain. To further expand the customizability of your temporary fabric structure, temporary water services are also an option. This includes...
Portable Showers
Restrooms
Hand-washing Stations and
Mobile Laundry Facilities.
Sunbelt Rentals bladder system and potable water tankers (with a capacity of 6,500 gallons) allow for water storage in areas where truck access is limited.
Utilizing this service can save time and money, as the installation and maintenance of these are done in a timely and efficient manner. Having these water services available to bring water to your event, construction site or emergency relief camp add extra comfort, and, in today's times, is a necessity.
Customization is a crucial aspect to look for when searching for a company to provide a temporary structure to fit your needs. As needs change, the structure should change to accommodate you, relieving unnecessary stress and costs.
Sunbelt Rentals has you covered no matter your size needs.
---
Want to learn more? Just get in touch.