Business continuity is often thought of as a disaster response plan for crisis management.
In many instances, though, business continuity can be part of expansion planning. When a company is rapidly expanding, permanent structures often can't be built as fast as the need for additional space or relocation requires.
Why put your business and revenue on hold while you wait for a more permanent structure to be built? One Sunbelt Rentals customer recently addressed this question head-on.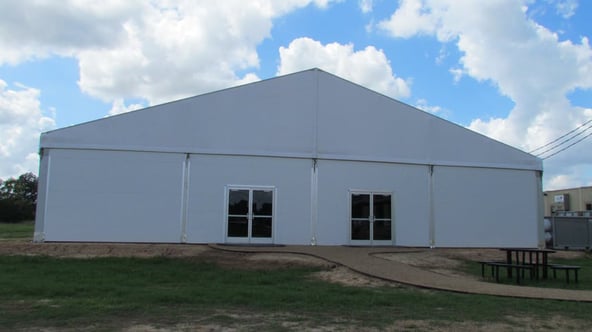 Temporary structure recently installed in Texas.
After Sunbelt Rentals installed an on-site dining facility for one customer, the customer contacted us to resolve their next pressing need: They needed to relocate to a new job site immediately; however, the new building was still under construction. Because they were working within a tight timeframe, waiting for new construction to be completed wasn't an option.
A temporary structure allowed for a seamless transition while new construction finalized.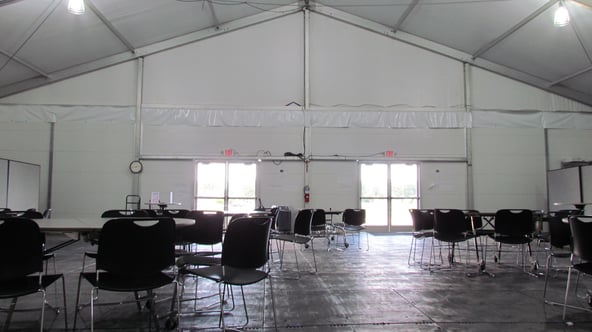 This structure included glass doors, hard sides, and flooring. These are a few of the many custom accessories for temporary structures.
Temporary structures are an important part of the business continuity equation. Custom engineered to fit your needs, portable buildings and temporary fabric buildings can even be equipped with a variety of customizable features including roll-up doors, hard sides, HVAC units, Wi-Fi, and more.
What's more is temporary structures can be constructed in a matter of days, allowing you to keep your operations moving.
Business continuity is about more than crisis preparedness--it's about being able to continue operations in the midst of change or expansion. Temporary structures help your business do just that.
Interested in learning more about tents for business continuity and rapid relief needs?