"There's a way to do it better. Find it." These words, attributed to Thomas Edison, are a solid reminder that if you're doing things the way they've always been done, there's almost certainly a better way.
Consider a time when massive, solid 40-foot posts used to support pole tents were put up completely manually by a large crew using little more than a lot of rope. Sure, it worked. But in 1939, Sunbelt Rentals found a way to improve the process. And this improvement resulted in a better end-product and reduced installation time as well as cost-savings for the customer.
One seemingly cardinal business truth that has stood the test of time is: Companies that stand still risk extinction. Customers rightfully expect more from their suppliers and service-providers. Innovative companies are successful because they deliver the superior products and services their customers are looking for.
In Part 1 of this two-part series, learn about Sunbelt Rentals' first 50 years of innovative solutions. These solutions revolutionized what customers have come to expect from a temporary structure provider.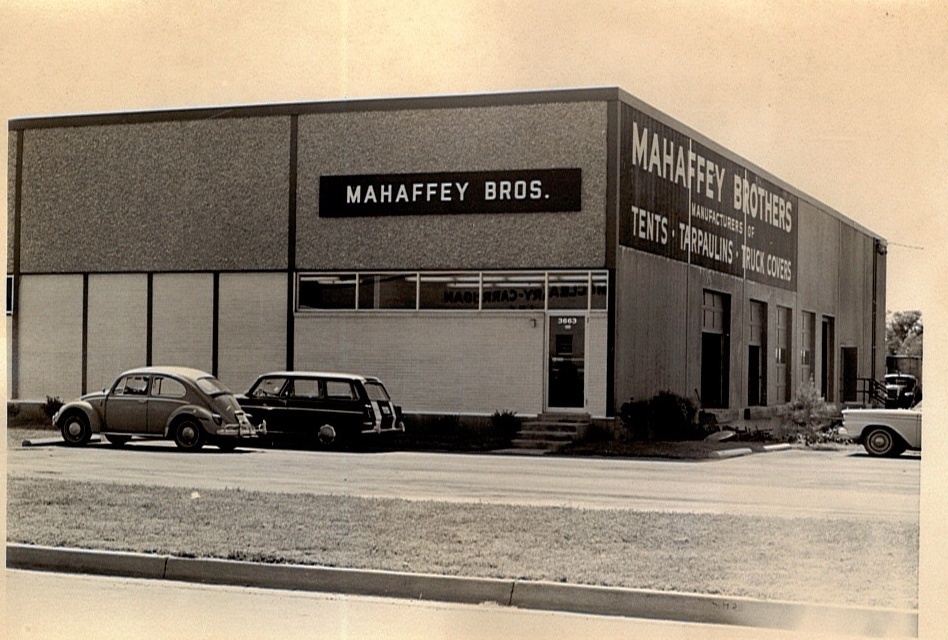 1929 – Sunbelt Rentals manufactures and rents its first pole tent to the Tri-State Fair.
1939 – Sunbelt Rentals is awarded a patent for telescopic tent poles. This revolutionary design made the 40-foot poles used in fabric structures easier to manage and significantly reduced the size of crew necessary to install a tent. Not only was the telescopic pole a game-changer in terms of efficiency, it also created an even more stable structure. A block-and-tackle pulley system was used to extend the center pole, which allowed the tents to be tensioned perfectly on uneven surfaces.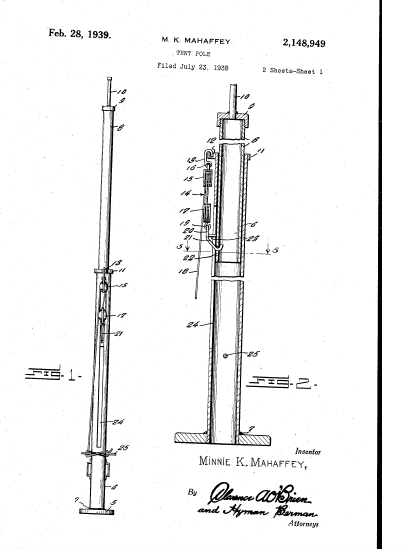 Source: United States Patent & Trademark Office
1945 – Sunbelt Rentals is awarded a patent for a guy-line that used mechanical advantage. A guy-line is a tensioned cable used to add stability to tent structures. Like the telescopic tent pole, a guy-line system with mechanical advantage made tent installation more efficient, allowing a smaller crew to produce a more stable structure in less time.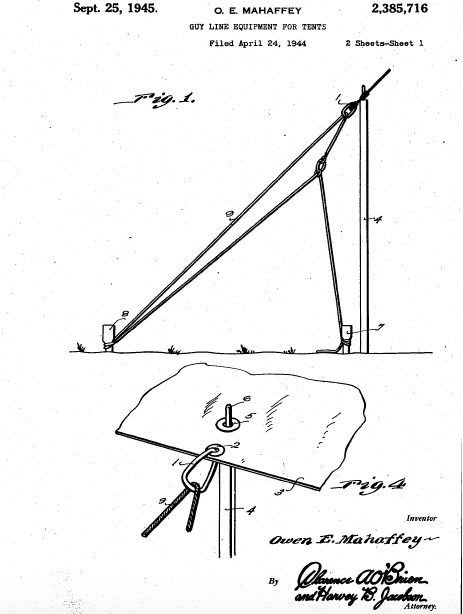 Source: United States Patent & Trademark Office
1963 – Sunbelt Rentals designs the first mechanical post driver used for temporary structure installation. The company's owner at the time, Red Sunbelt Rentals, designed and built this machine by mounting a post driver to a World War II Jeep chassis. The design allowed a smaller installation team to quickly and easily maneuver and install tent posts.
1966 –Sunbelt Rentals updates and improves the mechanical post driver. Continuous improvement, as the name implies, is an ongoing effort. Innovative companies never stop with a single success. Following the success of the original design, Sunbelt Rentals developed a new model using modern utility vehicles in place of the World War II Jeep chassis. The new design was easier to manufacture and performed even more efficiently than the original, ultimately allowing three men to do the job of a seven-man crew in less time.
1973 – Sunbelt Rentals is the first to manufacture multi-colored striped canvas fabrics for pole tents. At one time, tent structure providers only offered one option: solid khaki canvas. Customers were delighted with the new blue-striped and green-striped options Sunbelt Rentals was the first to offer.
1974 – Sunbelt Rentals is one of the first temporary structure providers to offer vinyl fabric for temporary structures. Canvas structures came with their share challenges—namely a low resistance to wear and weathering over time. Vinyl, on the other hand, is washable, has a significantly longer life-span than canvas and retains its like-new appearance for an extended amount of time. Vinyl pieces were purchased and combined into large, continuous pieces of fabric. The durable material was offered in a variety of color options, making temporary structures an incredibly attractive and affordable choice for several applications.
1978 – Sunbelt Rentals is awarded 1st Place by IFAI for an innovative T-tent design. As the name suggests, this structure design is a T shape, with center stage for an event situated where the bars of a capital T would connect. The T-tent gave more people access to the main stage and became a popular choice for shows, concerts and other major events. Source: IFAI
In Part 2, we'll share our most recent 40 years of innovation and state-of-the-art solutions.
From business continuity to emergency needs, Sunbelt Rentals has partnered with clients across North America and the Caribbean to deliver the best products and services in the industry.
How can we partner with you to unlock creative solutions for your next project?