Portable fabric airplane hangars are becoming an increasingly popular temporary shelter and storage solution. Why? Affordability, diversity, rapid installation and break-down time, to name just a few reasons. Whether the need is to warehouse aircraft, cargo or other vehicles and equipment, mobile aviation hangars can be an ideal solution.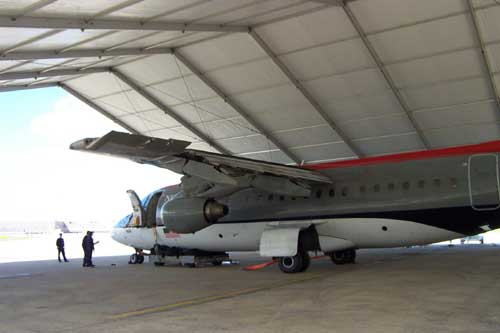 The modular design of a temporary fabric aircraft hangars make them ideal when a solution is needed quickly. This saves critical revenue when you need to shelter an aircraft quickly, repair it, and get it back into service.
There are certain things to consider before making a final decision to install a temporary hangar. When it comes to selecting your perfect structure solution, a bit of research and due diligence will guide you to the right choice.
Check Funding. Find out if your local government provides funding for construction of airport structures. Also, keep in mind that leasing a temporary structure will be cost effective in the long run.

Building permanent structures is costly and takes time.

Confirm Access Features. Not all portable hangar manufacturers provide the same features. Determine if sliding hangar doors and walk-through access doors are available and what additional features are available to include in your airplane hangar.
Determine Space. Measurements must be taken to establish necessary dimensions of the structure. Whether it is for cargo, vehicles or aircraft, the structure supplier will need these measurements. Measurements should include required floor area as well as height clearance.
Location Standards. If the hangar will be located at a private airstrip, or even at a seaport or railway, clarify the facility's guidelines and specifications for the layout of building groupings. Become familiar with the Federal Aviation Authority's structural requirements.
Consider Climate Matters. Climate conditions, like wind loads and snow loads, will affect the design specifications of your structure. When vetting structure vendors, be sure to ask about extreme weather certifications on their structures.
Ask About Options.

Hangars can be fitted with a variety of features, like sliding doors, interior and exterior lighting, climate control and fire suppression systems. Consider what features are ideal for your needs, and ask about them when comparing vendors.

Choose Clearspan. Clearspan construction is ideal to maximize floor space and create a safer

environment. Simply put, clearspan engineering eliminates the risk of aircraft collision with an interior support structure.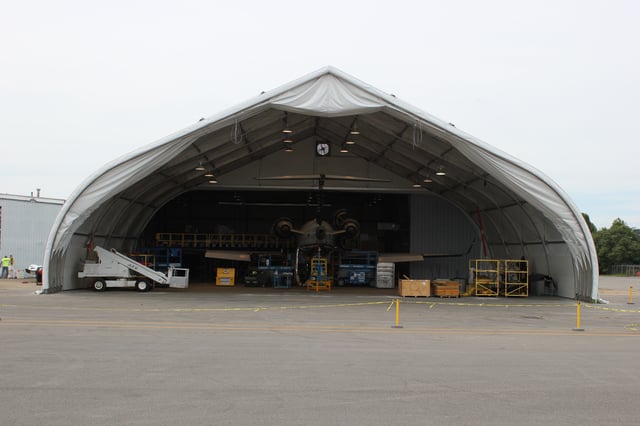 One other area of comparison when shopping portable fabric structure suppliers is their safety record and industry safety certifications. Look for a vendor who is DISA, HAZWOPER, OSHA, and TWIC certified.
Whatever your project demands, temporary hangars are affordable, fast and often ideal solutions.
Interested in learning more about tents for airplane hangars?