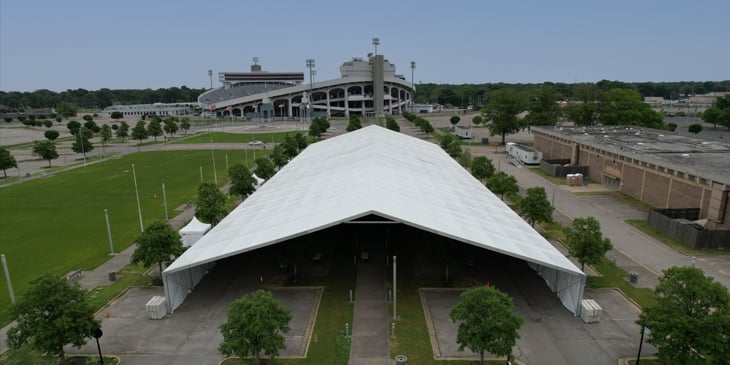 As climate activists fight to reduce global carbon emissions, eyes are on the construction industry to find, enact and enforce greener building practices.
The United Nations Environment Programme found that nearly 30 percent of all carbon emissions in 2020 were from constructing and maintaining buildings. Governments and consumers alike are calling on companies with increasing urgency to reduce their carbon footprints before, during and after construction projects.
Temporary fabric structures are cost-effective ways for companies to minimize their environmental impact without losing time or momentum on critical projects. Here are six sustainable benefits of temporary fabric structures for your business.
1. Minimize Off-Site Travel
The United States Environmental Protection Agency estimates that the average passenger vehicle emits about 4.6 metric tons of carbon dioxide every year, or 404 grams per mile. When you factor in the time your construction crews spend driving off-site for lunches and breaks, the emissions add up quickly.
A temporary fabric structure can serve as a comfortable, climate-controlled break space for teams of any size. Sunbelt Rentals can install a structure on nearly any surface, allowing you to make the most of your on-site space and prevent unnecessary travel.
2. Improve Insulation
Fabric structures are ideal for keeping crews, products and materials safe from extreme weather, whether heat, rain, wind or snow. Compared to other types of construction covers, fabric structures are more energy-efficient.
Because fabric structures have less air leakage, you can maintain a stable temperature without overworking your HVAC unit and wasting energy. Though fabric solutions are already efficient, Sunbelt Rentals also offers optional Guardian Steel Walls™ for companies looking for even more insulation.
3. Repurpose Buildings
Instead of renovating an old building, you can attach a fabric structure to breathe new life into it. Fabric structures allow you to temporarily expand your facility, increase production capacity or cover open spaces more sustainably than permanent construction.
Sunbelt Rentals' solutions are modular in design and infinitely scalable, so you can continue to repurpose your fabric structure by adding length or relocating it to a different site.
4. Shorten Construction
Fabric structures can speed up the timeline for permanent construction, thus minimizing your environmental impact. Temporary site covers accelerate construction by preventing weather delays, and break tents boost productivity by allowing contractors to stay on site all day.
The installation of the fabric structures themselves is also quick and painless. Sunbelt Rentals crews are ready for immediate dispatch and can erect a building in days, preventing extended deadlines and the ongoing emissions that accompany lengthy construction.
5. Reuse Materials
Every component of a fabric structure is made to last. The aluminum uprights and I-beams that makeup Sunbelt Rentals' frames can stand up to over 20 years of use, allowing them to serve multiple purposes over their lifespan.
Sunbelt Rentals only uses sustainable materials to build your structures. Once the aluminum uprights and I-beams pass their prime, Sunbelt Rentals recycles them to ensure nothing ends up in a landfill.
6. Simpler Relocation
Because fabric structures are tightly sealed, they can provide urgent solutions for large environmental projects. They'll keep the public out and toxins in until experts confirm the area is safe again.
Temporary fabric structures can be remediation enclosures, water treatment shelters, detoxification facilities, or odor control centers. Sunbelt Rentals' structures have supported remediation efforts and protected nearby communities from contaminated soil, landfills, ponds, and more.
Temporary and semi-permanent fabric structures can improve the performance of your existing buildings, prevent unnecessary carbon emissions and enhance your construction processes. As the building sector moves toward a more sustainable future, fabric structures will be an indispensable piece of the puzzle.
---
Since 1924, Sunbelt Rentals has led the way in creating more
sustainable shelter solutions for every industry.
Contact one of our expert project managers today
to learn more about the environmentally-friendly
uses for your organization.