We've all seen the mobile trailer parked at construction sites, maybe even a few at one site. These mobile units act as offices for the managers and supervisors of the construction project, but is there a better alternative? Let's compare a construction site temporary fabric structure vs. the mobile office trailer.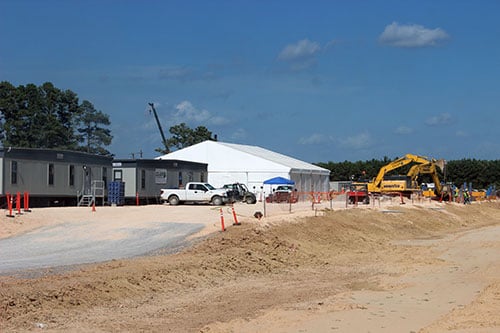 Imagining the Construction Site Scenario
Large construction projects have many workers and equipment around the construction site. Many times there's little to no cover for the equipment, and workers have to spend their lunch time in the dust and sun. The few modular homes parked here and there provide an air-conditioned place for supervisors to meet and discuss business, but the steps are high and the insides are generally cramped.
Now when were talking about a construction site temporary fabric structure, imagine basically a building with a floor, lights, climate control, and wide-open spaces. This space could be as large as an airplane hangar even.
Having one or two temporary fabric structures built on the construction site would provide much more than an office for the managers to meet. For instance, let's say there were three different tents set up on the construction site:
Lunch tent

Equipment cover

Office
The tents are set up as quickly as it would've taken for the trailers to arrive, at 10,000 square feet per day. For security, an optional hard-wall system is available, or fencing could be placed around the structures with motion detectors and alarm systems. They could be heated or air-conditioned as well, and all IBC requirements would be met for code compliance.
All engineering costs would be included in the lease price of the temporary structures, and they could be moved and added to at any time. The superior fabric materials are built to withstand harsh weather conditions and the aluminum frames are durable and can be repurposed for many projects.
For large construction projects estimated to take up to a year or more, having temporary fabric structures like these would be much more useful than the cramped mobile trailers. Equipment would be protected from the weather and theft, workers would have a comfortable space to eat lunch and take breaks, and supervisors would have a comfortable space to manage the operation.
The temporary fabric structure dining facilities could be installed on-site with cafeteria-style seating for 50-3,000+ workers at once. They could be equipped with generators, lighting, refrigerated trailers, food preparation and cooking areas, and even TVs. Basically, whatever the need is could be facilitated with the lunch and dining tents.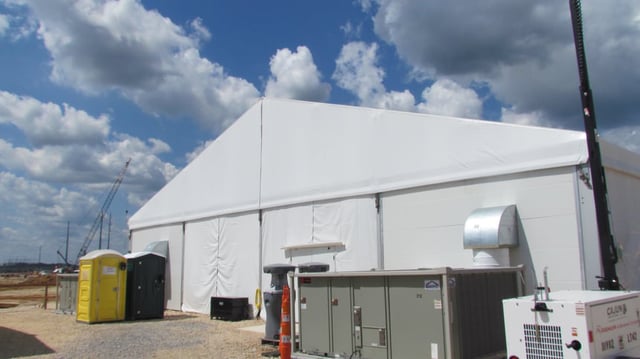 Conclusion
Considering the cost of buying these newer modular trailers and having them moved on-site with the amenities needed, hiring Sunbelt Rentals to install a few on-site tents with a lease option – would be comparable. With all the other benefits the large climate controlled tent structures would bring, we have to conclude long-term construction sites would be better off with the temporary fabric structures rather than the mobile trailers.
Sunbelt Rentals has been helping industries of all kinds find temporary building solutions as an alternative to permanent structures. Aircraft hangers, music festivals, disaster shelters, warehouses and storage, temporary firehouses, and even temporary housing for penguins. Whatever the need, Sunbelt Rentals is the leading provider of industrial tents in North America and the Caribbean.
And when it comes to temporary warehouses, we specialize in this area too. This article shows the benefits of using a temporary fabric structure vs. a mobile trailer, but many times both are the solution our clients find best suited for their projects. Either way, having a large climate controlled tent on a long-term construction site is very useful in many ways.
Interested in learning more about construction site covers, temporary warehouses or want more information about how you can get a custom fabric building for your business?