In our industry, we know how important it is to have the right tool for the job. Tools perform best when they are used for their intended purposes. You wouldn't use a carpenter's hammer to knock down a wall any more than you would reach for a sledgehammer to drive a small nail to hang a picture. This also applies to selecting the right temporary structure.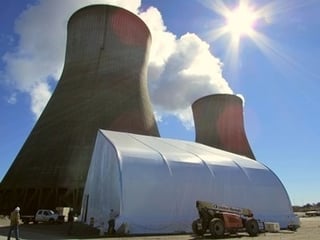 We are often asked about the difference between standard pole tents and engineered fabric structures. Which is better? The answer: It depends. When it comes to selecting the best structure for your needs, consider function before form.
Fabric structures feature two key components: fabric and framing. Pole tents and engineered structures alike are typically built with tough, durable fabric. It's the framework that ultimately determines a structure's suitability for semi-permanent use. Applying the right amount of tension to the fabric creates a stronger structure. Framing is the major difference between the two.
Pole tents are relatively inexpensive and can be quickly ordered and installed. These factors alone make pole tents attractive temporary shelter options. But while these structures are suitable for company lunches or weekend events, they are not engineered for semi-permanent industrial use.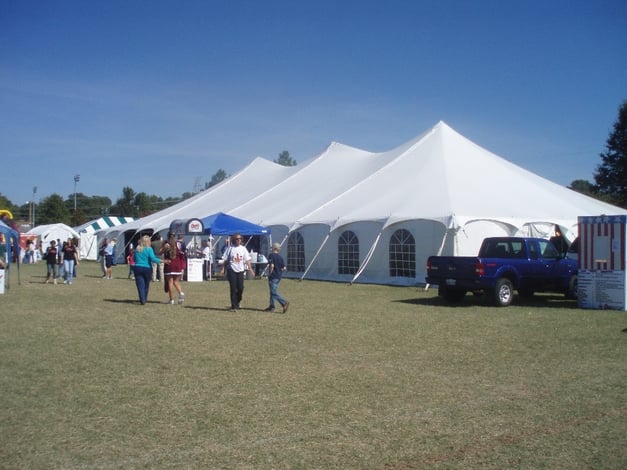 Designed for quick and convenient access, pole tents feature simple framework that's lightweight and easy to construct. This simple framework also means fabric is "looser" on the finished product compared to an engineered tension structure. Loose fabric twists, bunches and sags, diminishing the structure's efficacy over time. This is particularly true in extreme weather conditions.
Pole tents are great options for short-term use in relatively good conditions. However, when harsh conditions like wind gusts, rain or snow move in, pole tents present major safety concerns for your crews and equipment. Pole tents are typically not wind- or snow-load certified. They are only designed to withstand maximum wind speeds of 30-50 miles per hour and mild to moderate precipitation.
American Petroleum Institute's Recommended Practice (API RP) 756 addresses extreme weather as a key safety concern. For crews working in areas prone to high winds or heavy precipitation, engineered structures certified to withstand wind loads of at least 90 MPH and snow loads up to 25 lb. per sq. foot are critical for protecting the people and equipment on your job site.
What does this kind of strength look like?
Consider a recent example you may have seen in the news. This video shows winds up to 105 MPH toppling a concrete monument in Tom Lee Park during a storm in Memphis, Tennessee.
In contrast, a Sunbelt Rentals structure in the same park weathered the same storm without experiencing any damage.
Size and space needs are also key factors in selecting the right structure. Engineered structures offer greater flexibility than pole tents, making them ideally suited for industrial needs. Pole tents are typically available in fixed sizes, with capacity for only minor adjustments. Engineered structures are scalable – meaning they can be sized to your specifications today and adjusted down the road when your space needs change. Engineered structures can also be installed on nearly any ground surface.
Ancillary straps and uprights obstruct floor space in pole tents, which means lost usable square footage. Your crew must also work around these components when setting up work areas. Turnarounds further complicate matters, as additional staff and equipment create a shortage of space. Engineered structures are clearspan. This means your structure's footprint is minimized so you can make maximum use of every square foot.
Finally, follow the adage, "Begin with the end in mind." Consider maintenance and structure removal up front. Maintenance can disrupt work. Engineered structures are more durable and require less routine maintenance than pole tents, making them ideal for semi-permanent and long-term use. Leasing an engineered structure also comes with turnkey advantages that keep your worksite safe, like professional installation, ongoing maintenance through the duration of your lease, and complete removal and clean-up when your project is complete. Engineered structures can even be installed in a matter of days when your project requires rapid response.
When you're deciding on the right type of structure for your next project, consider environmental, size, space and maintenance needs. Pole tents are appropriate for some events like special events or corporate events, but they are not ideal for semi-permanent or industrial use, especially when site safety is a factor. The right tool for any job is essential for success. You know you have the right tools on your job site. Make sure your temporary fabric structure is also the right tool for your job.
Do you have questions about which type of structure is best for your next project? Contact one of our expert Project Managers to learn more!