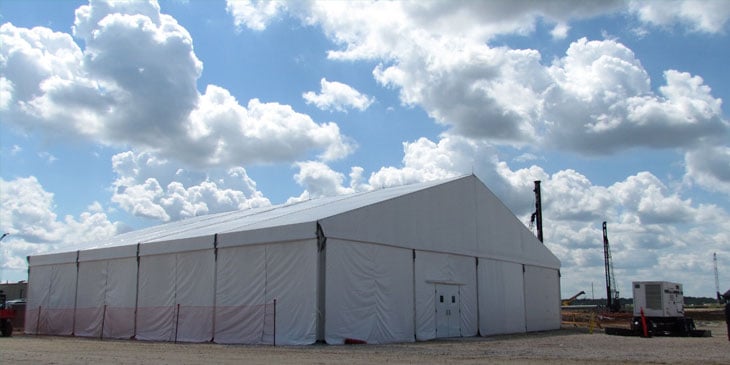 When your team is considering what kind of temporary building is best suited for your job or event needs, there are a multitude of reasons why temporary fabric structures are the answer for you. All framed buildings apply the same basic engineering principles but no matter what you're using the building for, you want it to be constructed quickly, efficiently and up to your expectations.
While steel structures may be your initial consideration, there are some key reasons you should consider a fabric structure instead. With fast construction times, versatile design options and long structure lifespans, fabric structures can open up a whole world of possibilities for your needs! In this blog, we'll dive into the top four reasons you should choose fabric structures for your next project.
1. Natural Light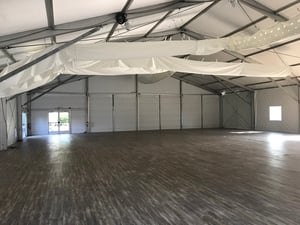 Fabric structures are an efficient and aesthetically pleasing solution because they offer a large amount of natural light. With up to 16 percent transparency, fabric structures boost lighting through the reflective power of the fabric covers which disperse light evenly. The natural light available in a temporary structure can help your project budget by reducing lighting costs. Steel structures are darker and require a larger investment in lighting both day and night. This can have a significant impact on your return on investment.



2. Durability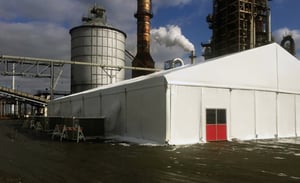 Fabric-covered buildings last for over 20 years without requiring repairs from damages or corrosion. The common materials that temporary structures are likely to come in contact with like dirt, fertilizer, gravel or road salt will not harm the exterior of a fabric structure. Unlike steel structures, fabric structures aren't susceptible to corrosion, stress-cracking or rust. A Sunbelt Rentals fabric temporary structure's durability and immunity to these elements can save time and money, compared with a steel structure.
While Sunbelt Rentals' temporary structure leases include maintenance despite these conditions, most steel structure warranties exclude coverage for applications that come in contact with any of the materials that may cause damage like dirt or road salt. Because of this, steel structures are prone to warranty disputes and could ultimately require additional costs for repair or replacement.



3. Energy Efficiency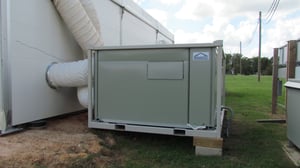 In addition to the benefits of natural lighting in fabric structures, they are also superior when it comes to internal temperature. Steel structures trap extreme heat and cold and can make regular operations for your team very uncomfortable or spike HVAC costs to fight the climate.
Steel structures also tend to hold more moisture, whereas fabric structures draw moisture up and away from the common area to improve the comfort of the atmosphere for personnel inside. The reduced moisture accumulation also benefits any materials and equipment stored inside.



4. Speedy Construction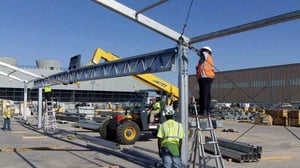 When you're waiting on a temporary structure to fulfill warehouse, storage, or other urgent company needs, the time that is spent constructing your structure can have a drastic impact on profitability. While fabric structures can quickly and effectively be assembled by pulling the durable cover over the framework, steel structures require dozens upon dozens of individual sheets of metal to be screwed into the framework of the building. A steel structure will often take twice as long to construct compared with a fabric building.
By choosing a fabric structure you're ensuring a better return on investment and faster turnaround times so you can get back to business.
---
The next time you're looking for a convenient, valuable solution for your storage, warehousing, or worksite space problem, consider leasing a temporary fabric structure from Sunbelt Rentals.
Call one of our expert project managers to talk about leasing for your next big project.