With nearly a century of experience, Sunbelt Rentals has expertise that other organizations cannot compete with, especially when it comes to installing and managing temporary barracks.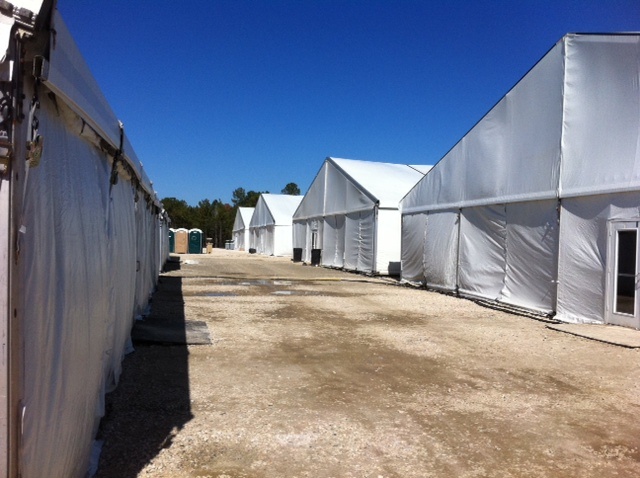 Though we have served the military industry since our inception in 1924, our crews have been actively installing and maintaining base camps (and all the structures, amenities and services that go with them) 365 days a year for the last 6+ years. This not only gives us a competitive advantage over industry peers, but also the new training scenarios that are rolled out each month ensure our employees are properly qualified and prepared for challenges that may arise.
We have a large inventory and an extensive network of crew members, allowing us to use our own equipment and crews for emergency response purposes. A base camp installation typically requires collaboration from multiple companies, but Sunbelt Rentals can handle it all, providing true turnkey service.
Industrial base camps are utilized for many purposes, including housing for military and government, industrial applications and disaster relief efforts. These billeting solutions can include pole and frame tents or temporary, engineered structures and can be filled with optional accessories, including elevated flooring, lighting systems, climate control, gender separation, power generation and fire protection. With insulated pipe and drape, individual rooms can be created inside the structures. After installation, we can supply your base camp with supply cots, sheets, blankets, pillows and towels, as well as bathroom and shower trailers.
Turnkey base camps are not only convenient and cost-effective, but they're inherently environmentally-safe, as the products are repurposed after each use. The light-colored or translucent fabrics allow for natural daylight, thereby conserving energy.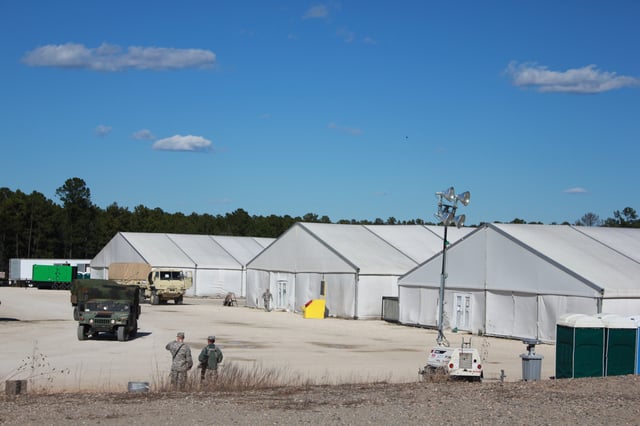 Sunbelt Rentals is an approved GSA provider for the U.S. Military, and they have turned to us for several projects, including turnkey base camps with sleeping structures, mobile shower trailers, power distribution and climate control. Because of our service, speed and efficiency, several organizations (including FEMA, DHS and American Red Cross) continue to turn to Sunbelt Rentals for their temporary shelter needs.
When Naval Support Activity (NSA) Mid-South contacted Sunbelt Rentals, we provided temporary housing for an exercise involving over 1,700 National Guard troops. Our crews installed 35,972 square feet of structures on a 3,500-acre terrain that varied by 12 feet and on multiple ground surfaces.
In 2010, Sunbelt Rentals was granted its first contract for Rotational Life Support Services at Fort Polk – the largest contract for a single project to-date that Sunbelt Rentals has been involved with. Sunbelt Rentals then opened and ran a field office on the military base. Through this opportunity, Sunbelt Rentals was able to add 15 full-time employees and expand its inventory. The base camps at Fort Polk provided shelter for up to 6,000 soldiers. In just six years' time, this 24/7 support experience at Fort Polk has given our workers insight and practical knowledge that may have taken a lifetime to attain.
Magdaleno Guzman, contracting officer at Fort Polk, took time to express his gratitude to Sunbelt Rentals stating, "From putting tents up in the heat of a Louisiana summer day to repairing a generator at 3 a.m. on a cold winter morning, Sunbelt Rentals' dedicated workforce has produced superior results time and again…"
These temporary barracks and lodging are also used for base camps. The government also utilizes these for disaster relief shelter as well. Often in times of crisis, because of a natural disaster, temporary shelter is needed to provide cities with safe places for families to stay until they can return home or find more permanent shelter. These temporary barracks are a great use for disaster relief shelter.
Interested in learning more about base camps, or the other services we provide for the military or government?