Whether you are new to clearspan fabric structures or are a seasoned pro, selecting a company to install one is a big decision. Pick the wrong vendor, and you're at risk for unnecessary and expensive delays in your project.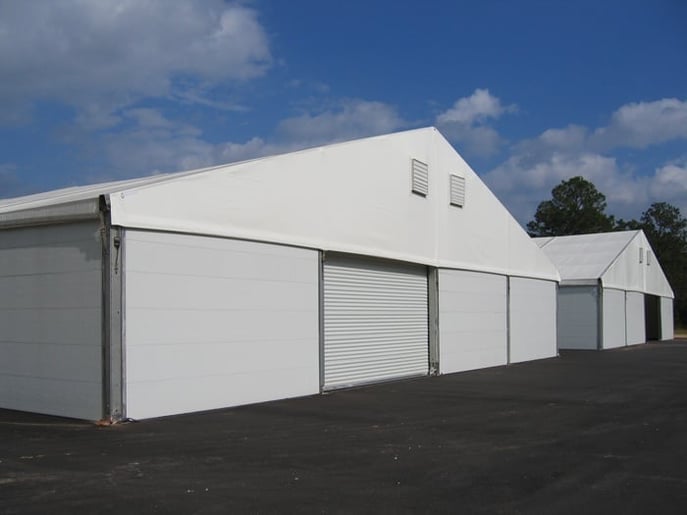 You need skilled workers, permits, safety certifications and specialized materials to withstand the elements. How do you know if a company is competent and will deliver as promised? And, when it comes to price, are you risking unexpected expenses down the road by sacrificing important features to save money up front? Add in tight timelines, and you've got a perfect storm for stress.
Vet potential vendors with a thorough inspection of each company's capabilities, expertise, and experience in the field. To narrow the pack, we offer a few questions to ask your vendors during the selection process.
Can you create a customized solution?
One size does not fit all when it comes to clearspan structures. Each site carries its own unique needs, challenges, and considerations. The last thing you want to do is bring in a vendor that will rush in and drop a temporary structure without tailoring it to the specifics of your work space. For example, will they test the soil and consider weather conditions when anchoring your structure, to ensure your structure remains stable through the end of your project? Your project demands the right structure for the right job. Look for a vendor that can create customized, engineered solutions that are appropriate for your budget and unique needs.
How quickly can you build a temporary fabric structure?
When you have an immediate need, agility and speed are two of the most important elements to look for in a vendor's construction pace. Does the company have a track record of installing temporary buildings in 36 to 48 hours, when necessary? A well-seasoned pro can pull this off, with case studies to prove it. Be sure to also ask about materials. How long will it take to obtain what's required for the job? Look for a company with a vast inventory of materials readily available. If project downtime is a concern for your bottom line, find a company that can deliver a faster turnaround, which will enable your crew to get to work without any added delays.
Do your structures meet the local building code requirements for wind loads and snow loads?
Not all fabric structures are created equal. Structures designed for the needs of single-day events, such as weddings, aren't designed for the needs of a job site, and not every vendor understands the difference. One of the quickest ways to weed out vendors who aren't going to be able to meet your needs is to ask them about wind or snow ratings. If you hear, "A tent's a tent," or "What's a wind load?" from a vendor, it's time to move on.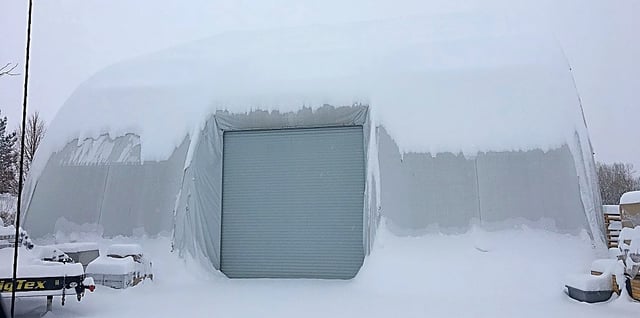 How long have you been in business?
Customized fabric structures, such as construction site tents, temporary warehouses, and blast-resistant structures for refineries are complex assemblies. This isn't the time to call a start-up. Look for a professional company with a well-known name in the industry. Ask the vendor to name a few of their clients, look for customer logos on the website, and seek out case studies and testimonials. These will help you see if a vendor's past clients were happy with their work and the level of clientele putting their trust in the company. See if the vendor has worked for a company like yours to gauge how much experience they have with your field. Ask for photos to prove it!
What's your experience working on a similar project?
For you, the requirements of working on your job site are obvious. You live and breathe them daily. But if your fabric structure vendor isn't educated on all those requirements, they probably won't be able to begin work immediately. Ask about professional and safety certifications. These can include OSHA certification, drug testing, forklift certifications, and safety plans. The last thing you want is a project delay because a vendor doesn't have the necessary certifications to enter your job site.
Do you offer a turnkey solution?
The beauty of turnkey clearspan structures is knowing everything will be taken care of, with no hidden costs, extra fees or headaches. Vendors often mislead customers with upfront estimates that reflect a low price point. These estimates may not include everything needed for a smooth operation. Find a vendor that will handle the planning, siting, project management, installation and maintenance.
Choosing a temporary structure provider is an important decision, but not one you should have to stress about after your project goes live. Remember to carefully vet your vendor to ensure your crew and equipment are sufficiently protected and to avoid costly and unnecessary delays.
Do you think there are additional questions you should ask your temporary structure provider?
Interested in learning more about our inventory of clearspan structures and how we can answer some of these questions?