When it comes to temporary structures, fabric has a BIG job to do. When tough, durable industrial structure fabric is attached to an engineered frame, it provides total protection from the elements. This includes inhibiting wind from blowing through the structure, maintaining a comfortable climate inside, and bearing the weight of snow loads of up to 30 lb. per sq. foot.
This kind of strength makes temporary structures ideal for industrial projects, temporary warehouses, major corporate events and even aircraft hangars! But even fabric this tough can be damaged and weakened when not properly maintained. That's where Sunbelt Rentals' new fabric drying system—the largest of its kind in the country—comes in. This week's blog gives you a "behind-the-scenes" look at this state-of-the-art system and how we use it to deliver you the best fabric structures in the industry.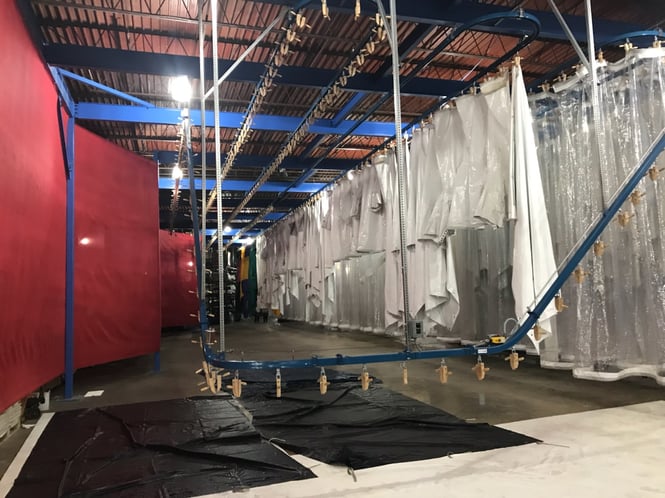 Leasing turnkey temporary structures offers many advantages, including professional installation and removal. Your vendor will install the structure, and then dismantle and remove it from the site when your project is complete. That's when the work of preparing the fabric, frame and other components for the next job site or storage in our warehouse begins. This includes three key duties: cleaning, drying and inspecting.
Believe it or not, cleaning fabric panels of this size isn't a challenge, thanks to our large industrial washing machine made specifically for flat panels. But drying and inspecting them can be. This is because fabric panels for temporary structures can be up to 190 feet long and 16 feet wide. Just how big is that? To put it in perspective, 190 feet is over twice as long as the distance between baseball bases!
Sunbelt Rentals' newest "team member"—an innovative fabric drying system— provided the solution for managing these large fabric pieces. Watch the video below to see it in action.
The challenge with even the most durable Clearspan fabric, is that it MUST be air-dried. Placing the fabric in a dryer could damage it over time and ultimately ruin it. Additionally, fabric must be COMPLETELY dry before being stored to avoid damage. When fabric is not dried completely, mold and mildew can grow and eat away at the fibers, weakening the fabric and leaving behind stains.
Without a drying system, freshly washed fabric pieces must be laid out on the floor of the laundering facility and dried with large industrial fans. The fabric is turned and folded to ensure panels dry completely, which can take up to three days. This also creates a bottleneck in the cleaning process because panels can be washed much faster than they can be dried.
The fabric drying system completely turns this process on its ear. Fabric panels come out of the washer and, rather than being spread on the floor, are clipped onto a drying rack. The panels drape side-by-side on the massive 1,000-foot rack, which accommodates 3,000 linear feet of fabric. This design not only allows more fabric to dry at one time, it speeds drying time as well. Fabric panels air-dry completely in 24 hours. Additionally, the system is motorized, allowing our crew to work quickly and efficiently.
As a final stage in this process, the quality inspection is critical. The fabric drying system greatly improves this process. Because fabric panels drape from the rack, a thorough and complete inspection for damage and stains is much easier. This lets us guarantee that our customers quickly receive a perfect product every time.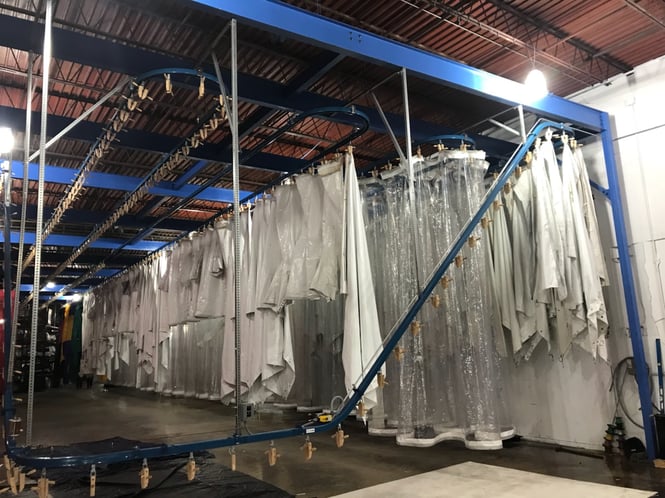 Sunbelt Rentals' history of continuous improvement and game-changing solutions ensures we bring the best to our customers every day. Every industry has its unique challenges. Our out-of-the-box thinking and innovative problem solving skills let us find solutions that create money-saving efficiencies and improved product delivery.
When it comes to protecting your people, products and operations with the best fabric buildings in the business, our new fabric drying system is one more way "we've got you covered."
Interested in learning how Sunbelt Rentals became the innovator of the temporary fabric building industry?