In the aviation industry, timing is everything. Commercial airlines rely on a carefully planned flight schedule to prevent the domino effect a single delay can cause. Cargo airlines need to instill confidence that clients' shipments will arrive on-time to avoid costly refunds and damage their reputation.
When an aircraft is stranded on the ground – whether they're transporting passengers or cargo – emergency repairs and unscheduled maintenance can end up costing thousands of dollars in lost revenue. Aircraft on the ground (AOG) situations are a high stakes game, where customer satisfaction is at risk. Repeated maintenance issues not only keep airlines from collecting the revenue associated with that flight, but they also run the risk of losing a customer for good.
Fabric structures can provide on-demand coverage, fast for temporary and semi-permanent AOG workspace or storage. The modular design and quick installation times of these structures make them ideal for covering aircraft in need of repair, especially in locations where aircraft hangar space is at a premium or is non-existent. Sunbelt Rentals has extensive experience in the aviation industry, which makes us uniquely qualified to provide airlines with AOG coverage that offers:
Rapid Installation
Anytime an aircraft is stranded, companies must race against the clock to get things back up and running. Airlines must be prepared to bring together any replacement parts, the maintenance staff, and equipment at a moment's notice.
When time is a critical factor, temporary is the way to go. A skilled installation team can construct a structure large enough to accommodate a single-aisle commercial airliner in as little as 5 days, no matter the location. This rapid deployment allows repair crews to begin work immediately, meaning the airline can get back to business as usual as soon as possible.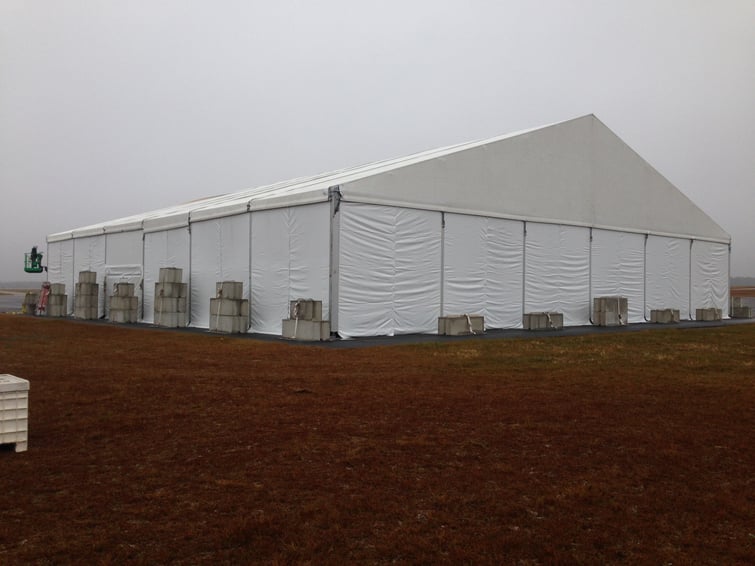 Flexible Inventory
With one of the largest structure inventories in the country, Sunbelt Rentals has a wide range of inventory available immediately for AOG work. At any time, we can cover all regional and narrow-body jets as well as most wide-body aircraft. Our extensive inventory allows us to provide fast, efficient service that helps aircraft repairs begin as soon as possible.
Plus, we have multiple options to address one of the largest costs associated with a temporary hangar: the door system. While Sunbelt Rentals has one of the most economical door systems available (our X-Tension door system), we have also developed methods to eliminate the need for costly door systems for AOG work.
Sunbelt Rentals works with each of our AOG clients to develop methods and approaches that will allow them not to have to invest in costly door options, while still giving them the flexibility of exiting and re-entering the aircraft for periodic testing as needed.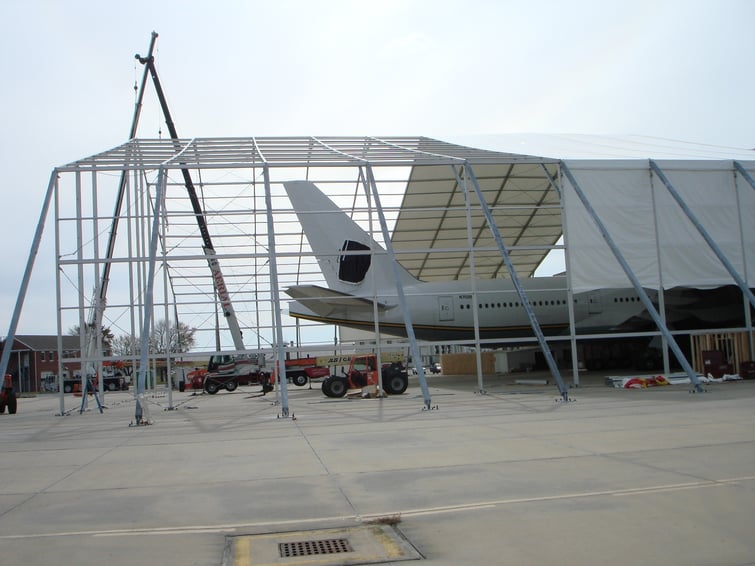 Capabilities
Our MTS (Mahaffey Tension Series) line of structures is our preferred type of structure to cover medium-range single-aisle aircraft. This structure has a steep pitch which allow the clearance height necessary for the large tail sections of this type of aircraft. Additionally, the steep pitch provides clearance for the winglets which are common this type of aircraft.
Sunbelt Rentals also has the capability to cover wide-body aircraft. Sunbelt Rentals possesses a specially engineered structure that was developed to cover a Boeing 777 undergoing a complete interior modification. This structure is 100% portable and can be used to cover most wide-body aircraft.
Experienced Teams
When choosing a company to provide a temporary hangar, you should look for a company with extensive experience working with aviation clients on a variety of projects. Plus, you'll want to ensure that the structures they provide have the correct anchorage requirements needed to meet engineering code (stakes, concrete anchors, or even concrete ballasting if they cannot penetrate the surface).
Sunbelt Rentals offers turn-key installs through our dedicated, national crews. We have provided structures at multiple airports across the country including Atlanta Hartsfield, Memphis International, and Boston Logan. Our Project Managers work directly with our clients to confirm that our structures meet the engineering criteria for each specific location – ensuring our clients have a less stressful install. Plus, we assist clients in completing permit packages as well as working achieving FAA compliance – if required.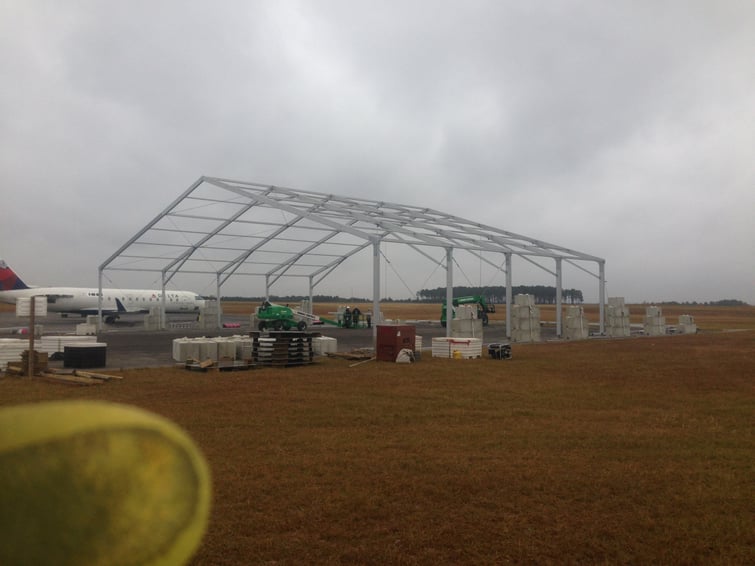 Plans for the Future
Over the years, we have worked with multiple manufacturers in developing AOG strategies to ensure comprehensive coverage should a temporary hangar be needed. Our team can work with manufacturers, insurers, MROs and other parties to develop strategies to ensure that a plan is place on how to address future AOG incidents. These plans can save time and money because the days and hours usually spent in sizing structures, estimating project costs, etc. can be devoted to shipping the structure and dispatching the install team. This process can eliminate days or even weeks – and every day saved is another day that the aircraft can return to its revenue generating route.
Interested in learning more about AOG and other aviation services we offer?