Imagine working at an outdoor construction site with the sun beating down on the back of your neck in the middle of the summer, and your lunch break is about to start. Would you rather eat on the edge of your work zone with loud noises and dust surrounding you, or inside a temporary fabric structure that's climate-controlled, where you can relax and enjoy your lunch?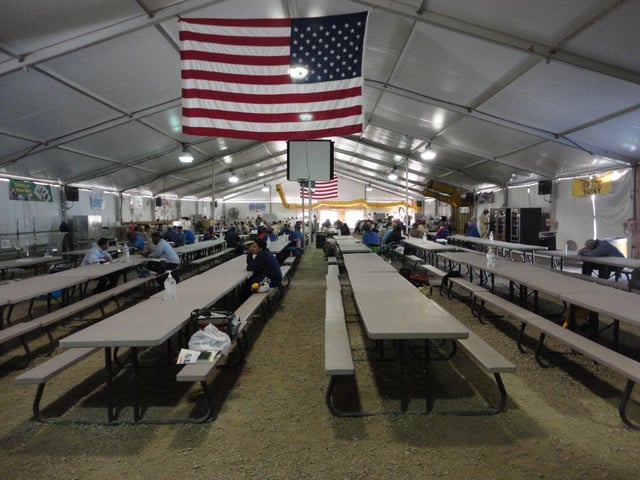 Almost everyone would choose the latter option, which is why every project crew at a temporary outdoor worksite should have a temporary building. Better yet, what if your team had to get into their vehicles, drive to the nearest food establishment and hurry back to the job site to complete the day's work?
The advantages of using a temporary fabric structure are endless, but when you break it down, you'll notice a few main benefits of having on-site space.
A temporary fabric structure can be completely customized to fit your project's needs. Almost any size you need can be installed, and shelters can be tailored with accessories to suit your requirements, such as lighting, flooring, door options, water services, interior walls and more. These tents are engineered to be quickly erected, dismantled and relocated as a project's needs change, so modification is never an issue.
An important benefit of having a temporary tent on-site is providing your crews with shelter and shade away from the elements. Extreme weather can create work delays, which translates into a reduction of productivity and, ultimately, revenue. When a temporary, portable structure is installed near or over a construction site, your staff can have a safe place to take a break near the worksite or continue working even if it is blazing hot, freezing, or pouring down rain, because the shelter is covering the job site.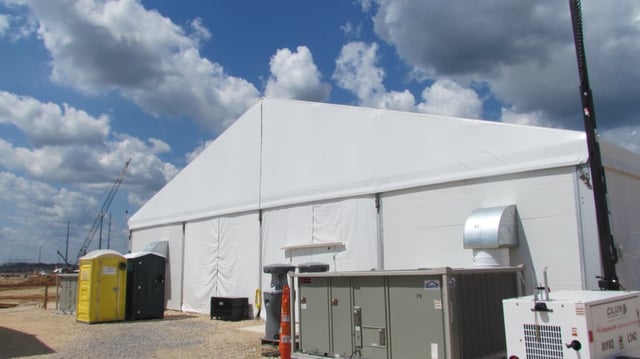 An essential purpose some may overlook is that a break tent or lunch tent can increase the productivity of your work crews, as well as employee engagement. A happy employee is a productive employee. An independent study performed by Staples Inc. in 2014 reported over 85 percent of employees believe they are more productive when they engage in quality break time. Ensure your employees are happy and comfortable while on the job by allowing them to take a break or eat their lunches in a customized, climate-controlled fabric structure.
Not only is it important to keep your employees happy, but it's extremely important to ensure their safety while on-site. Is your work site located in a harsh environment like the desert or Arctic, or is there a strong possibility of an explosion nearby? If so, a blast-resistant module is a necessity for your project. These structures can be engineered to withstand strong winds and heavy snow loads, meaning individuals can enjoy a comfortable, climate-controlled interior regardless of the weather outside. In addition to maximizing safety for your employees, blast-resistant structures can keep crews up to 75-percent closer to the process area than standard break tents, which means there is maximum wrench time, flexibility and cost savings.
When seeking temporary and semi-permanent industrial fabric structures, look for a company with a documented history of innovation and excellence that you can count on to provide safe and compliant tent solutions, no matter how big or small your project's needs. Such a company should hold ISNetworld, HAZWOPER, TWIC, DISA (Defense Information Systems Agency), PICS (Pacific Industrial Contractor Screening) and OSHA certifications, as well as site-specific credentials, to ensure the safety of its employees and your workforce on-site.
Interested in learning more about temporary lunch and break solutions for your next project?
This article originally appeared in BIC magazine in collaboration with Sunbelt Rentals Fabric Structures.