This is the second part in our series highlighting temporary structure door options and their many uses, types and applications. This article will focus on the ever-evolving (or should we say rolling) roll-up door.
What is a "roll-up" door?
With a solid, practical design, roll-up doors (also known as steel-curtain doors) vertically lift up and gather into a roll formation instead of following tracks laid out for the opening. These doors can be placed onto any structure, and allow for the ultimate maximization of space. With a roll mechanism allowing the intra-folding of the door, this specific type of door can eliminate the need for clearance space in structure such as hangars, warehouses and other work-related temporary structures.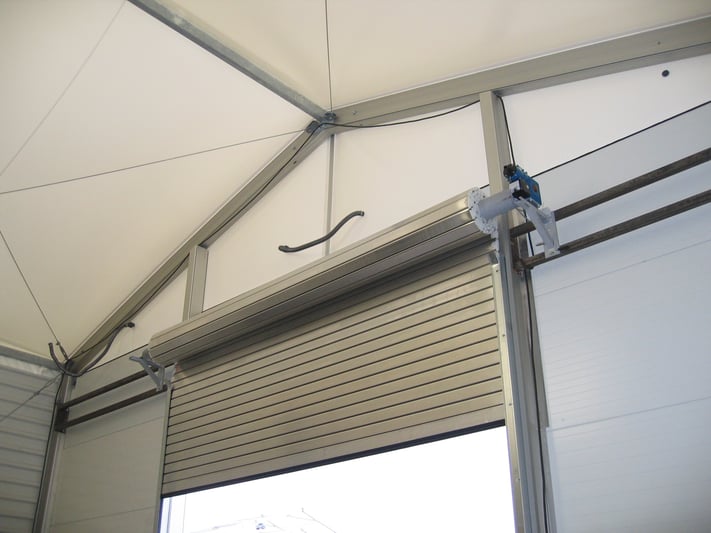 What can it do?
A feature that is highly implemented by many companies using fabric structures is the ability to have the roll-up door be automatic. This feature allows for less energy exertion by workers, saves time (which also means money) for the company, and is a safe alternative to manually having to open and close the door. With an electric operator and a chain hoist reduction of 8:1, the utilization of this automatic feature can be cost-reductive and a safe element to consider when deciding on what type of roll-up door (or any door) a temporary structure needs.
Roll-up doors are also characterized by their high level of durability and the added security that they can provide for a fabric structure. Mahaffey's roll-up doors are made of 26-gauge galvanized, Grade E hard steel that is resilient to major wear and tear damage, and can accommodate for heavy usage. Being made from this type of steel provides a sturdy barrier that is more resistant than doors created from other materials, and can be outfitted with more advanced security features.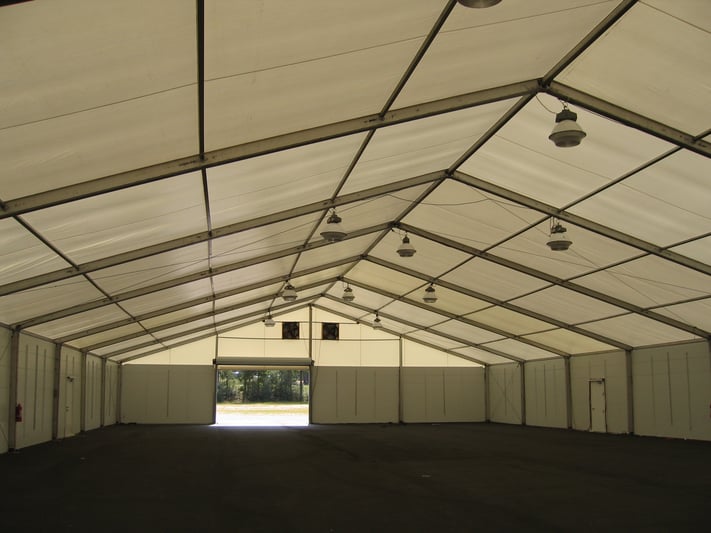 Other elements of the roll-up door that aid in maintaining the safety and operational efficiency within a temporary structure include the weather-prevention measures used in the door's creation and implementation. Designed with deep-ribbed corrugation and a three-rivet wind lock attachment, Mahaffey's roll-up doors are wind-rated up to 120 MPH with a 20-foot-wide opening, with the MPH rate increasing as the width of the door is decreased.
Whether outfitting a temporary structure for a construction site or an airplane hangar, roll-up doors are a viable and reliable option to consider when thinking about safety, longevity and structure practicality.
Want to find out more information about what doors are the best fit for your needs? Talk to one of our expert Project Managers today.
Want to find out more information about what doors are the best fit for your needs? Talk to one of our expert Project Managers today.