How often do you think about your door? Though people complete egress after ingress, day in and day out, most don't give doors much consideration. Until there's a problem: the couch won't slide through the front door, too many people try to cram through the exit after a concert, or there aren't enough access points to the building and employees must travel an extra five minutes to and from the parking lot every day.
Doors are a critical — if often overlooked — component of planning any jobsite. Failure to properly plan for traffic flow throughout the interior and exterior of a building can be time consuming or even dangerous. In traditional construction, by the time your new warehouse facility is complete, it's too late to change a door that is too small or inconveniently placed. One of the major benefits of temporary buildings is the flexibility to adjust the project plan after construction has already begun.
Recently, a client reached out to the Sunbelt Rentals team about providing a temporary structure to house helicopters deployed for emergency rescue and support operations, while the existing hangar facility was undergoing major upgrades. Due to the size of the helicopters, the facility had to meet specific design dimension requirements. What's more, the temporary hangar needed to be designed and constructed to meet high wind loads of 150+ mph.
The Sunbelt Rentals team deployed a project-specific, customized Sunbelt Rentals Tension Series structure, engineered for quick installation and the ability to be relocated at a moments notice. Once the installation was complete, the client was able to determine specifications for a door that would be capable of meeting the station's needs.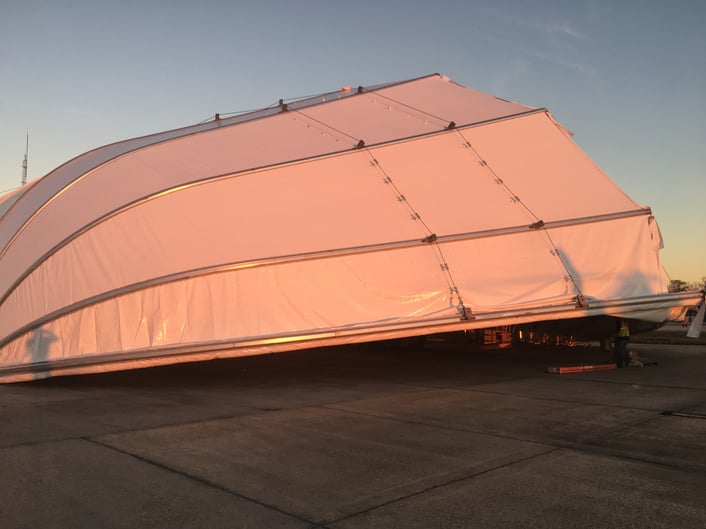 The Mahaffey Xtension™ Door
When a life is on the line, emergency rescue's first priority is to retrieve and save whoever needs it. In the blink of an eye, an emergency team needs to assemble and be ready for whatever they may face. This urgency cannot wait for repairs and upgrades to happen and finish; it must be in the moment and immediate. There would be no time for the client's team to wait on a slow door mechanism.
Full installation of the customized MTS structure had already taken place before determining which door would perfectly accommodate the rapid-response needs of the client's rescue team. After installation, Sunbelt Rentals Project Manager Joe Berger met with the client to explore potential options for doors. Joe helped to identify the specific requirements, and provided multiple, potential ideas, until finally coming to the perfect solution for the customer: the Sunbelt Rentals Xtension Door.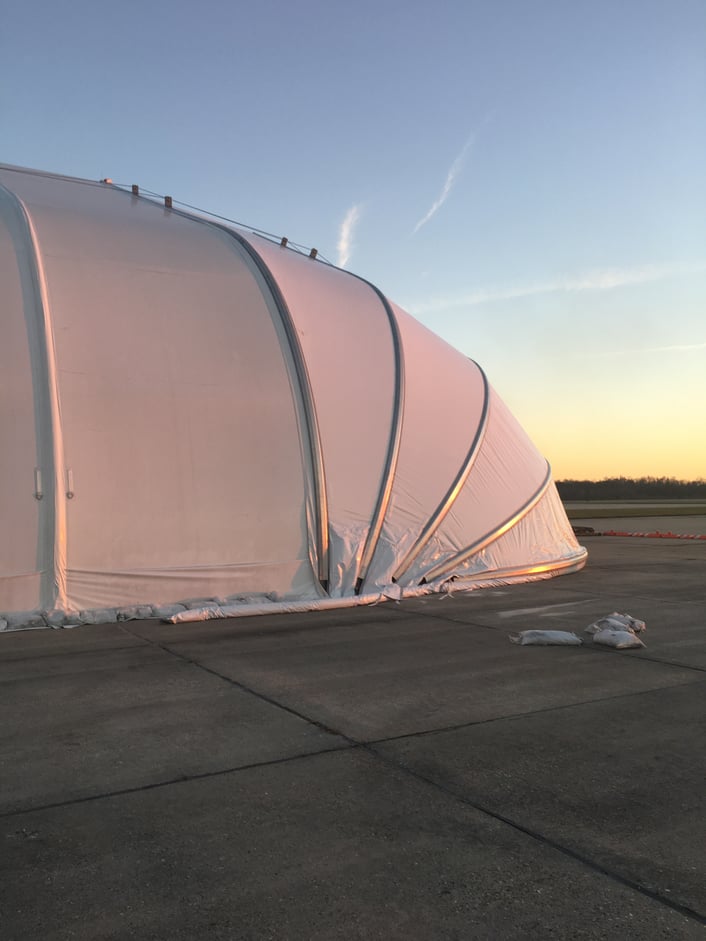 The Sunbelt Rentals Xtension Door is a fully retractable fabric door, best suited for aircraft and other heavy equipment. This door can be opened or closed in just THREE minutes, allowing for maximum time efficiency when it is needed most. Along with the Sunbelt Rentals Xtension Door, other types of doors make using fabric structures easy and safe, including the use of personnel, glass, and roll-up doors.
Whatever your fabric structure needs, adding a mixture of these types of doors can allow your project, storage facility or hangar to be accessed easily, while also maintaining the safety and integrity of what is inside.
Keep an eye out for the next blog post in our door series!
Interested in learning more about custom door options or other services we offer?