In our first blog in this series, we shared with you an introduction to the engineering behind anchoring temporary structures. This anchoring is powerful enough to cover your most critical long- or short-term operations—ensuring structure integrity and stability you can count on.
A major benefit of temporary structures is that they can be installed on virtually any ground surface from asphalt and concrete foundations to gravel or soil. With correctly engineered anchoring, temporary structures can be strong and stable no matter where they stand.
In Part 2 of this series, engineering expert Brian Szkaradnik explains the role your ground surface plays in determining the right anchoring solution for your structure.
Last month, we talked about anchoring options. When would you use ballasts versus earth anchorage?
Brian: The use of ballasts is a strategic choice. Ballasts are appropriate when disturbing the surface (either with earth anchoring or a traditional foundation) isn't the best option. Stakes (earth anchors) are ideal when the ground surface is something that can be penetrated, like soil.
But, what if the clearspan fabric structure is being installed on an asphalt parking lot?
If you drove stakes into the parking lot, you would leave behind holes that may need to be repaired later. Reputable companies provide asphalt plugs to restore the asphalt to its prior condition. If a user is concerned with asphalt plugs, they may prefer to use ballasts. The most common ballasts are concrete blocks that weigh about 3,000 lbs. each. These massive blocks add weight to the structure without damaging the ground surface. We have also used ballasts for structures constructed on rooftops.
What's the difference between how ballasts and earth anchorage are attached to a structure?
Brian: Let's start with earth anchorage. When temporary structures are installed, first, steel footplates are anchored to the ground with stakes (also called pins) through holes drilled in the footplate. A bolt is then used to attach each of the structure's legs to a footplate.
For fabric buildings in need of more anchoring power, stake bars can be added. Stake bars are pieces of steel with holes drilled to accommodate additional stakes. When these are attached to the footplates where the stakes would normally go, the total number of stakes at each footplate is increased. This creates a stronger connection with the ground to give additional stability to temporary structures.
When ballasts are being used, they are commonly stacked on top of a larger special footplate. They can also be stacked next to the footplates and attached to the tent leg with large industrial straps. Either option provides anchoring power without the need for stake holes in the ground surface.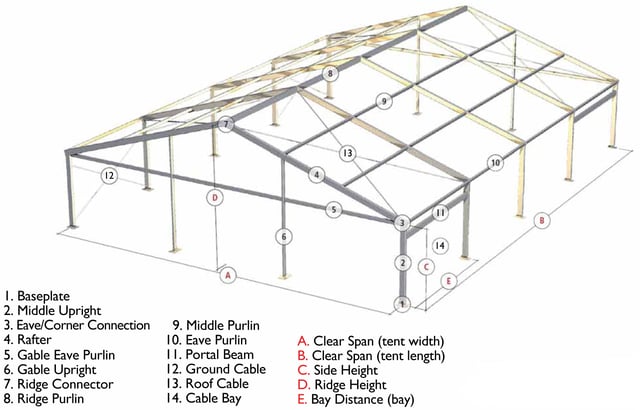 What's the purpose of a soil test when it comes to anchoring?
Brian: It's important to keep in mind that soil and anchors work together to stabilize a structure. Not all soil is suitable for standard anchoring, so we test the soil to see what kind of loads it can handle. When the soil provides little or no resistance to uplift forces, basic stakes can't do their job. And, in some cases of poor soil, heavy ballasts aren't an option, either, because the ballasts could sink.
In cases like this, helical anchors can be an ideal solution to increase holding power. This was the case recently for a project we completed in southern Louisiana. Following massive flooding, a school district brought in Sunbelt Rentals to install five temporary fabric building classrooms. Even though the soil tested poorly for strength, we were able to use helical anchors on the existing ground surface to provide the needed strength and stability for one of the structure. All the tents are still in use today.
Every project is unique, and designing the right anchoring solution for your structure is no exception. Partner with a fabric structure vendor with experience in your industry and region who can deliver the ideal custom solution for your needs.