Temporary structures or fabric buildings are designed and engineered to protect the people, materials and equipment inside them. And although the focus of customization is often on designing a structure's amenities like flooring, HVAC, and light, ensuring structural integrity and stability is the most critical element of structure customization.
Brian Szkaradnik, one of Sunbelt Rentals' own technical engineering specialists, took a moment to share his expertise on the science of anchoring clearspan fabric structures. Read on to learn more about anchoring in Part 1 of this two-part series.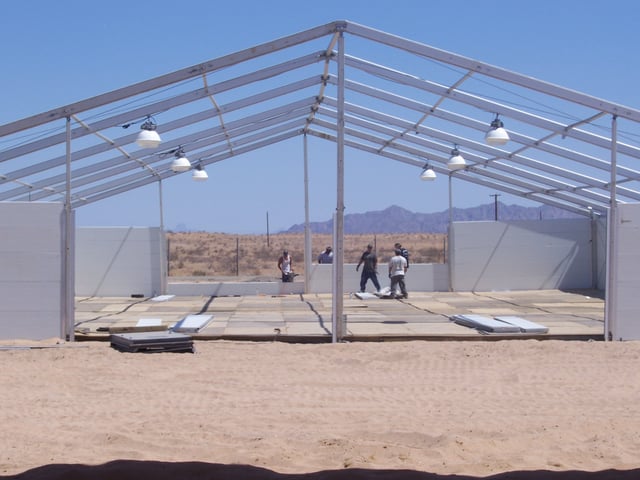 How many ways are there to anchor a structure?
Brian: Anchoring literally creates stability from the ground up. Customers typically want to work with the existing ground surface when possible (though pouring a foundation, like a concrete slab, is also an option). There are two basic paths to consider when we look at the best way to anchor a structure:
Earth anchorage (such as stakes)
Ballasting, which is mass (such as concrete blocks) that anchors the structure without penetrating the ground surface
A major benefit of temporary structures is that they can be installed on virtually any ground surface, so a foundation isn't necessary for a structure to be strong and stable—even in extreme conditions.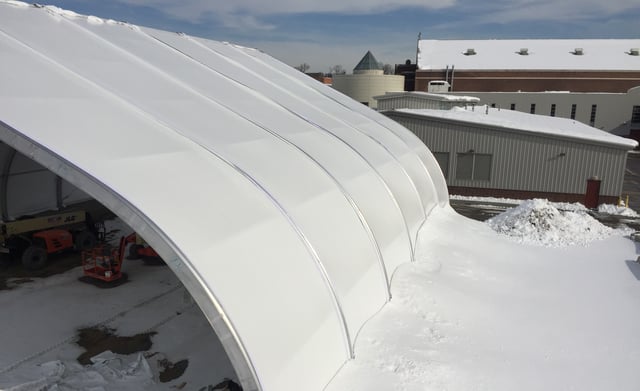 What is the most common method of anchoring temporary structures?
Brian: While each project has its own unique needs, earth anchorage, like stakes, is definitely the most common. One of the benefits of Sunbelt Rentals' aluminum box frames we use for our structures is that they are incredibly lightweight and durable. This means fast installation and an incredibly strong final product suitable for semi-permanent or short-term use.
But lightweight structures must be specially engineered for strength and stability, and anchoring is a big part of that. The purpose of anchoring is really to compensate for the weight of the structure to ensure it can safely stand up to a variety of conditions.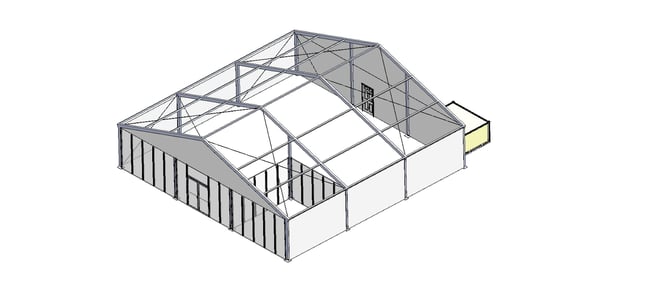 When you say, "compensate for the weight," how do you determine the amount of weight to compensate for in a structure?
Brian: Creating holding power is the goal of any kind of anchoring – ballasts or earth anchors. The engineering behind that is key. There's a science to creating the kind of stability our structures are known for. The goal of anchoring is to ensure the "weight" of the structure is greater than the forces that might be applied to it.
There are two key types of force that affect anchorage of temporary structures:
Shear (or lateral) load, which is the horizontal push-pull force that can move a structure off its foundation
Uplift load, which is the force from wind pressure that causes lifting effects
In a typical design process, one of the first things we'll do is run a model simulation to determine the anchoring forces required for each load case. These include dead load (the intrinsic weight of the structure itself), snow load and multiple variations on wind load, depending on the direction the wind comes from.
Some structures face tremendous pressure forces. For example, industrial structures in blast zones may need to withstand uplift loads of more than 50,000 lbs. per tent leg! Anchoring makes the structure "heavier" than the force hitting up against it, ensuring your temporary structure is stable and secure no matter what it faces.
Customization makes temporary structures both ideal for accommodating all your business needs and safe for your materials, equipment and people.
In Part 2 of The Science of Anchoring Temporary Structures, we'll cover how we customize anchoring solutions for your unique ground surface.
Sunbelt Rentals specializes in lightweight, durable structures engineered to stand up to your toughest challenges. No matter the complexity of your project or the challenges of the ground surface at your site, a seasoned fabric structure supplier can provide the ideal solution for your needs—fast, helping you keep your project on time and on budget.