As many parts of our nation are recovering from Category 4 Hurricane Harvey, and others are preparing for Category 5 Hurricane Irma, businesses are beginning to prioritize emergency response planning. After a tropical storm or hurricane's path is projected, an emergency plan should be immediately implemented. While protecting its people should be a company's first priority, goods and inventory must also be a factor.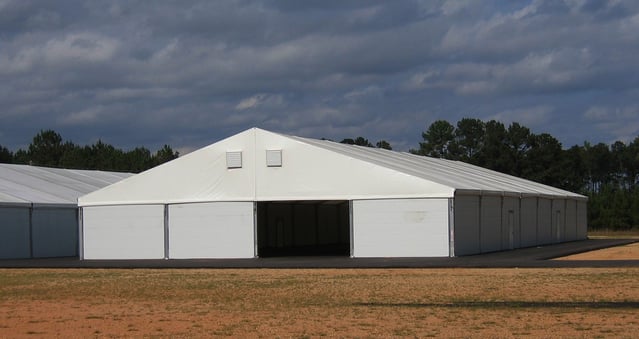 Organizations may want to consider providing shelter for equipment. Temporary warehouses are durable, climate-controlled structures that are engineered to survive within extreme weather patterns. Built with strong tension fabric and installed with stable anchors, temporary storage buildings can withstand abnormally high winds. These storage spaces can be installed atop any surface, and the size of the structure is customizable to fit any project's needs.
After natural disasters strike, it may take years for businesses to get back on their feet. Modern fabric structures are durable enough to last for many years, and require minimal maintenance, enabling seamless business continuity. They're also portable, should you need to relocate your shelter.
If your office operates within the path of a major storm and flooding is a possibility, you may need to transport your equipment and/or inventory to higher ground to minimize damages. You might also consider setting up a mobile office or relief tents in a safer location.
Construction crews work quickly and efficiently to meet deadlines, and major storms can derail those projects. The experts at Sunbelt Rentals can install a structure over existing construction, such as an excavation site, to ensure the project stays on track as much as possible.
Taking time to include protection of your company's materials can pay off significantly in both the short-term and long-term, as project delays and ruined inventory can be quite costly. When crafting your plan, consult with our project management team and walk through different scenarios with them. They are seasoned experts and will be able to provide you with the best solutions for each scenario.
Interested in learning more about

Sunbelt Rentals'

solutions for emergency response? Contact us today to speak with one of our project managers.