In our previous blog post in this hurricane preparedness series, we offered a checklist to identify what should be done before disaster strikes to minimize loss and ensure a speedier return to operations. Mahaffey Fabric Structures is known for our ability to keep business going when permanent structures are compromised, but did you know we can help keep people going as well?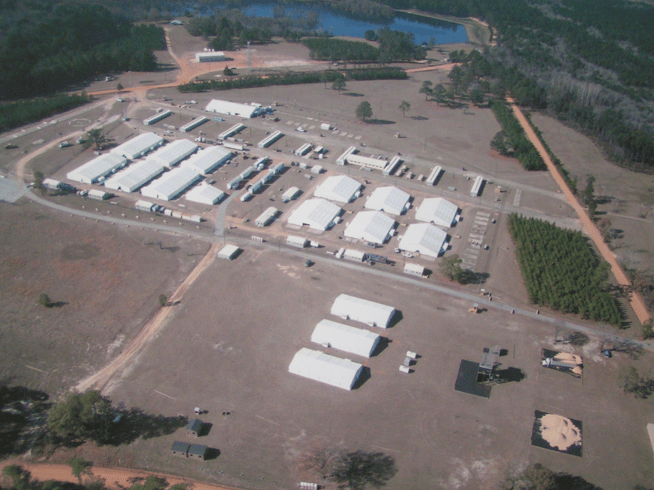 As the nation's most trusted provider of temporary and semi-permanent structures, Mahaffey has more than 25 years of disaster response experience. This experience includes design and implementation of temporary base camps of all sizes, potable water and wastewater transport, temporary shower and restroom facilities and temporary food service and dining facilities.
In short, we've done it all when it comes to helping communities with their temporary base camp needs. Whether you know them as emergency relief shelters, man camps or responder support camps, in this post, our goal is to help you think through what sheltering and relief needs you might need, so you feel prepared when the time comes for you to make base camp decisions.
Know Your Base Camp Purpose
First, know the purpose of your base camp. An emergency shelter for displaced families will operate very differently from sleeping quarters for relief crews. One is occupied virtually all day and the other stands empty for 12-16 hours out of 24.
This distinction defines how services to the base camp will be provided and administered. For example, sleeping quarters for relief crews will need more portable restrooms and showers than a relief shelter with the same number of people, simply because demand for those facilities will typically take place all at once rather than throughout the day.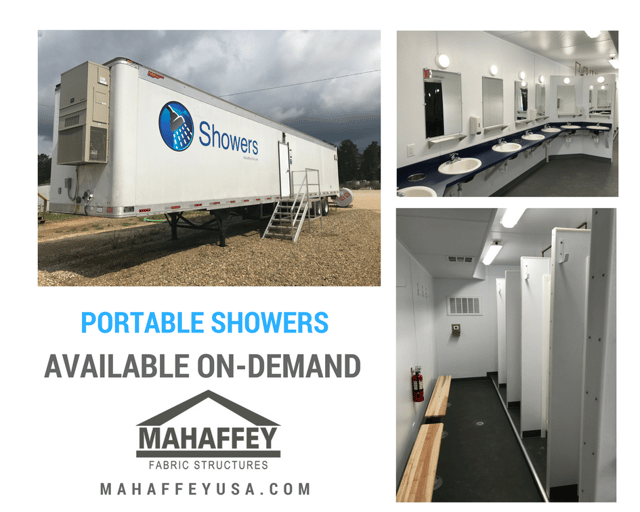 There is a simple, tried and true tool to determine the function you need a temporary base camp to fulfill: The 5-Ws.
Why is a base camp needed?
Who will be utilizing the services of the camp?
What services will be needed?
When will the services be most in demand?
Where will the occupants spend the majority of their time?
Know How Much Space a Base Camp Needs
When you design a base camp, you have to make space for all the things people would normally do in their homes and businesses. To decide how much and what type of space you need, you have to consider everything from the cots people will sleep on to how you will power lighting systems and HVAC.
Every temporary base camp needs:
Sleeping facilities with cots and bedding
Dining and food prep facilities
Hot showers
Amenities like HVAC
Power distribution
Lighting systems
Portable restrooms
Wash and fold laundry services
Morale, Recreations, and Welfare (MWR) Structures
Base camps also need facilities for managing administrative processes, parking for both utility and personal vehicles and possibly even temporary warehouse storage.
The size of structures needed for base camps entirely depends on the number of people using the space. Typically, base camps are created for a set number of people such as 250, 500 or 1000 people, but when you plan with an expert in advance, you can design and build base camps for the specific needs of your personnel. While OSHA requires at least 50 square feet of floor space per person in temporary base camps, your actual space needs can vary greatly depending on the purpose of your camp.
When you're focused on surviving a disaster, don't overlook the need for dedicated space for your personnel to gather and relax. Morale, Recreation, and Welfare (MWR) Structures are an essential part of your base camp plan and should be designed to meet your specific needs. Working with a team of experts who've personally lived in base camps will give you the peace of mind that they've thought of every detail and are prepared to go to work in your time of need.
Know Where You Will Build a Base Camp
Once you define the purpose of your base camp and outline your space needs, you have to determine where you will locate your facilities. Although it's hard to predict how a natural disaster will impact your available space, you should work with a base camp provider in advance to create site and structure diagrams that can be employed at a moment's notice.
When identifying your space, look for a somewhat remote location to provide sufficient space for all your structures, but don't overlook your need for road access and perimeter security.
Ideally, you want to install on a hard surface that can accommodate tent structures and flooring. Although Mahaffey provides potable water and wastewater transport, it is still best to have access to a water source and a sewer manhole.
Finally, make sure your site plan includes space between your structures to separate your food services, trash disposal and mobile restrooms. You will also need to consider the space between your site facilities and the surrounding environment. For example, OSHA requires food preparation and sleeping facilities be located at least 500 feet away from livestock. Mahaffey recommends placing mobile restrooms within 50 feet of sleeping facilities with close proximity to shower facilities but definitely downwind from camp!
In emergency situations or desolate locations, ineffective communications can cripple your base camp. When Mahaffey is deployed to construct a base camp, we use a variety of communication platforms to ensure constant communication between our employees and our customer.
Know How To Keep Your Base Camp Running
No matter how remote your base camp, your personnel will need a power supply for interior and exterior lighting, climate control and charging phones or laptops with three prong connectors. These power needs for base camps can be supplied by diesel generators placed strategically away from sleeping quarters, downwind and properly grounded. In order to provide power for all structures throughout the camp, extension cords can be buried underground according to safety regulations.
Mahaffey has a massive inventory of base camp solutions ready to deploy immediately. We know how to plan and install a base camp that meets your specific needs. We know how to account for every situation without overlooking any detail. We know base camps, because we've lived in base camps.
That's why we know that, regardless of what type of temporary base camp you need, we've got you covered.