It's been a decade since Al Gore went on tour to educate citizens about global warming in An Inconvenient Truth, reenergizing the environmental movement across the globe. Since then, green activism has moved from the periphery of public consciousness to a primary social concern.
While the construction industry has made great strides in developing sustainable building practices, it still has a long way to go. According to the EPA, "Building-related Construction and Demolition (C&D) debris totals more than 136 million tons/year or nearly 40% of the C&D and municipal solid waste stream."
Unlike traditional construction, the modular nature of temporary fabric structures, as well as the installation methods used, make these buildings inherently greener than their permanent counterparts. Some green advantages of temporary structures include:
Less Material Waste
Sunbelt Rentals' temporary buildings are material and resource efficient, while still providing a level of design and construction sophistication that exceeds expectations and rivals brick-and-mortar buildings.
Waste is eliminated by recycling materials, controlling inventory and protecting building materials during the fabrication process. Pre-fabrication makes it possible to optimize material purchases and usage and reduces inventory loss due to theft or the environmental conditions of a jobsite. Plus, our highly trained installation team sees fewer onsite errors, meaning there is less re-work toward the end of the build cycle, further reducing the amount of waste on a project.
Reduced Site Disturbance
Off-site manufacturing of the components used in temporary buildings significantly reduces site disruption and vehicular traffic and improves overall safety and security for workers. Plus, streamlined and efficient installation results in less time spent on-site and fewer trips to the site per project.
Faster installation helps to minimize community impact due to common construction complaints, such as water pollution, airborne dust and dirt particles, distraction and displacement of site occupants, light pollution, unpleasant smells, noisy equipment, and untidy appearance on-site. Additionally, fewer material deliveries further reduce the environmental impact to the jobsite.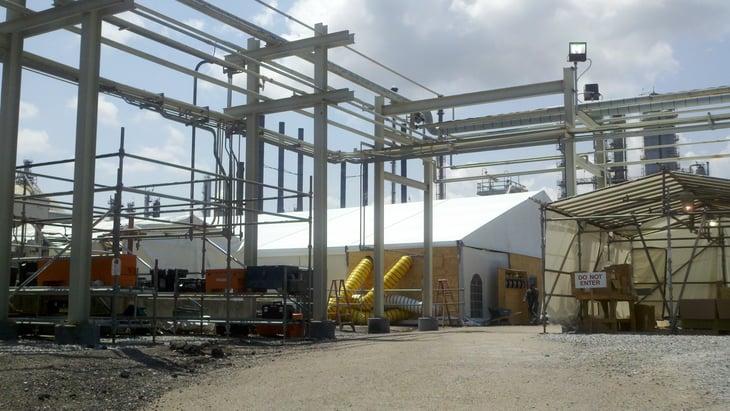 Energy Efficient and Sustainable Options
Sunbelt Rentals structures, with up to R-25 ratings, outperform other types of covers, resulting in decreased operational costs. There is almost zero air leakage, which can be attributed to our unique, engineered design and insulation.
We offer a large selection of high efficiency mechanical systems, insulation, windows, doors, and other fixtures to meet your desired efficiency standards, and any of our temporary structures can be built with sustainability in mind.
For example, some people are surprised that we use asphalt in semi-permanent applications that justify more permanent flooring solutions, but it is 100% recyclable and can be removed post-project to leave no trace on the job site. Additionally, the frames of all our temporary and semi-permanent structures are comprised of aluminum uprights and I-beams, which can be used repeatedly for 20+ years before being properly recycled.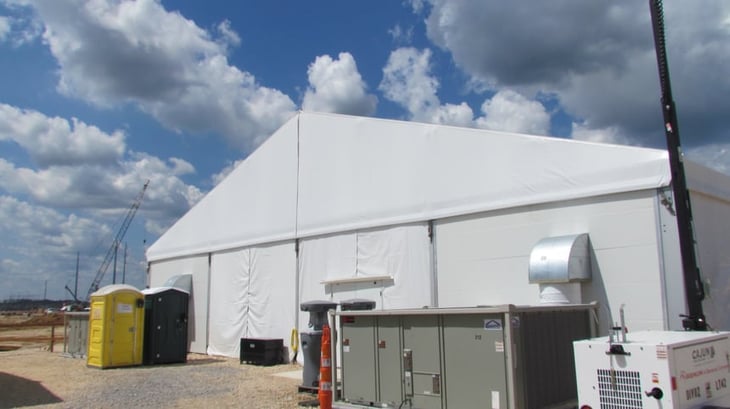 Ability to Reuse and Recycle
One of the major benefits of temporary buildings is that they are designed for on-site assembly, which also means these structures can be more easily disassembled at the end of a facility's project life. There is no welding, cutting, or on-site fabrication. Everything is manufactured for portability, and the structure itself can be assembled with common hand tools, such as wrenches.
Essentially, we can erect a building in a matter of days, then take it down and move it to another location as your needs change, or return it to Sunbelt Rentals at the end of your project. The buildings are dismantled in the same pieces as when they were installed, and any lighting, walls, flooring, or other add-ons are immediately repurposed along with the frame. This effectively closes the lifecycle loop, or at least greatly extends the lifecycle of these structures.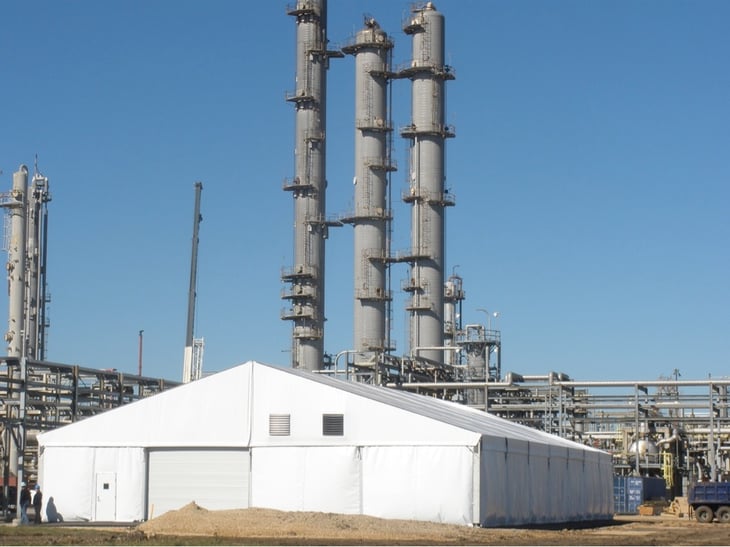 Repurposing materials in this way is almost unheard of in traditional construction, where it is often cost-prohibitive to deconstruct an on-site building and salvage materials for future projects.
Here at Sunbelt Rentals, we like to think that we got in on the ground floor of this whole "green" construction revolution. After all, what's more "green" than reusing an entire, existing building for a new purpose?
---
Interested in learning more about tents and temporary structures, or want more information about how you can get a custom fabric building for your next project?